The Winnebago County Historical and Archaeological Society has announced the return of a very popular summer attraction – 'Pie On The Porch.'  This very popular destination will return to the
Oshkosh Saturday Farmer's Market starting June 5th in Downtown Oshkosh.
Their new home will be in front of the NAMI office at 525 N. Main Street. "NAMI Executive Director, Mary Lord Janness and the NAMI Board of Directors, kindly offered the use of their building.  Randy Domer, President of the Historical Society said, "We are so delighted to bring POTP back in 2021 and look forward to once again serving delicious pie on Saturday mornings."
Things will look a little different this year.  The tented sit-down area will not be allowed this year.  All pie served will be sold in clamshell containers and served as pie-to-go. Also, the use of volunteer baked, home-made pies will not be allowed until the health department determines it is safe to resume that activity. Pies this year will be provided by locally famous LaSure's who has earned a great reputation for quality pies. "Because they bake from scratch, this is about as close to home baked pies you can get," says Domer. To help support their efforts, Bob Heisler, owner of LaSure's is  offering pies to the society at a discounted price.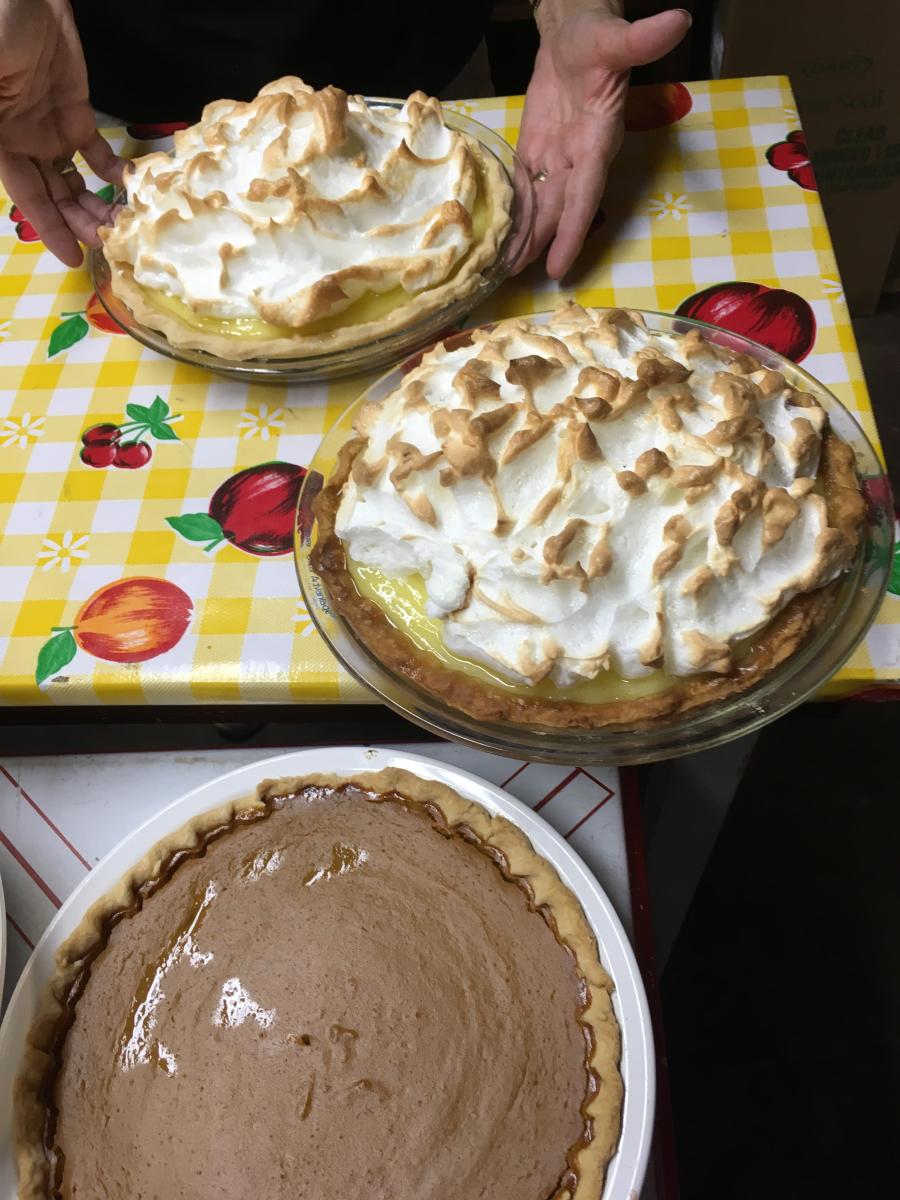 POTP is the largest annual fundraising event with the Historical Society. "Because we will purchase pies this year, our revenues will be less than normal," according to Domer. "But the important thing to us is being back in front of the community which we serve and that means a lot to us." Prices will remain the same as before: $4 per slice of pie. Coffee, lemonade and bottled water will still be only $1. The society this year also plans to offer an area next to the "Pie Tent" with books, historic photos, etc. for sale. Memberships to join the WCHAS will be available each week as well.

"The return of 'Pie On The Porch' is a big deal for our Saturday Farmer's Market," says Michelle Schmid-Schultz, who manages the Oshkosh Farmer's Market. "I'm constantly asked by folks when POTP is returning! Market visitors will be excited to see them back."
Volunteers are needed each week to help cut and package pie or work as servers. If interested contact Randy Domer at rrdomer@gmail.com 
The Society also has announced the re-opening of Morgan House for tours beginning Saturday, June 5. Visitors will experience how families like the Morgans lived in the late 1800s. Morgan House is located on the corner of Franklin and Church Streets. This summer we are offering a special exhibit featuring artifacts and memorabilia from the Morgan Company on display in the upstairs exhibit room. Tours are complimentary and the house will be open from 10 a.m. to 1 p.m. every Saturday until Labor Day weekend. Masks and social distancing is required.
Stop by POTP and welcome the Historical Society back. Maybe enjoy a delicious piece of pie, cup of coffee, ice-cold bottled water or lemonade! Then head on over to Morgan House for a complimentary tour!