The Grand Oshkosh is the place to go in Oshkosh if you're looking to enjoy a night of quality local entertainment. The Grand is the oldest operating opera house in the state of Wisconsin. The opera house hosts nearly 100 public performances each year including national touring artists, educational programs, performances by local and regional art groups, and more. You may even enjoy some paranormal performances if you believe in the supernatural. 
Joseph Ferlo, director at the Grand Oshkosh, is excited for the upcoming shows they have scheduled for spring. "With the support of our donors and community, we have been able to continue presenting captivating performing arts opportunities when we all needed them the most. Between jazz, comedy, country, and top-tier tribute shows, the 2021-2022 season has something for everyone. We look forward to welcoming you back to our treasured venue."
Check out these upcoming events happening at the Grand Oshkosh this spring. 

 
TUSK "The World's #1 Tribute to Fleetwood Mac" with special guest Ryan McIntyre
Tusk is the number one Tribute to Fleetwood Mac in the world, bar none. No fancy tricks, no gimmicks, just five musicians recreating the music of Fleetwood Mac to perfection with note for note renditions that no other Fleetwood Mac tribute on the touring scene today can come close to duplicating. Authentic-sounding and always respectful, Tusky leaves no stone unturned in replicating the sounds of one of the world's best-loved, top-selling bands. 
Performance: April 22 at 7:30 p.m.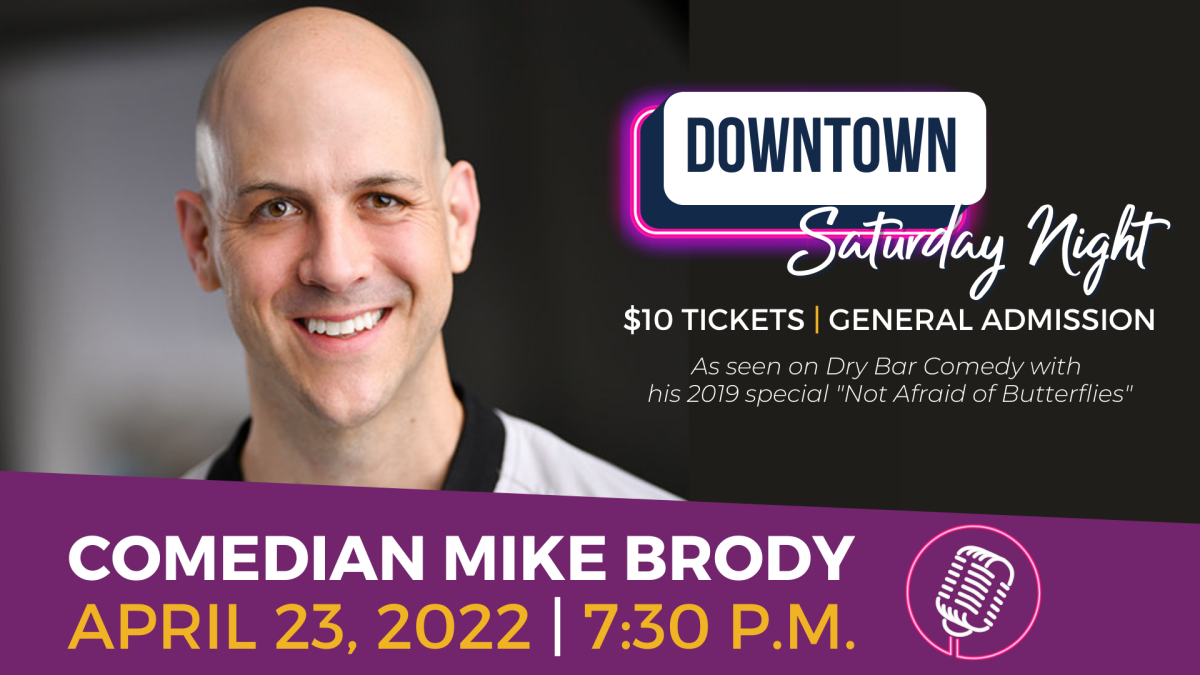 Downtown Saturday Night - Comedian Mike Brody
Enter the comical world of Mike Brody: An affable, relatable guy whose life is often derailed by his own neurotic and clumsy tendencies. Brody has spent the last 20 years touring the U.S. and internationally, providing laughs for diverse audiences in comedy clubs, colleges, corporate events and on cruises. He has also been featured on the nationally syndicated radio program "The Bob & Tom Show" as well as the "The Dan Patrick Show" podcast. He's recorded two comedy albums on Rooftop Comedy, with tracks regularly featured on SirusXM Satellite Radio. Brody can also be seen in his 2019 Dry Bar Comedy special "Not Afraid of Butterflies". Link to his show: https://www.youtube.com/watch?v=6nQzsR1YBaI
Performance: April 23 at 7:30 p.m.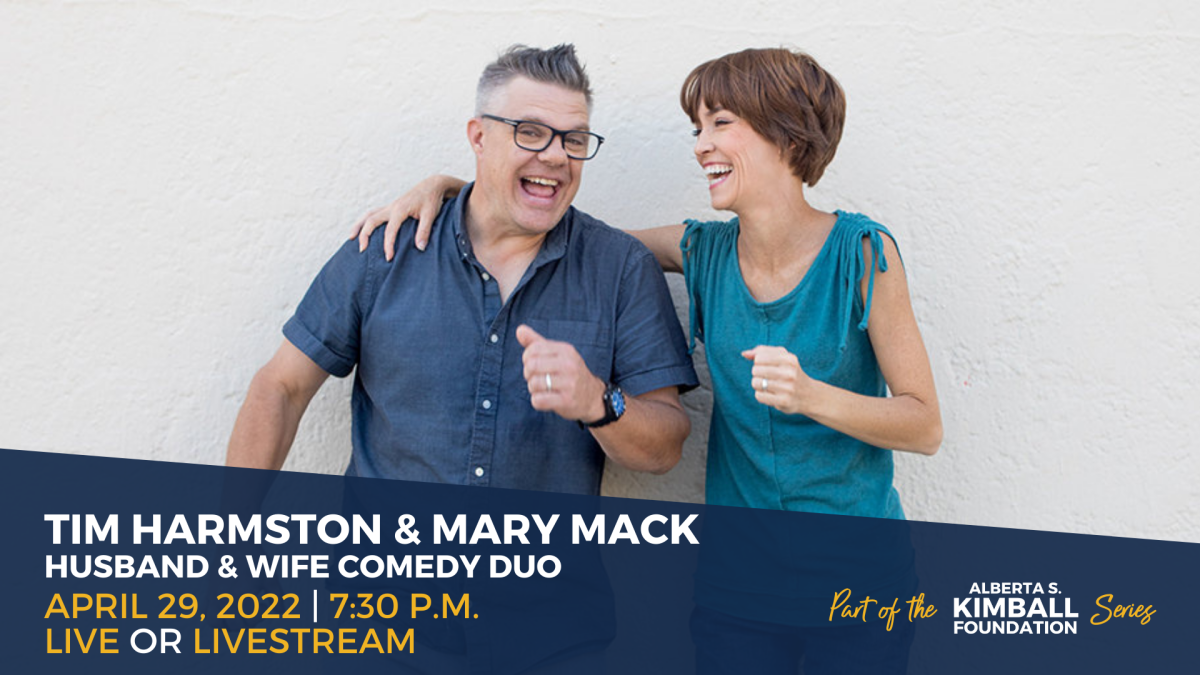 Tim Harmston & Mary Mack- Husband & Wife Comedy Duo
Tim Harmston and Mary Mack are each comedy headliners by their own merits! Two national comedy headliners—who happen to be married to one another—hash it out playfully on stage! This husband-and-wife powerhouse is teaming up to co-headline an amazing night of comedy bliss!
Performance Friday April 29, 2022 at 7:30 p.m. (Live or Livestream)

 
Sponsored by Beck's Meats
The Blue Cheese Combo is Wisconsin's coolest new musical Tour De Force that promises to get you dancing and having fun! Whatever your musical taste, The Blue Cheese Combo will satisfy you. Featuring former members of local favorite RPM, BOOGIE & THE YOYOZ, and SPICY TIE BAND, The Blue Cheese Combo brings decades of musical virtuosity, stage presence, and entertainment charisma to each performance combining amazing piano chops, world class bass guitar licks and the grooviest of drumbeats along with stellar lead vocals and harmonies to bring the music you know and love to life. The song list encompasses everything from the 70s, 80s, and 90s, to Today's best Pop and Rock Hits. No song or genre is off limits for The Blue Cheese Combo and audience requests are always welcomed by the band.

Featuring Chris Okkerse on bass, acoustic guitar, and lead vocals, Tom Colling on piano, keyboards, and vocals, and Mark Budwit on Drums & Percussion and Lead Vocals. These seasoned Musicians have performed for countless years and know what it takes to put on a great show. 
Link to preview: https://www.youtube.com/watch?v=EselpcWkj0I
Performance: Saturday April 30, 2022 at 7:30 p.m.

 
Downtown Saturday Night - Rob Anthony
Sponsored by Brinkley's Boutique
Combining the harmony of Midwest Americana with singer-songwriter sensibility and outlining an acoustic instrumentation with a rock edge, Rob Anthony is truly at home. His music reaches into the soul, grabs the struggles of the inner man, and weaves it into a solid personal connection between musician and listener.
A native of Wisconsin, Anthony's career has spanned over twenty years and received numerous awards; awards that have shown he understands the importance of evolution in a musician's career. But to fully understand the heart of Rob Anthony, all one needs to do is listen to his music. His personal connection reaches out to everyone, transcending far beyond the typical muse of singer-songwriters.
Performance: Saturday May 7, 2022 at 7:30 p.m.

 
The Mersey Beatles- Four Lads from Liverpool
Sponsored by Lightning Productions, LLC
The Mersey Beatles, the world's most authentic and only LIVERPOOL born Beatles Tribute Band, was the resident band for over a decade at the world-famous Cavern Club, where The Beatles got their start. These childhood friends have played in 20 countries, selling out shows worldwide. Don't miss this ALL-NEW show for 2022 as the band performs all the hits plus many more fan favorites. Experience their natural Liverpool accents, wit, and charm.
Performance: Thursday May 12, 2022 at 7:30 p.m.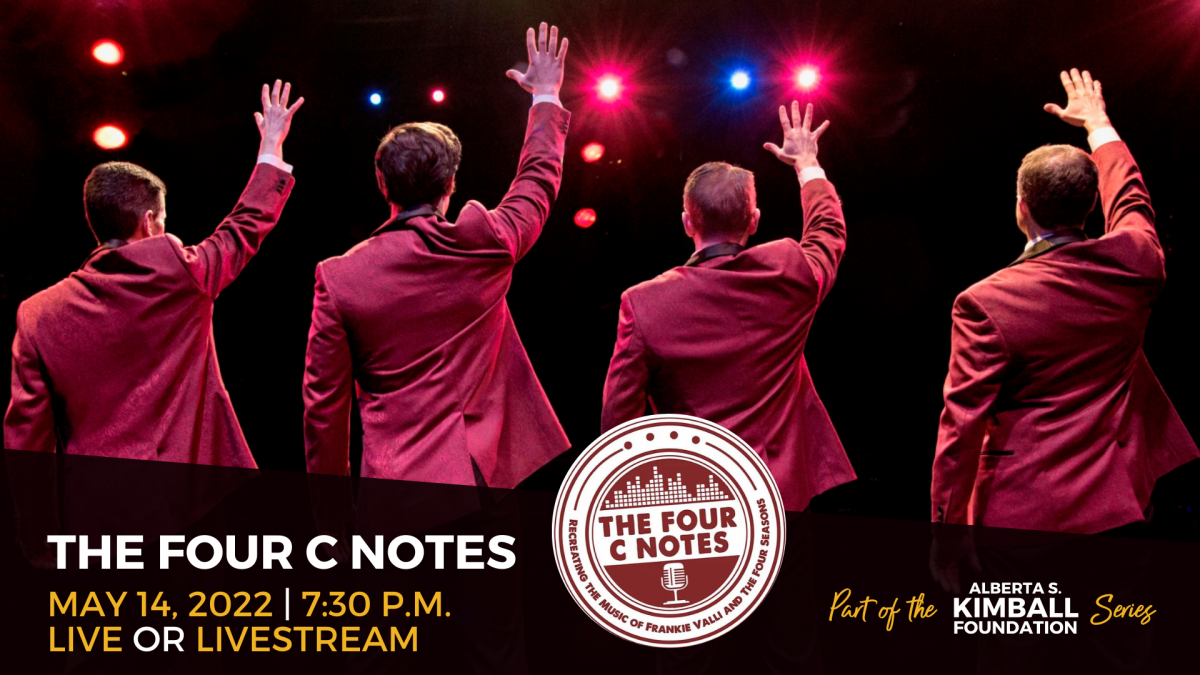 The Four C Notes
Part of the Alberta S. Kimball Foundation Series
Created by John Michael Coppola, best known for his appearance in Chicago's long running production of the Broadway, smash hit JERSEY BOYS, The Four C Notes are the Midwest's only tribute dedicated to recreating the music of Frankie Valli and The Four Seasons! The tribute features hits including "Sherry", "Big Girls Don't Cry", "Walk Like a Man", "Can't Take My Eyes Off of You", and many more.
Performance: Saturday May 14, 2022 at 7:30 p.m.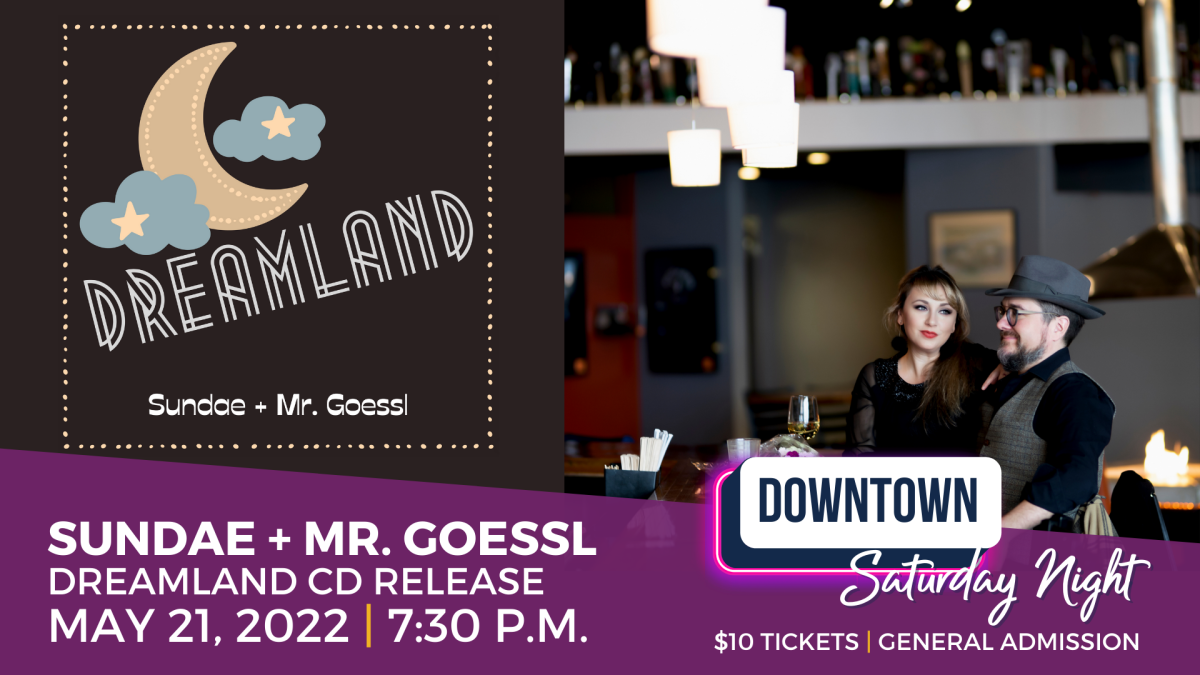 Downtown Saturday Night- Sundae + Mr. Goessl
Featuring Mike Underwood
Join Sundae + Mr. Goessl for the release of their new album "Dreamland"! Sundae + Mr. Goessl features award-winning vocalist Kate Voss (Earshot Magazine's Vocalist of the Year, two-time Seattle-Kobe Vocal Jazz Princess) and tireless virtuoso guitarist, Jason Goessl. This charming wife/husband duo has a style all their own and incorporate humor, vintage style, interesting instrumentation, nostalgia and serious musicianship in their act. While some label their style as "Vintage Pop" and others deem it "Cowboy Jazz" there's one adjective that everyone can agree on: delightful.
Performance: Saturday May 21, 2022 at 7:30 p.m.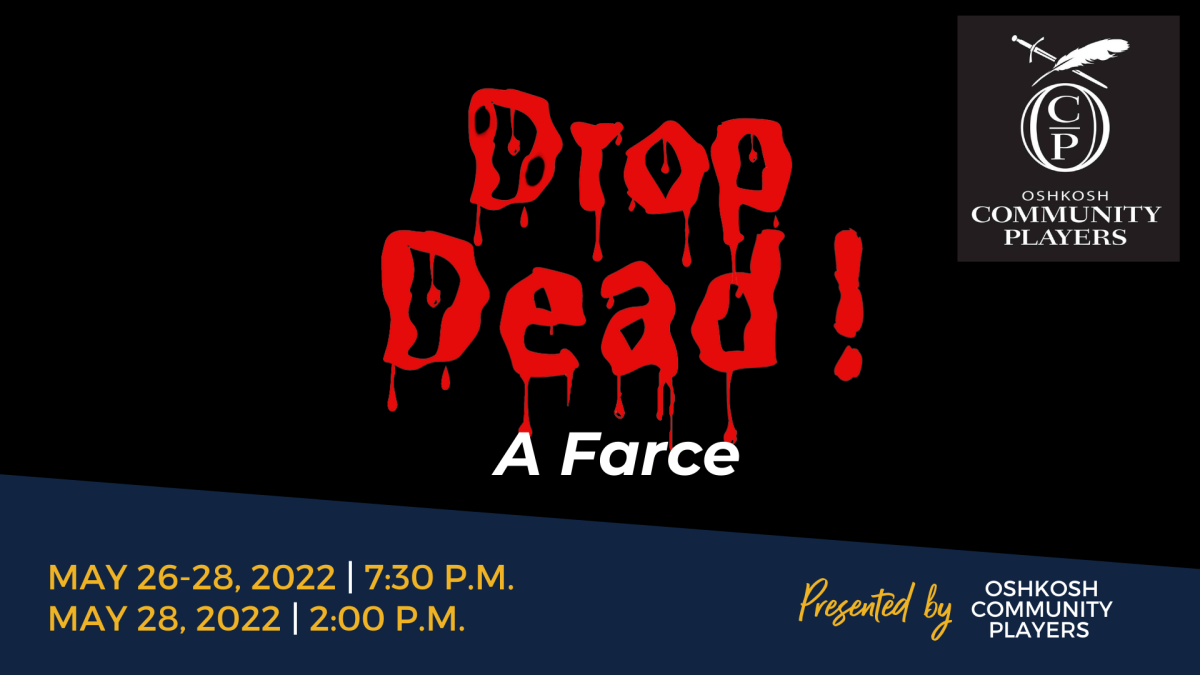 Drop Dead! A Farce
Presented by Oshkosh Community Players
A group of washed up actors are getting a second chance at a theater that needs a second chance itself. Join them on their journey as they take the stage once again, while trying to hold on to their careers.... and their lives!
Performances: Thursday and Friday May 26 and 27, 2022 at 7:30 p.m., Saturday May 28, 2022 at 2:00 p.m. and 7:30 p.m.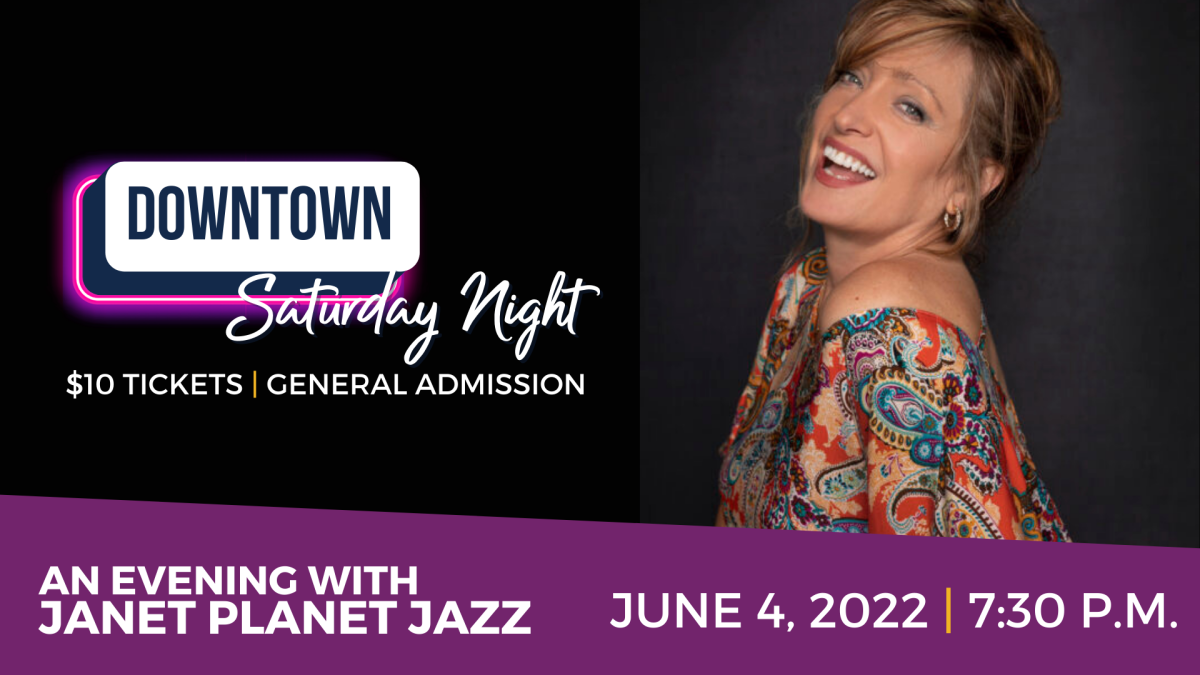 Downtown Saturday Night- An Evening with Janet Planet Jazz
Described as "The voice of the new jazz culture with seemingly limitless expression" by Jazziz Magazine, the spirited and vivacious Janet Planet has been self-produced and managed for the majority of her 40-year career. Active in all aspects of the business, she is a performer, producer, teacher, voice-over talent, commercial singer and recording artist with over 25 recordings in her discography. She co-owns the Oshkosh-based Steel Moon Recording Studio.  In 1995 she developed the independent record label Stellar Records with her husband, Tom Washatka. Janet will be joined by her long-time musical partner Tom Theabo (guitar), Mark Urness (bass) and Ryan Korb (percussion). The group brings their diverse musical experiences to the music they perform.
Performance: Saturday June 4, 2022 at 7:30 p.m.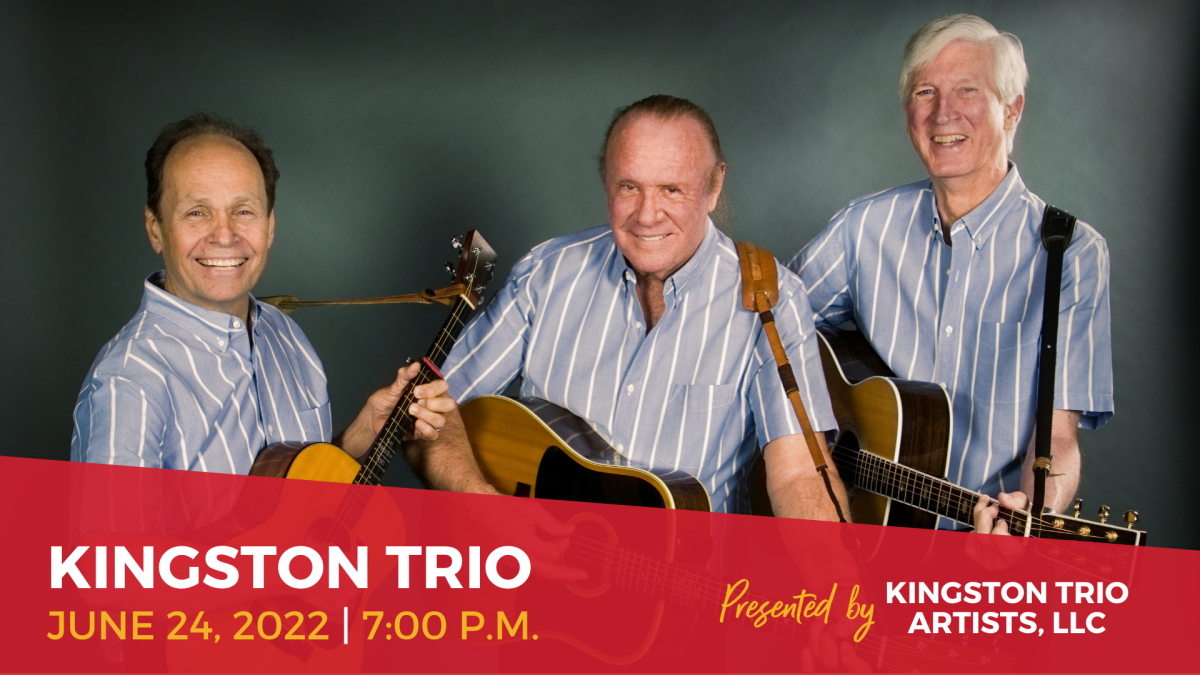 Kingston Trio 
Presented by Kingston Trio Artists, LLC
The Kingston Trio was one of the most prominent groups of the era's pop-folk boom that started in 1958 with the release of their first album and its hit recording of "Tom Dooley", which sold over three million copies as a single. Fans of legendary folk icons The Kingston Trio can re-discover their timeless music all over again. In celebration of 60-plus years of music, the iconic folk group performs their best-loved songs as part of the 'Keep The Music Playing' national tour.  All three current members, Mike Marvin, Tim Gorelangton and Don Marovich, have intrinsic links to the original group: Mike is the "adopted son" of founding member Nick Reynolds, who was also his musical mentor; Tim, a friend of John Stewart since he was in his early twenties, is one of the few musicians outside the Trio who has recorded with Nick Reynolds; and Don Marovich, a highly regarded musician who has also toured with the original Trio. 
Performance: Friday June 24, 2022 at 7:00 p.m.

 
The Sinatra Experience with Dave Halston
Presented by Tribute Masters
From Las Vegas to Oshkosh, Wisconsin, "The Sinatra Experience," a brilliant tribute starring Dave Halston. Join us for an evening of music, fun, and a zesty lineup of Frank Sinatra's most popular songs. This show is remarkably authentic. Performing with the original music arrangements, Halston brings the Sinatra sound and swagger to the stage with a swanky Vegas vibe. After seeing Dave perform, Frank's widow, Barbara Sinatra, called his performance "WONDERFUL!" Like Sinatra, Dave's natural charm is captivating. Halston does what few performers can do, a tribute to "Frank" that entertains and satisfies, start to finish!
Performance: Saturday June 25, 2022 at 7:30 p.m.
Guidelines for Attending a Show
Patrons who are not experiencing symptoms of illness may wear a mask, but they are not required. By attending events with a large gathering of people, patrons accept the associated risk. Beverages are available in the Grand Lounge and theatre lobby; all drinks must be disposed of before entering the auditorium. The staff asks patrons to still observe social distancing. You can read their full guidelines here to help ensure a safe and comfortable experience for everyone.
If you attend a show at The Grand, be sure to tag their location on social media! And as always, share your fun with Visit Oshkosh on Facebook and Instagram. 
Stay the night in Oshkosh—click here for overnight options!