Oshkosh Poetry Contest
April is National Poetry Month
Thank you to everyone who sent in a poem this year. The love you have for the Oshkosh community was very evident in every poem we read. As we do our best to navigate through this current crisis, these poems have been an uplifting and inspirational gift. We look forward to doing this again next year! Until then, we encourage you to keep writing and continue supporting Oshkosh and your fellow neighbors.
The Visit Oshkosh Poetry Contest is a free, fun way to express your feelings about Oshkosh. The contest is open to everyone who wants to write about Oshkosh. We want to know how you feel and what you love about our great city! Everyone who submits a poem will receive a prize.
---
Featured Poems
 
66,729
by Haley Edwards
Unknown Worlds
by Renee Ruman, age 15
Oshkosh Acrostic
by Matthew Crawford, age 15
Oshkosh Has Lot's of Fun Things To Do
by Lindsay Stephany, age 9
Oshkosh
by Lindsay Stephany, age 9
Together
by Rachel Chapin
Herd Up
by Micah Troedel, age 12
Joys of Oshkosh
by Lydia Holzer, age 14
A Place for Everyone
by Kathy Snell
Oshkosh: The Best
by Thomas Matiash, age 13
Memories
by Taylor Kwasny, age 17
A Special Place
by Mindy Collado
Oshkosh is My Home
by Carol Klabunde
Oshkosh
by Elias Matiash, age 14
Wisconsin Is...
by Yosef Edsell, age 12
Hello Oshkosh
by Laurie Brey
The Place to Be
by Bree Clancy, age 14
A Thousand Places
by Carly Matiash, age 12
Welcome to Oshkosh
by Diane Lowe
Oshkosh
by Felix, age 8
Lovable Oshkosh
by Evelyn Scottberg, age 9
Oshkosh Memories
by Imogen Scottberg, age 7
Oshkosh
by Maeve, age 6
Oshkosh Is
by Keith Schwalbe
See You Around
by Carolyn Horton
Oshkosh
by Eric Schueler
Downtown Oshkosh
by Nolen Boynton, age 9
---
HOW TO PARTICIPATE
Write an original poem. We love seeing creativity so feel free to include drawings or photographs if you have them.
Submit your poem by April 20. You can mail or email your poem to us.
You can mail your poem to (must be postmarked by April 20):
Visit Oshkosh
100 North Main Street
Suite 112
Oshkosh, WI 54901
You can email your poem to (we encourage you to attach a photo of your poem or other images associated with your poem):
info@visitoshkosh.com
Be sure to include the following information:
Name
Age (if you are 18 or under)
Postal Address
Email Address
 
PRIZES
Everyone who submits a poem will receive an OSH sticker.
If we feature your poem, you will receive an OSHKOSH tote bag.
Everyone who submits a poem will be included in a drawing for gift cards to local shops and restaurants. Two grand prize winners will each receive a $100 Downtown gift card.
A printable PDF of the rules can be found here.
---
Check out this video for inspiration and ideas
 

 
Chloe's poem: Oshkosh Love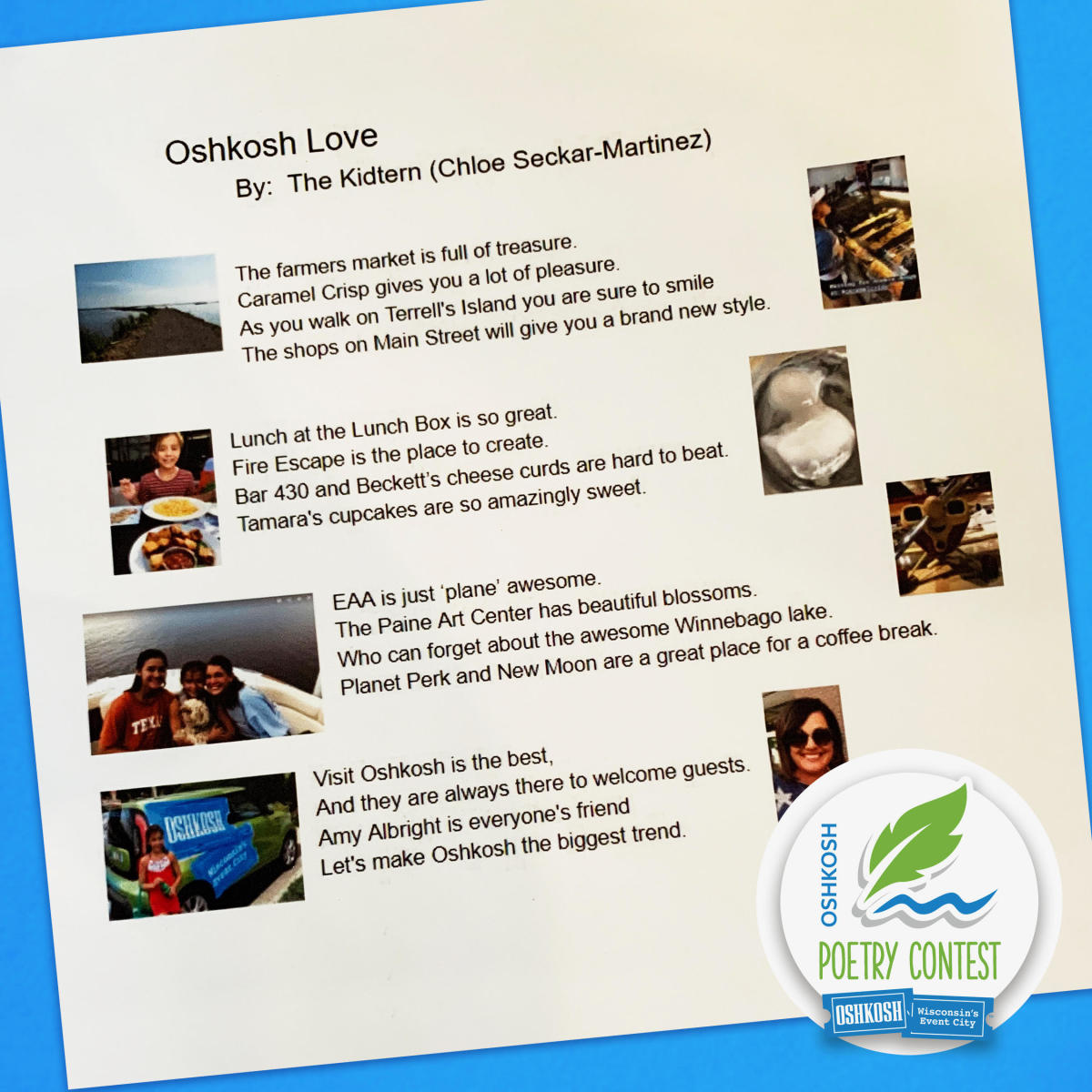 Before you go...
After you've written your poem about Oshkosh, we encourage everyone to write about other places or people you love and then send them your poem. Everyone can use a few uplifting words these days!