Happy Cheese Lovers Day!!!
I would just like to take this opportunity to thank my parents for raising me in the Dairy State! The options for cheese that we have at our fingertips is a true blessing! With Cheese Lovers Day (Jan 20) being here, we thought, what better way to celebrate than to talk about all things CHEESE! This blog is going to take you to three local cheese gems that are either in or within 30 minutes of Oshkosh as well as a cheese board for 3-6 people for under $35 using some goodies from our local stops here in Oshkosh! There were many other stops I had to choose from, but I will have to touch on those another time, (trust me, I would be more than honored to sample some more cheese for ya!!)
First stop- WAGNER MARKET. There is a whole blog on this place to come, but let's chat about their cheese selection. Truly top notch and something to write home about! They have over 100 WI cheeses in store. 100!!!! While it would be almost impossible to list them all, some of the WI brands they carry are: 
Union star
Hennings
Pine river
Bel Gioioso
Salemville
Hooks
Widmers
Sartori
Deer creek
Carr valley
Matterhorn
Saxon
Meister
Kindred
LaClare
Woodriver
Knaus cheese
Marieke Gouda
Roth
Nature Valley
Lake forest
Truly impressive! Some of my favorites that they carry are anything from Bel Gioioso, (hello best Asiago ever), Sartori, (Black pepper Bellavitano), and Roth blue cheese!! Run to the store and buy those three cheeses asap and call me to talk. Seriously, I could talk about cheese all day!! Did you know Wagner Market gets fresh curds every Thursday also!? Squeaky curds are the curds for me!! I asked Chef Mike what his favorite cheese was that they sold and he said Sartori montamore and Hooks 7yr cheddar! (See you soon to try these out!!). The most popular cheese sold in the store is any of their Aged Cheddars. It doesn't get any CHEDDAR than that!! We are so blessed to have the Market here in Oshkosh, please check it out asap! You can't miss the big cheese display! She is a thing of beauty!! https://wmgrocer.com/
UNION STAR. If you haven't tried a Union Star curd yet, you haven't truly lived! Sold fresh every Monday, Thursday, Friday and Saturday but be sure to get there early as they sell out fast! I am telling you, people travel far for these things!! I stopped into the shop to pick up some fresh curds and couldn't help but notice that they had a Jalapeno Muenster cheese on special! So naturally I had to pick that up to try, and let me tell you, DELISH!!! My other personal favorites there are the Red Onion Cheddar and their Aged Cheddar cheese. So good. Union Star is owned by the Metzig Family and it is a family affair! Some of their famous cheese includes:
Extra Sharp Cheddar
5 Year Extra Sharp Cheddar
Garlic Cheddar
Medium Cheddar
Mild Cheddar
Sharp Cheddar
Smoked Cheddar
White Extra Sharp Cheddar
White Farmhouse Cheddar
White Port Wine Cheddar
Red Onion Cheddar
Tomato Basil Cheddar
Parmesan
Swiss
Baby Swiss
Mozzarella String Cheese
I chatted with Jon Metzig's wife, Kelsey, and she said that Jon's favorites are blue cheese, washed rind cheese and aged cheddar! She said she couldn't pick a favorite, and I totally understand!! Kelsey also gave some fun facts about cheese! Did you know it takes 10 lbs of milk to make 1 lb of cheese?! Cheese is also naturally white, not yellow! The only fun fact I have about their cheese is that they seriously make some of the best curds around!! https://unionstarcheese.com/cheese-catalog/
SIMONS CHEESE FACTORY. Located in Appleton, Simons Cheese is like walking into cheese paradise! The Simon's purchased the cheese factory from its previous owners in 1940 and have added on to make it what it is today! My personal favorites there are their Feta, regular curds and their hot curds.. Oh man their hot curds!! They make fresh curds every Monday, Wednesday and Friday and only make their hot curds a few times a year, (mostly Holiday time and before deer hunting!) Simons sells their award winning cheeses along with over 100 different WI cheeses! (Seriously, their store is amazing!) Some cheeses you can find in shop are:
Feta
Tomato Basil Feta
Chocolate Cheese Fudge
Maple Cheese Fudge
Marbled CHeddar
Mozzarella
Medium Cheddar
Provolone
Sharp Cheddar
Smoked Provolone
Curds
Smoked String Cheese
String Cheese
Simons Cheese mentioned that the curds and all of the cheddars are their best sellers! Fun fact: they also make pizzas in house!! They have some pre-made in shop, otherwise you can call ahead and make your own with a choice of over 15 toppings! Looking for your next dish to bring to an event, Simon's also makes cheese trays in 10", 12", 14" and 16" trays! A 24 hour notice if possible is ideal for these, but they are sure to please! https://simonscheese.com/
Cheese Board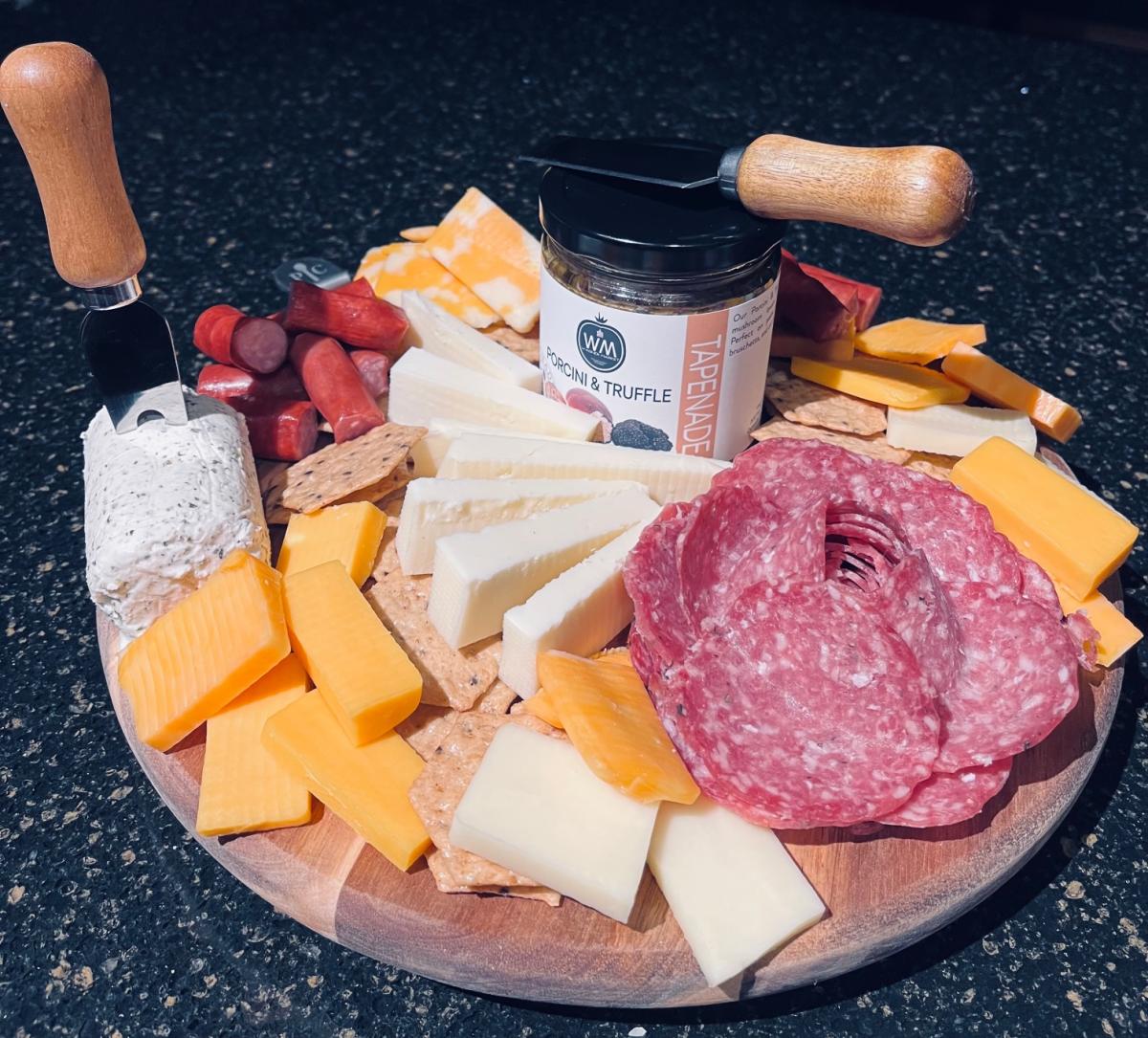 Now for this cheese board!!! I purchased all of the items used at either Wagner Market or the Oshkosh Food Co-OP! I got everything for under $35 and had some reserves that I could add when we got low! Below is the list of items from each and the prices to get us to our under $35 total. A little fun fact- Wagner Market sells Boars Head products that I absolutely love! So naturally I had to give them a follow on Instagram and they conveniently posted a guide on what items to get for a cheese board for 3-6. They recommended 1 sharp cheese, 1 soft cheese, 1 firm cheese, 2 meats, 1 bread/cracker choice, and 1 spread of your choosing! I followed that guide and it truly built a beautiful board that had something for everyone!
Sharp Cheese item: BelGioioso Asiago- one of my favorite cheeses of all time! $3.29 Oshkosh Food Co-Op
Firm Cheese item: Jim's Cheese Checkerboard cheese- most variety you are going to get for one block of cheese! Four cheeses in one block, it comes with Colby, Monterey Jack, Colby Jack and Mild cheddar. $7.99 Wagner Market
Soft Cheese item: LaClare Garlic & Herb goat cheese- so much flavor and an easy prep option for your board! $2.49 Oshkosh Food Co-Op
Meat Option: Boars Head D'Oro Dry Salame- truly a top notch product, you can't go wrong with any Boar's Head product! ¼ lb $2.39 Wagner Market
Meat Option: Miesfeld's Honey Ham Sticks- a little sweet option to add to the board, this is a nice little poppable no prep choice. $2.29 Oshkosh Food Co-Op
Cracker Option: Crunchmaster Multi Seed cracker- such a nice sturdy cracker option! $3.00 Oshkosh Food Co-Op
Spread Option: Wagner Market Porcini & Truffle Tapenade- Holy olive deliciousness!!! This product really takes your board to the next level and Wagner Market takes all the work off of you, just place the jar in the middle and you are set! $9.99 Wagner Market
Total for a Cheeseboard for 3-6 people: $31.44
How lucky are we to have so many options this close for us to buy local cheeses to build our own masterpieces! In honor of Cheese Lovers Day, the Oshkosh Food Co Op also has some fun deals for you, go check them out. And while I only touched on 4 places in/around Oshkosh, there are seriously so many more places to try. Wisconsin cheese tour anyone? Let's hear your favorites, there are plenty to pick from! Tag us in your cheese boards if you build one too, we love to get ideas for our own!
 
Stay the night in Oshkosh—click here for overnight options!