Lake Winnebago
Fishing Wisconsin's Largest Inland Lake
Lake Winnebago is Wisconsin's largest inland lake and, arguably, its most important fishery. The walleye fishing on Lake Winnebago is widely thought to be some of the best in the country. Anglers come from miles around to try their hand at Winnebago's jumbo perch. And, bass anglers from around the Midwest are beginning to take notice of Lake Winnebago's excellent fishing for both largemouth and smallmouth.
At more than 138,000 acres, Lake Winnebago is big. The lake is part of a system that includes Lake Butte des Morts, Lake Winneconne and Lake Poygan as well as the Wolf and Fox rivers. It's a nearly endless amount of water.
The structure of Lake Winnebago is unusual. Although it covers 215 square miles, it is quite shallow. The average depth is just 15.5 feet. At its deepest, the lake drops to a mere 21 feet.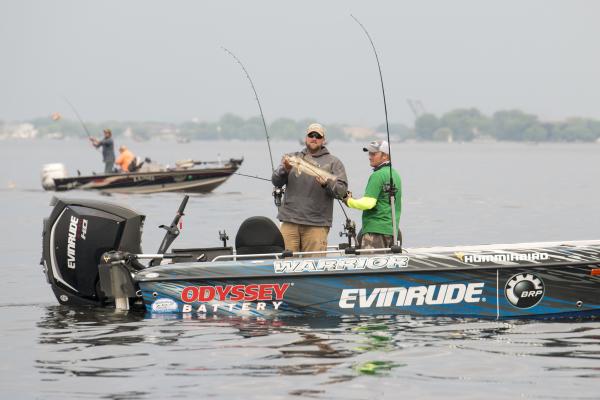 World-Class Walleye Fishing
Walleye flourish in the Lake Winnebago system. Spawning areas in the upstream portions of the lake system are some of the best walleye spawning areas on earth. The result is abundant walleye in a variety of year classes.
Walleye anglers on Lake Winnebago use several techniques. Trolling is perhaps the most popular. Most Winnebago walleye anglers use planer boards, which give the angler precise control of the bait. Jigging and slip-bobber fishing are also popular, particularly during the summer months.
Perch fishing on Lake Winnebago is also outstanding. Unlike walleye, perch are primarily a day-time biter. Many of the techniques used for walleye can be used for perch, although lighter tackle is called for. Like walleye, perch are often found on mid-lake humps.
If you're out fishing on Lake Winnebago and you see what looks like a shark swim under your boat, you're not seeing things. These aren't sharks, but rather lake sturgeon, enormous fish that can reach lengths up to seven feet long and more than 200 pounds. The Lake Winnebago system harbors about 40,000 of these gentle, bottom-feeding fish.
Bass are found throughout the Lake Winnebago system. Both smallmouth and largemouth bass can be found. Smallmouth tend to be found in deeper water and prefer hard bottom structure, such as rocks and gravel. Largemouth tend to be in close to shore and can be found around docks and shallow weedbeds. Major bass tournaments are held on Lake Winnebago every year, a testament to the fact that this is a world-class bass destination.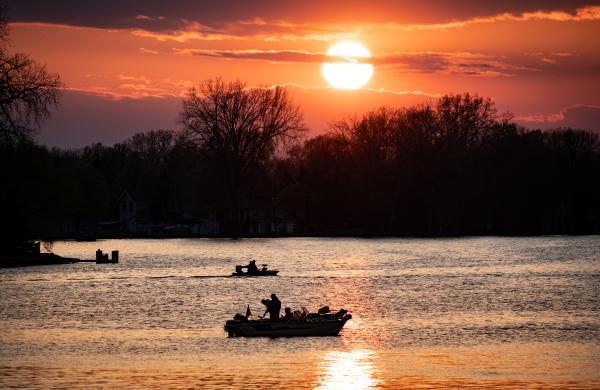 Get On The Water
Launching a boat onto Lake Winnebago is easy. Find great resources about local boat launches and fishing regulations on our On The Water Fishing page. If you're looking to rent a boat or need to find a marina, go here!
For anglers seeking to try their luck on Lake Winnebago, Oshkosh is the perfect place to stay. The community offers excellent hotels, numerous restaurants and hundreds of retailers.