April 4 - 10, 2022
Oshkosh Craft Beer Week is BACK! Join us April 4th - 10th for an awesome week of craft brews! This week-long celebration of craft beer highlights our three awesome breweries that call Oshkosh home. We're so excited to share that this year Bare Bones Brewery, Fifth Ward Brewing Company, and Fox River Brewing Company have teamed up to brew a special Oshkosh collaboration beer called City Wide!


City Wide
The first of its kind, City Wide is a collaboration between the three breweries that currently call Oshkosh home. Brewed in celebration of Oshkosh Craft Beer Week 2022, the City Wide Red IPA is jam packed with Mosaic and Azacca hops lending juicy citrus and berry notes throughout the experience. Cheers to Craft Beer Week in Oshkosh!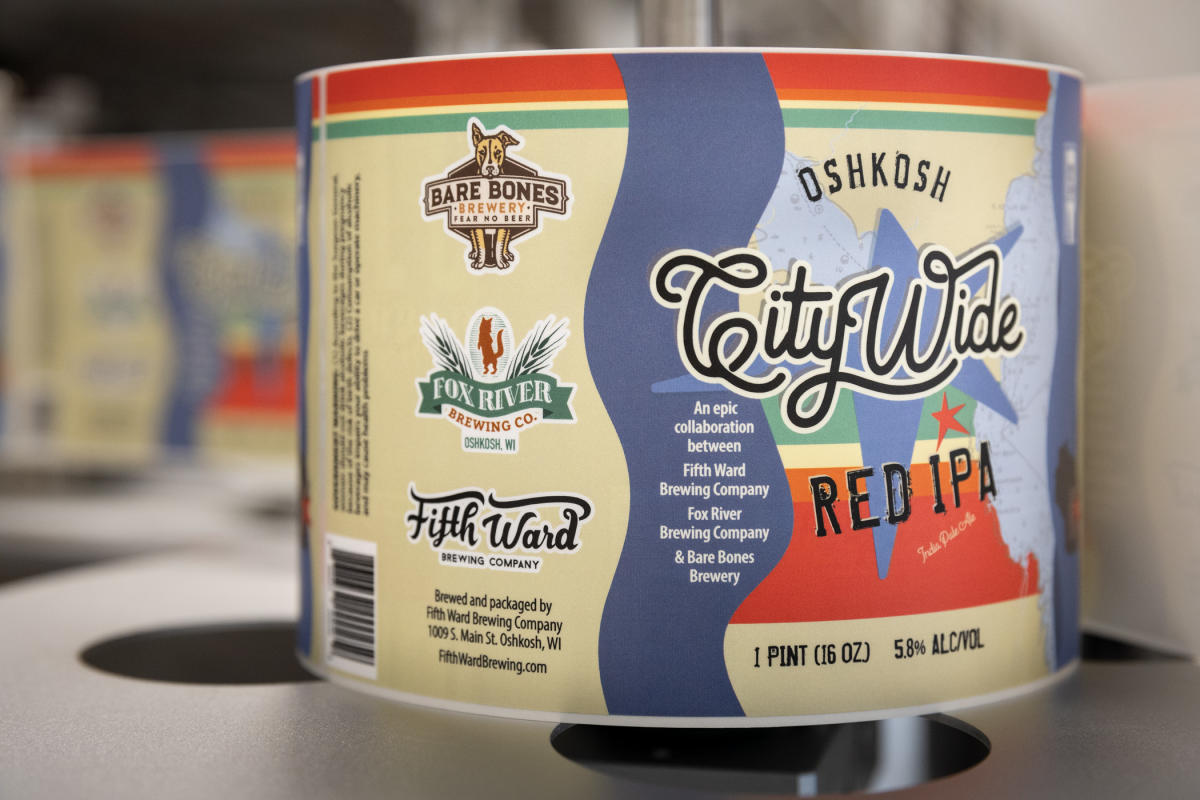 Find City Wide on tap at the following locations!
- Bare Bones Brewery
- Beckets
- Bar 430
- Barley and Hops
- Chester V's
- Dublin's Irish Pub
- Fifth Ward Brewing Company
- Fox River Brewing Company
- Gabe's Wisconsin Kitchen & Tavern
- Gibson Social Club
- Ground Round
- The Hangar
- Jansen's
- Manila Resto
- Oblios Lounge
- Pete's Garage
- The Roxy Supper Club
- Ruby Owl Tap Room
- TJ's Harbor Restaurant
Find canned City Wide at:
- Bare Bones Brewery
- Fifth Ward Brewing Company
- Fox River Brewing Company
- Oshkosh Food Co-op
- Wagner Market
Fox River Brewing has a full week prepared for you! Starting with the City Wide beer release, Detroit style pizzas, John Supple's Birthday- special beer release and free birthday cake, and four additional beer releases!  Click here for the full schedule! 
Fifth Ward Brewing will be releasing a new small pilot batch of beer every day Tuesday- Saturday! (As well as a can release of a large batch on Friday!)
Bare Bones Brewery has new beer releases, bringing back some classic brews, tap beer and pizza specials! 
Saturday, April 2 – We are starting a little early because we are so excited to kick off with our Heritage Series of OBC's Chief Oshkosh Bock!
Sunday, April 3- Oshkommon is up on tap for only $3 pint today AND dessert is served in a glass with Cookies & Milk Stout on tap for $3 pint, $5 a 6-pack or $5 growler fill, all week long!
Tuesday, April 5- Release of the Oshkosh Collaboration of City Wide, Red IPA (Fox River Brewing Co, Fifth Ward, and Bare Bones Brewery)
Wednesday, April 6- New Release of our Stray Dog, Wit beer!
Thursday, April 7- You know you want to come and try our Chocolate Hound!  $4 pint OR Dread Porter Roberts will be up on draft for $3 pint. You can also grab a growler fill of DREAD for $6
Friday, April 8- Get a pizza and pitcher of Oshkosh lager for $20
 
Oshkosh has some great beer, let's enjoy it!  For more information, check out Oshkosh Craft Beer Week on Facebook and follow for updates and special event announcements #OshkoshCraftBeerWeek
Stay the night in Oshkosh—click here for overnight options!