"Every child is an artist. The problem is how to remain an artist once we grow up." - Pablo Picasso
FIRE ESCAPE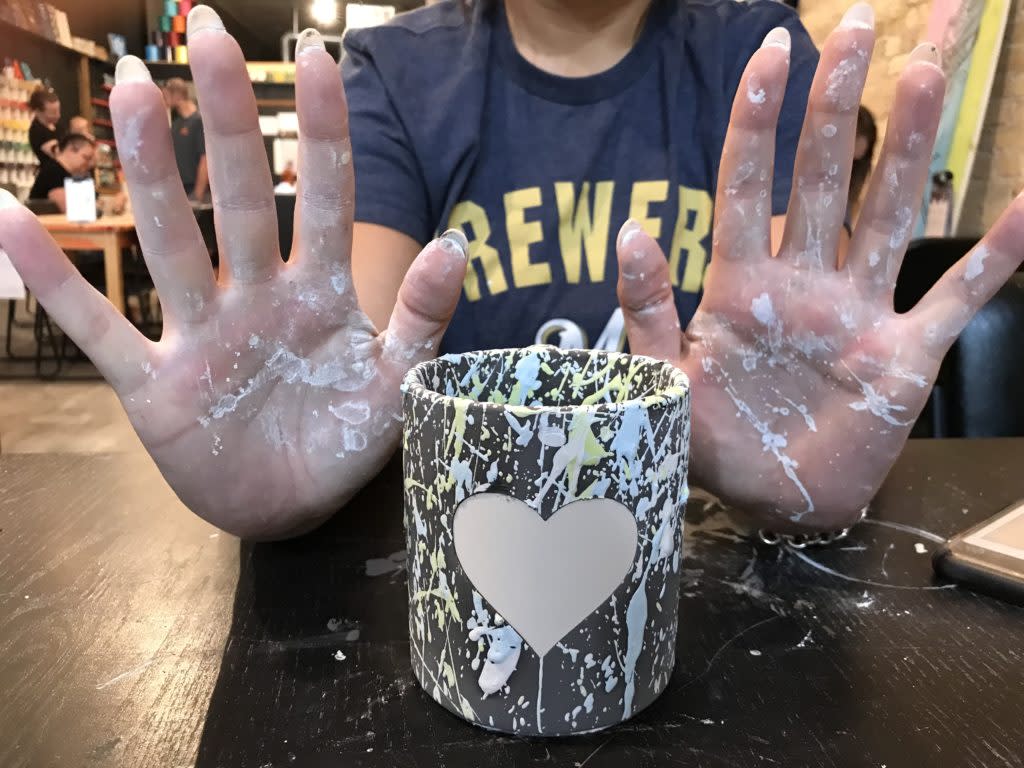 Fire Escape is a local business located in the heart of downtown Oshkosh started by Rebecca and Jessica Graf, a dynamic mother-daughter duo.
"We are a do-it-yourself art studio," Jessica explains. "You can walk in right off the street and do pottery, wood signs or canvas projects. We also host classes, camps and unique events as well as birthday parties and team building activities."
Fire Escape offers many different classes throughout the year. From slime and paint-your-own-pillow to mandala mugs, wizard parties and art camps, it has something for everyone.
With more than 300 different pottery projects to choose from, Fire Escape makes it easy for the whole family to choose their own special piece to paint. The projects are also great for people of all ages. Fire Escape offers a free tile for babies under six-months-old where they capture the child's hand or footprint.
"Our most popular offering is definitely pottery painting," Rebecca said. "It's just a distinctive project because you can make your own mug, plate, bowl or other unique pieces."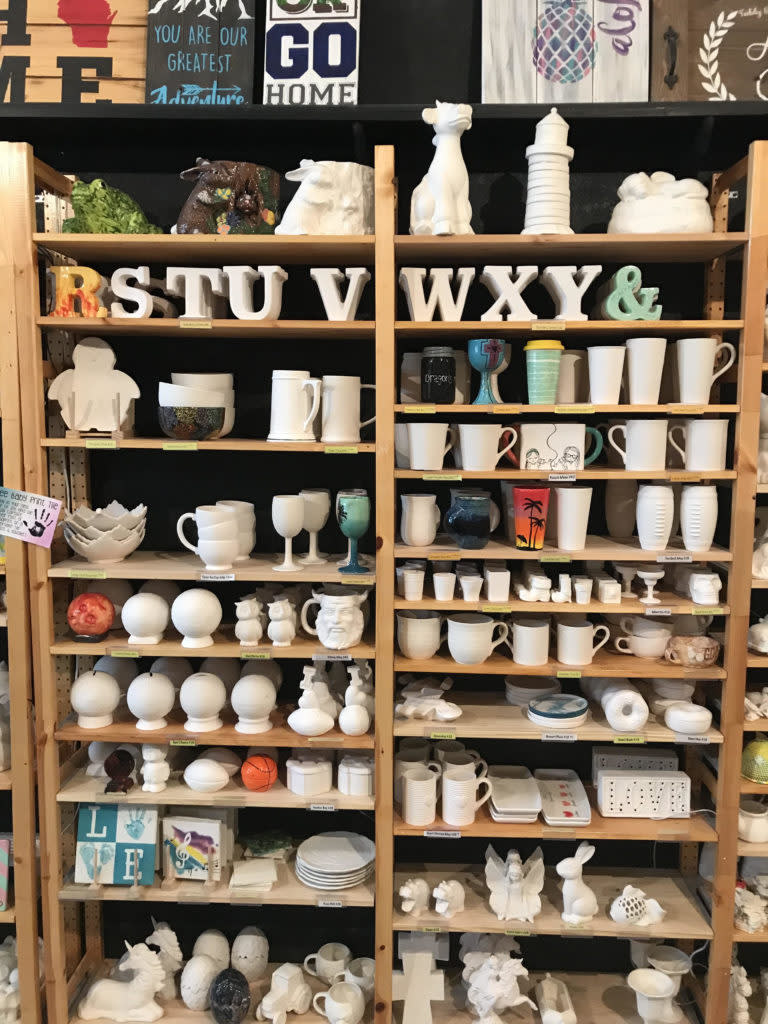 The pottery painting starts off with you choosing your own piece of pottery. This may be the most difficult part considering Fire Escape's large selection. Once you select your piece, you then have to decide on a design technique and colors.
Design techniques include watercolor, splatter, bubbles, dots and more. The staff at Fire Escape is very helpful in showing you how to create the vision you have for your project. When you're done, your pottery is then clear glazed and stacked in the kiln ready to be fired.
Fire Escape hosts a variety of parties including birthday parties for adults and kids, bachelorette parties, baby showers, retirement and graduation parties and team and work parties.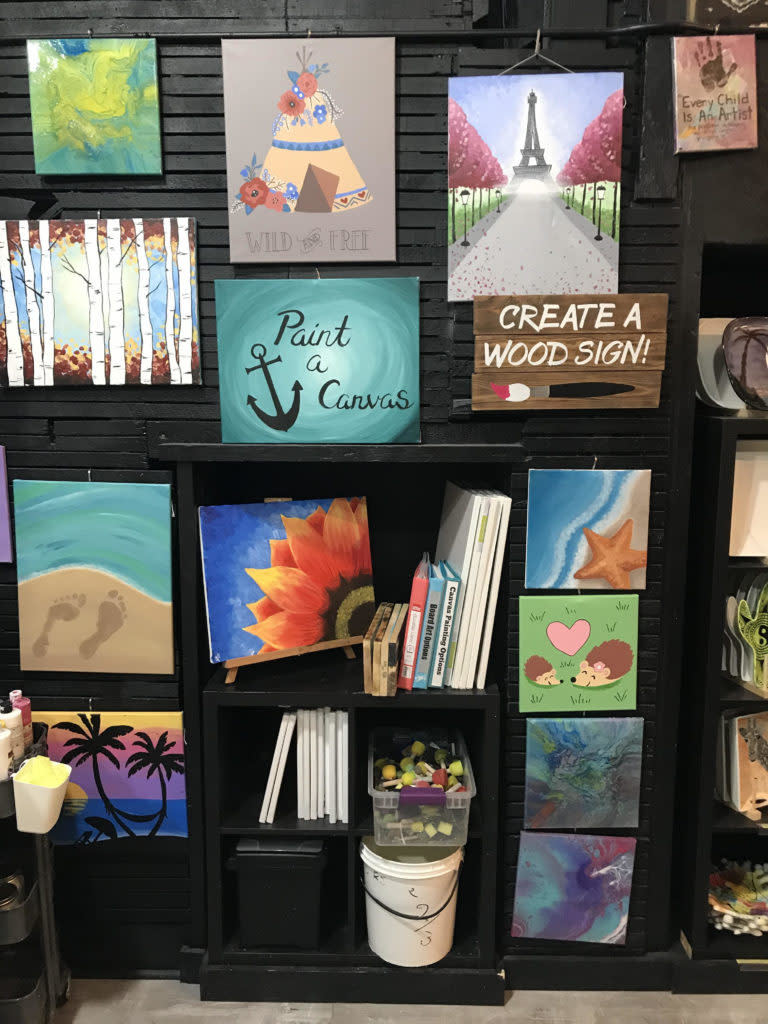 "We regularly collaborate with other businesses and offer unique events," Rebecca said. "Some of the unique events we've done include off-site projects at Bare Bones Brewery and Adventure Game and Hobby, creating unique home decor pieces at House of Flowers, a 'Drop & Shop' with Brinkley's Boutique so the kids can create a fun project while mom or dad shops and date nights with both Escape Oshkosh and the Backlot Comedy House."
Being located in a historic building in downtown Oshkosh amongst all the shops, restaurants and pubs creates a unique and inspiring atmosphere at the Fire Escape. It's easy to enjoy a full afternoon or evening of fun in downtown Oshkosh.
"We are incredibly proud that we are a small business and even more proud to be found in downtown Oshkosh," Rebecca said. "We are always looking for ways to team up with other small businesses in any way we can to make downtown Oshkosh better and offer more events."
Fire Escape makes art fun and easy. Whether you are a natural or need a little help, this is a place for everyone. For beginners, Rebecca suggests just grabbing a friend and stopping in to create.
"You can sign up for an event or a class, but why wait?" Rebecca said. "Come into Fire Escape this week and make something awesome."
At Fire Escape, you don't have to be artistic or creative, because someone is always there to help you as much as you need. Whether it's a special occasion or a rainy day, you can walk in appointment free and create something beautiful. And remember to always keep an eye on the classes and events they offer. You never know when you'll be painting with baby goats.
ART SPOT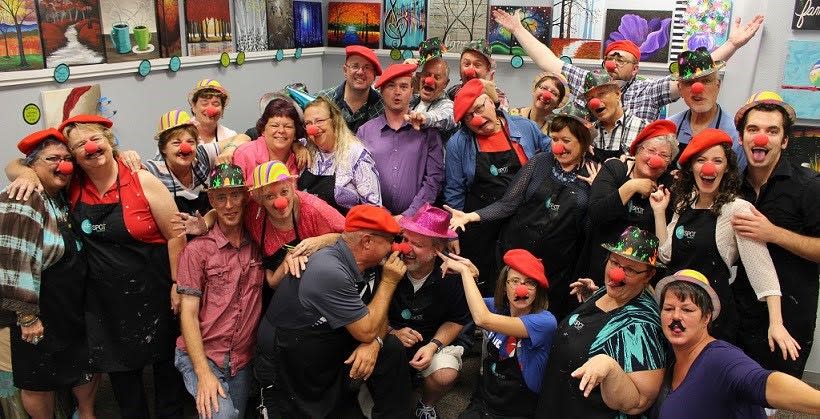 Art Spot, located in Oshkosh's City Center, was started by three family members, Laurie Larson, Amanda Carey and Jenna Larson.
"This business started with a simple conversation over a glass of wine at a Thanksgiving family gathering," Amanda Carey, Art Spot owner, said. "At the time there was very little of anything like this happening in our state, so after many months of debate and planning, we pulled the trigger and took the dive."
Art Spot is an instructional art studio where groups can come in for painting sessions and more. Most classes are two to three hours and all materials are included in the class fee.
Classes are run similarly, starting with an introduction into materials being used for each particular class. Art Spot uses its always-evolving teaching techniques that the instructors have developed while teaching hundreds of instructional classes, which work very well to assist all levels of artistic capabilities. A main instructor and assistants are always available to offer as much one-on-one instruction as needed.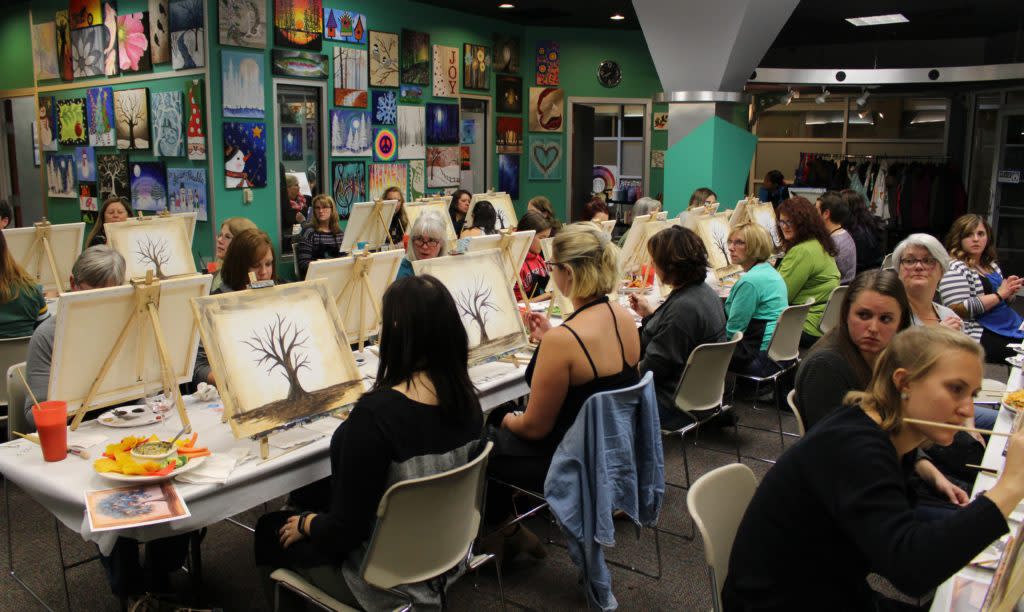 "We take fun breaks and listen to a great range of music as well," Carey said. "All of this and some high-end appetizers and beverages make for a very awesome, multi-faceted experience."
Art spot is not just for expert artists, it is for beginners to professionals alike. Groups from bachelorette parties to normal couple date nights are welcomed.
"We often see bachelorette parties and birthday parties, which are always fun," Casey said. "But I think the events that are always the craziest or funniest are when we get couples together and co-ed gatherings because things can get pretty hilarious when you've got husbands and wives 'competing' with their creativity or a little friendly jesting."
The classes are for all ages and Art Spot often gets multi-generational groups at its classes. Grandparents, parents and kids can all participate in the same thing. Art Spot also runs events that are meant specifically for kids and even family events.
"A common misconception that some people have about places like Art Spot is that the classes are just for women," Carey said. "But when the guys sit down to start creating, it gets real, really fast!"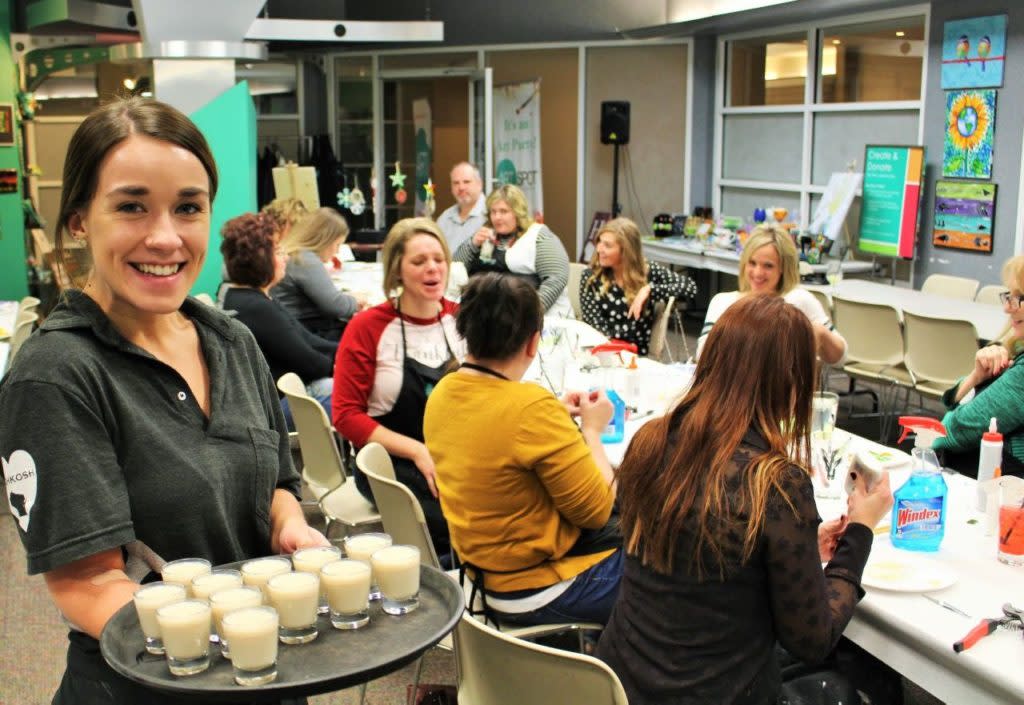 Painting is not the only thing offered. Since opening, Art Spot has run classes in acrylic painting, glass fusing, wood sign making, mosaics, multi-media, wine glass painting, jewelry making and crochet.
"We are unique because we truly started from the ground up and offer a wide array of instructional classes," Carey said. "Because of our art backgrounds and heavy curiosity in all things creative, we knew we would be constantly adding new programs and projects for people to choose, so there isn't any particular kind of art business model we could follow at the start."
Booking an Art Spot event is easy. Private Events can be planned within a week or months out. Art Spot runs private events just like a regular class, and that includes not requiring additional fees or raising the prices per person.
"We also have our amazing Becket's Restaurant service for all public and private events," Carey said. "You can order freshly prepared appetizers, desserts and get beverages from a full bar, without ever leaving your seat… it's a real perk to our customers."
by Paige Owens and Kayla Floyd
Stay the night in Oshkosh—click here for overnight options!