The warm sun glistens on the gentle waves as you sip a local, craft brew and watch boats float effortlessly on the sunlit water. Kids are playing games on the lush lawn and young lovers are laughing two tables over. Your mind starts to wander as you hear a familiar tune drift through the air. You turn your attention to the live band in the corner of the patio and notice the ember glow of the sunset dancing to the rhythm of the song. The intoxicating aroma of the grill sweeps you off your feet and you come to the realization that this moment is absolutely perfect.
Oshkosh is home to numerous waterfront dining locations. Take a moment and enjoy a few…
Becket's offers modern waterfront dining in the heart of downtown Oshkosh. Chef Mike Buckarma and his talented culinary team pridefully use only the freshest and most local products to craft from scratch, just for you. This includes local produce from urban farm partners at Growing Oshkosh and the finest steaks, aged and cut at their sister grocer Wagner Market. Check out the weekly happy hour specials along with live music on the weekends and live jazz every Wednesday night. Dock your boat or park your bicycle and enjoy some local goodness.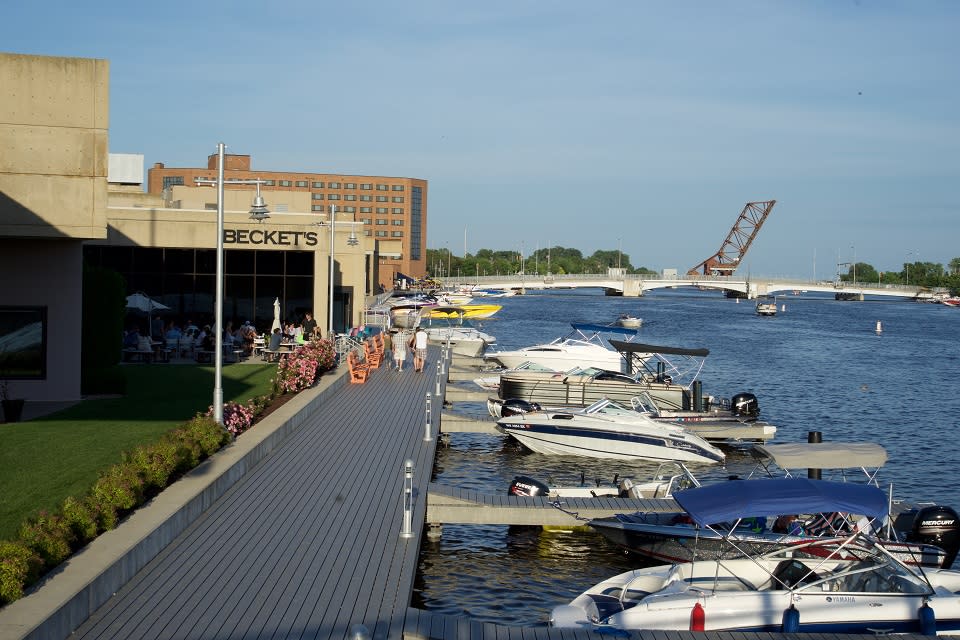 Fox River Brewing Co. opened on the shores of the Fox River in 1995, the first brewery to open in Oshkosh since 1913 and since then has been Oshkosh's most recognizable brewery in a city with deep roots in brewing fine beers dating back to the mid-1800s. FRBC is home to their signature Blu Bobber (Blueberry Ale), along with newest Bobber collections, Red Bobber (Raspberry) and White Bobber (Cherry Apple Hard Seltzer). The Brewery & Restaurant boasts water views throughout the multi-tiered restaurant with an expansive patio, tiki bar and guest boat docking. Two bars inside and dining options that vary from window seats, our semi-private river room, and more laid back TapRoom. Guests will find a variety of tap beers, including Reel it In IPA, Marble Eye Scottish Ale, and seasonal sections like Foxtoberfest. Open seven days a week the menu features salads, burgers, pizzas and entrees along with an extensive wine and liquor selection.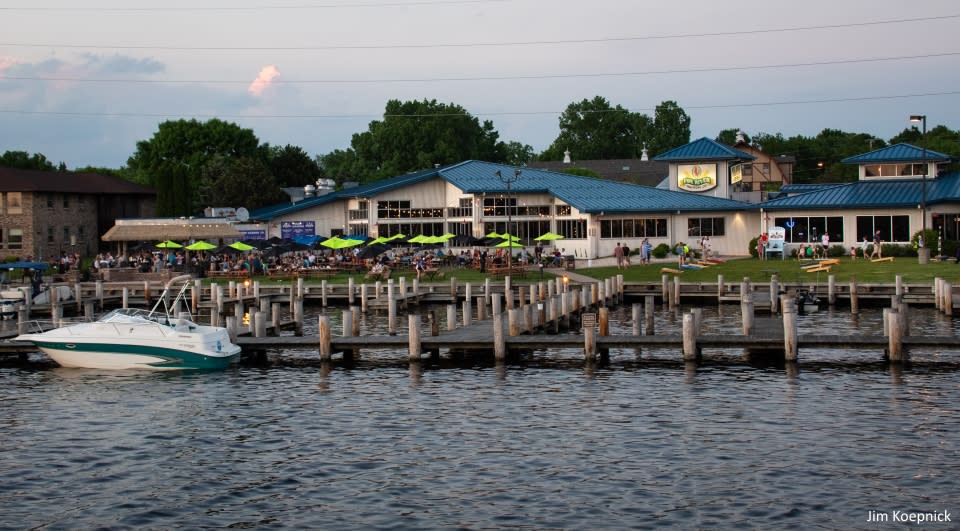 Dockside Tavern combines a fun, casual neighborhood tavern with a riverside atmosphere offering an inviting bar with vintage boat decor and a savory menu of local flavors. The menu features excellent burgers, sandwiches, seafood, pizzas and salads. Its location on the scenic shores of the Fox River is an ideal place to dock your boat. Quick access to the Riverwalk makes it an easily accessible pit stop for walkers and bikers. The large, outdoor patio is a great place to see live bands and watch boats float along the river.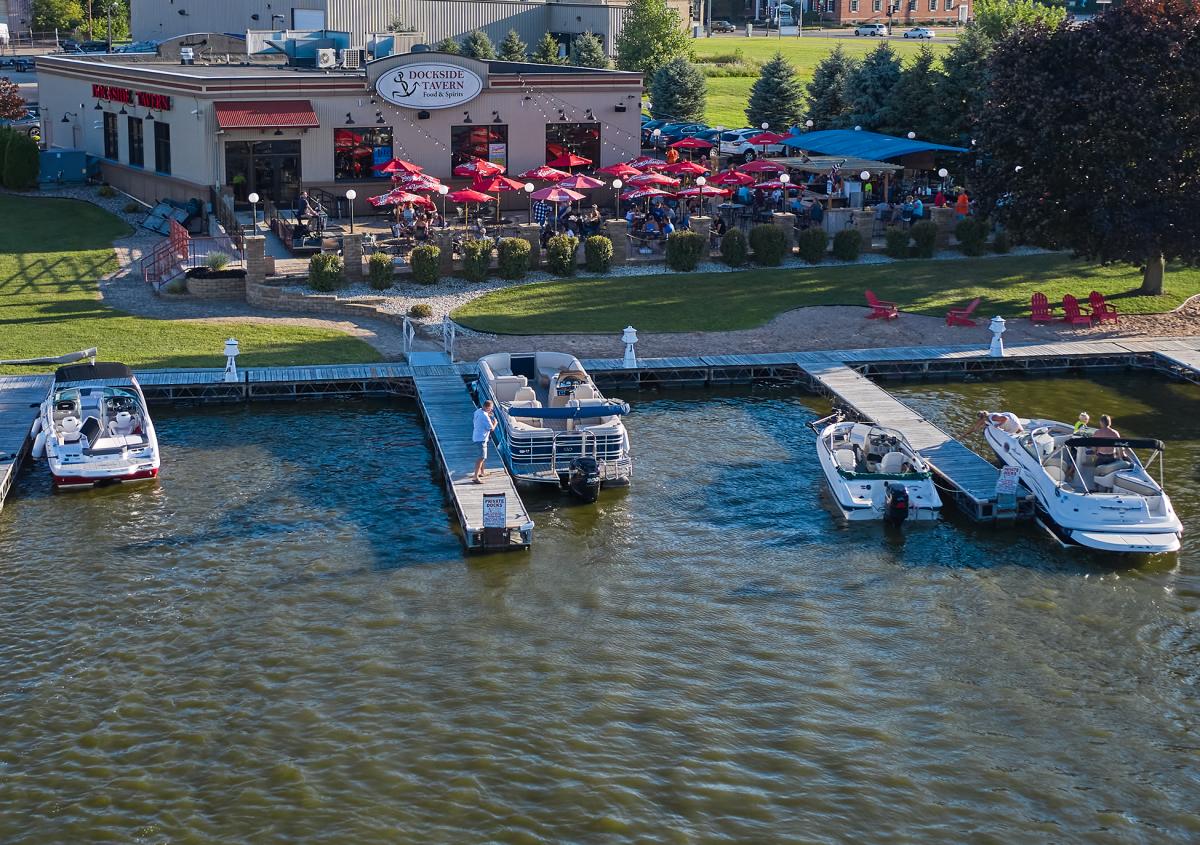 Set on the banks of the Fox River, the Ground Round at River's Edge offers great food and great fun with spectacular panoramic views.  Both the lounge and patio area are casual alternatives where adults can relax, meet friends, watch the game and enjoy the same full-service menu as the dining room area. Easy access to the Riverwalk allows walkers and bikers to stop by for a quick meal or refreshing drink. A large, outdoor fire pit offers a warm, cozy feel on cool summer nights.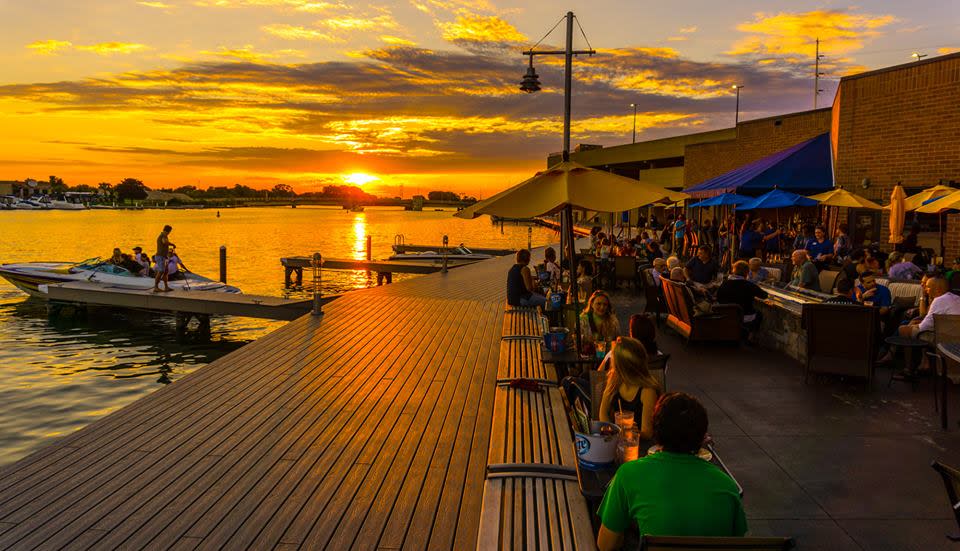 TJ's Harbor prides itself on a rotisserie-inspired menu. All of the meat for their sandwiches, salads and pastas are slow roasted in a rotisserie oven to provide a healthy dining alternative in the Fox Valley. TJ's location boasts fantastic views of Lake Winnebago from the outdoor patio and viewing deck.  Two full-service bars and a newly renovated harbor to give boaters great docking accommodations on the lake.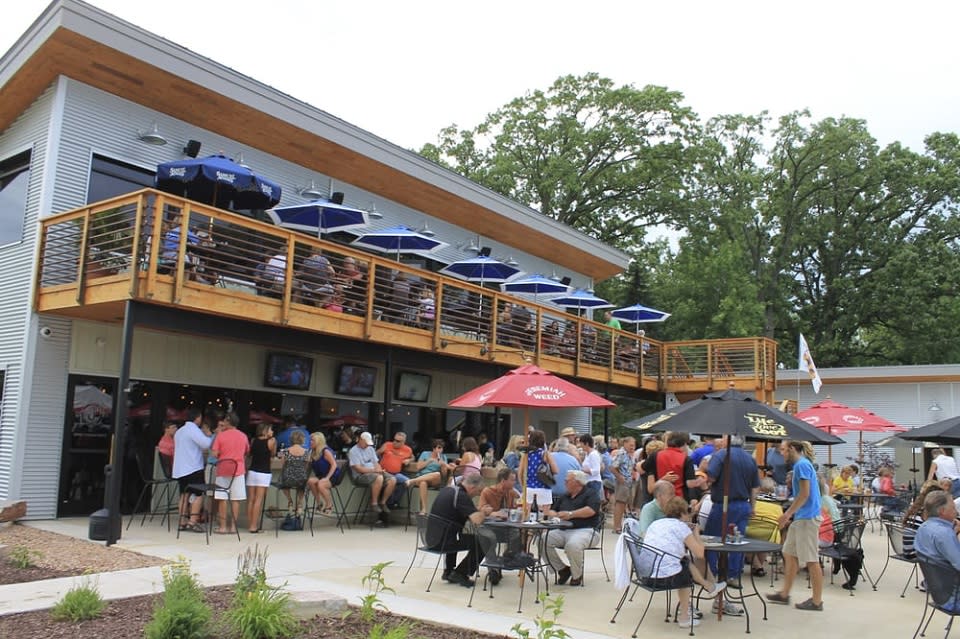 Stay the night in Oshkosh—click here for overnight options!