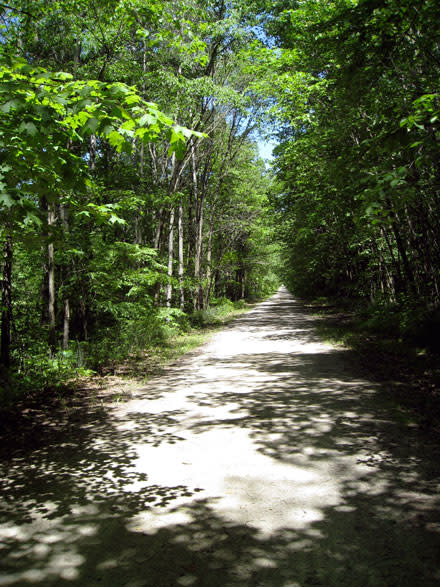 The Wiouwash State Trail is the perfect place for a spring ride. As the trail runs north from Oshkosh, it passes through wetlands, prairies, patches of forest and sprawling farmland. As you pedal along, you'll see the landscape coming back to life after a long winter's slumber under a heavy blanket of snow. It's the perfect way to spend a sunny spring day.
The Wiouwash Trail's strange name comes from the first two letters of the four counties through which the trail passes: Winnebago, Outgamie, Waupaca and Shawano. The southern leg of the trail, from Oshkosh to Hortonville, runs for 22 miles. A northern leg of the trail runs for 24 miles from Aniwa to Split Rock.
The southernmost trailhead is located in Oshkosh at Westwind Drive. A bicyclist can reach the trailhead via Oshkosh's local trails running all the way to the Riverwalk. That means a bicyclist starting in downtown Oshkosh can head straight out into the country, traveling along bike paths the entire way.
As you head northward, you'll pass a variety of habitat types, including tall-grass prairies. The trail crosses several waterways, including the Rat River. In addition to Oshkosh and Hortonville, the trail passes through the communities of Medina and Larsen.
The trail's crushed limestone surface is suitable to most types of bicycles. Early in the season, expect the occasional patch of mud. But, for the most part, you can expect a scenic, serene outing. A ride on the Wiouwash is a real escape.
This spring, pedal the Wiouwash and experience one of the most relaxing bicycle rides in northeast Wisconsin.
Stay the night in Oshkosh—click here for overnight options!