Pedal. Drink. Repeat! That's the slogan of the new pedal trolley for Oshkosh. These party bikes can go by many names: pedal tavern, brew bike™, bike bars, etc. But nevertheless, Oshkosh now has one! Learn about the new Oshkosh Pedal Trolley and what you can expect when you book a trip.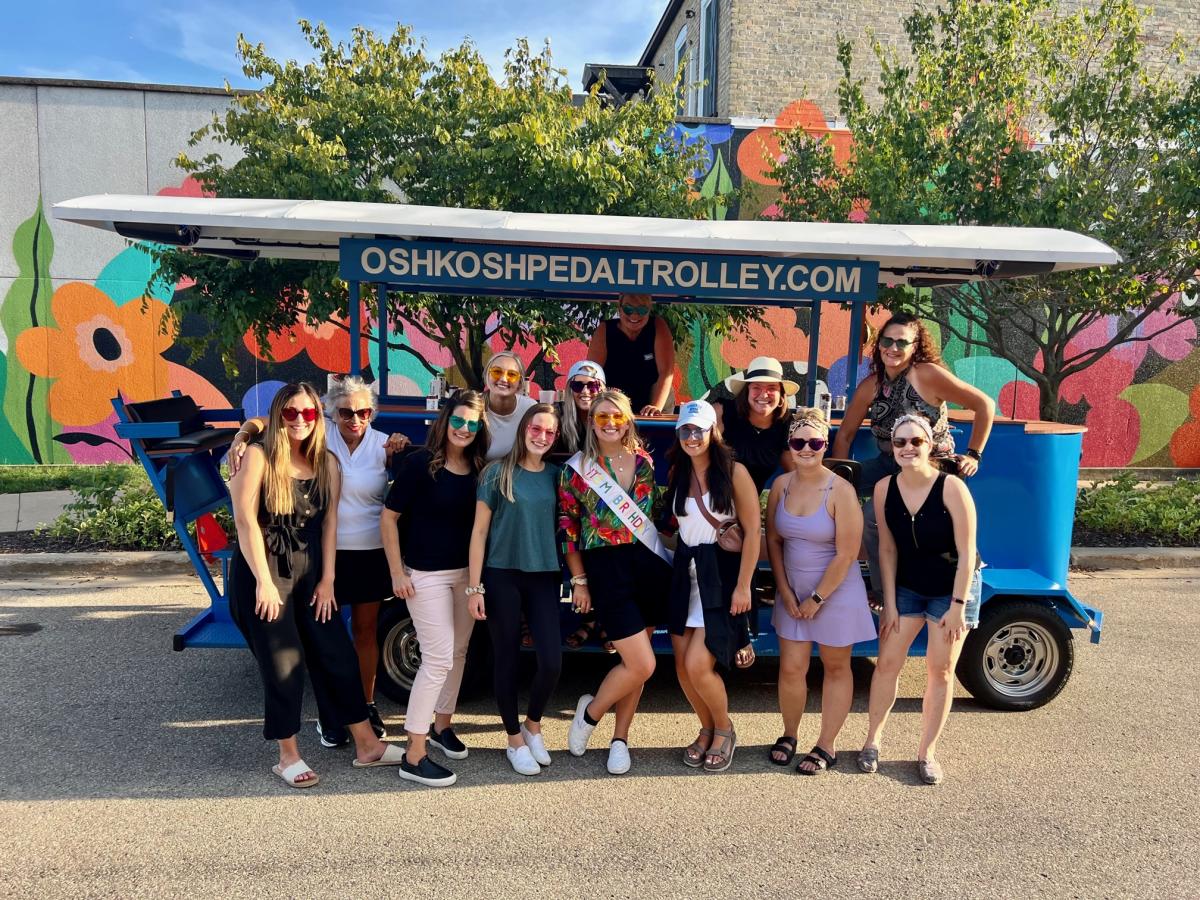 About Oshkosh Pedal Trolley
The Oshkosh Pedal Trolley is owned by Dan and Sarah Brosman. Dan purchased the trolley from a Craigslist listing in Sturgeon Bay and has worked to completely renovate it for Oshkosh. Extreme Customs in Oshkosh helped renovate the bike, right down to the bright blue paint (fun fact: it was originally bright red!). As the name suggests, you and your fellow riders move the Pedal Trolley with pedal power! Similar to riding a bicycle, you pedal with the other passengers around Downtown Oshkosh to stop at various locations while having fun along the way.
Riding the Bike
The bike features 14 seats that are adjustable for height, with a minimum of 6 individuals required to ride. Four of these seats are not tied to the pedal, so if someone is unable to pedal they can still enjoy the experience. There's a bench towards the end of the bench that can fit up to two people. In addition, the bike features electric assistance to help move the trolley if needed. Seatbelts are also included if you need some extra security while riding. While you don't need to wear specific footwear like you would for riding a bicycle, plan to wear footwear that won't slip off easily while pedaling. And yes, you still need to follow traffic laws while on the bike.
Tour Duration and Stops
The Pedal Trolley follows a specific path through Downtown Oshkosh (primarily on Jefferson St and Division St, with some of Main St) and lets you choose which partner businesses you'd like to visit. Tours last around 2 hours with roughly 2-3 stops planned throughout the tour; each stop lasts 20-25 minutes. Tours can be booked for private parties for the entire trolley, or you can pay per seat and meet some new friends! Tours can be booked seven days a week, however, depending on the tour you'd like to do, your experience might be limited due to what partner businesses are open that time/day.
Some partner businesses include:
…and more to come!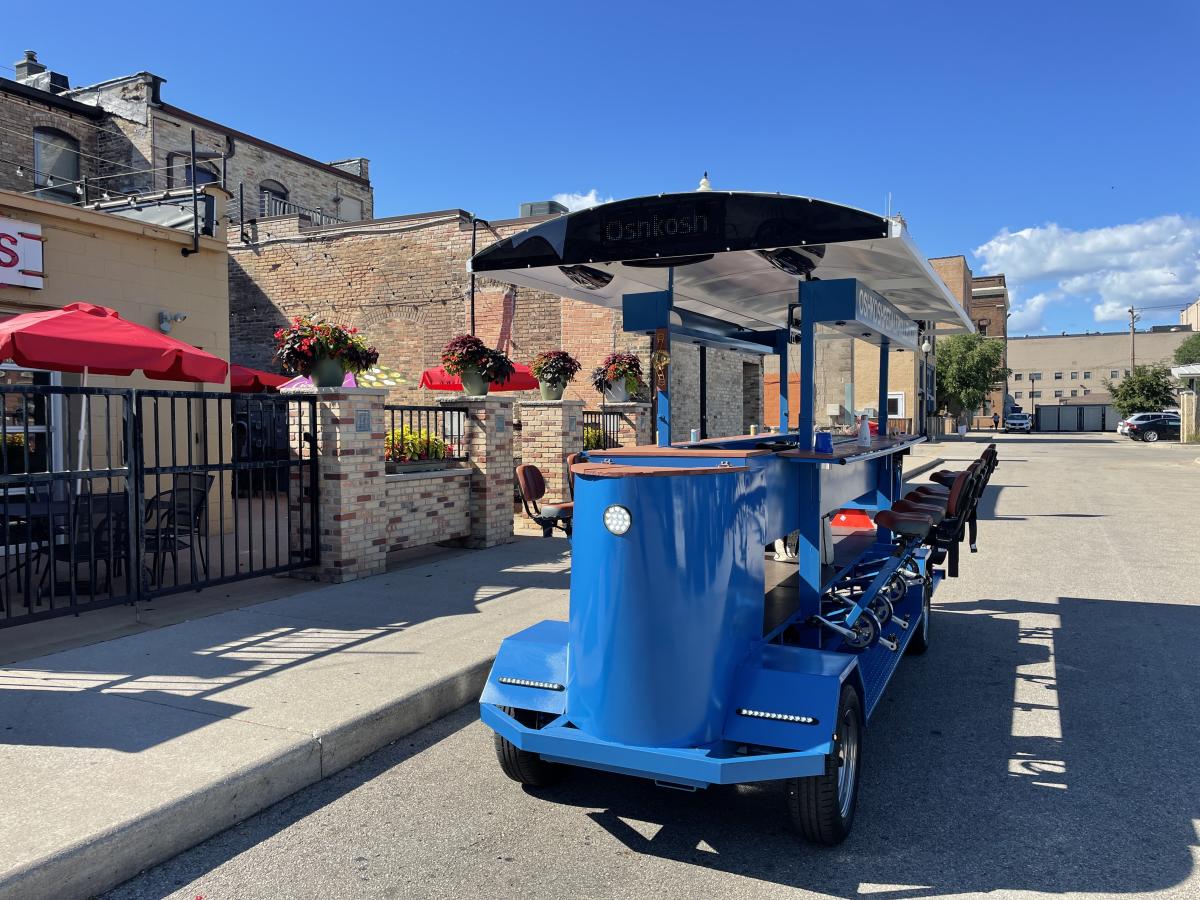 BYOD (Bring Your Own Drink)
The Pedal Tavern allows you to bring up to 3 drinks per person no larger than 36 ounces (average 12 oz. per drink). Drinks can vary from beer to seltzers or ciders. Hard liquors or glass containers are not allowed. You can also bring non-alcoholic drinks like water, energy drinks, or coffee on the ride if you don't partake in alcohol. Drinks can also be brought from participating bars during the trip. You can learn more about other FAQs regarding the pedal trolley here.
Not Just for Alcohol
While Pedal Taverns are commonly associated with bar crawls, the Oshkosh Pedal Trolley can be booked for non-alcoholic tours. Some tour ideas are in the works, but expect upcoming tours for coffee shops, scavenger hunts, outdoor art, and more! These tours can be great activities for families as well, but due to the height of the seats, it's more suitable for those at least 12 years old. Check out their Facebook Page for any upcoming tour announcements.
Plan to Ride the Pedal Trolley
Please arrive 15-20 minutes before your tour begins. Tours start and stop across from Peabody's Ale House (544 N. Main St). You will also need to sign a waiver before participating. Coolers are allowed on the trolley if you bring your own drinks. The bike operates in rain or shine but can be subject to change for severe weather like lightning or high wind. Make sure you dress for weather conditions.
 
Are you riding on the Oshkosh Pedal Trolley? Let us know in the comments! And don't forget to tag Discover Oshkosh on Facebook and Instagram for a chance to be featured! Stay the night in Oshkosh—click here for overnight options!