The holidays are around the corner and Oshkosh is ready!! Check below for a list of free activities to do with your friends and family! Let's get festive people!!!
Free All Season Long! 
Support local by completing stops along the Holly Jolly Holiday Trail and win cool prizes!  Learn more 
November 29th- Slow Roll #7 Christmas at the Waters and Celebration of Lights
Join Slow Roll's annual Xmas Celebration… at The Waters and through Oshkosh Celebration of Lights (festive attire and bike decor encouraged!) Begin at The Waters at 5:30pm and wrap up at 7:30pm.
December 1st- Annual Holiday Tree Lighting and Holiday parade presented by Oshkosh Defense! 
Tree Lighting- Kick off the Holiday Parade and holiday season downtown in Opera House Square! Enjoy live music from Erin Boehme and Oshkosh Jazz from 5-6pm and count down along with Mayor Palmeri to the lighting of our holiday tree. The tree lighting will take place at 6pm.
Parade- Join us as we transform our downtown into a place as magical as the North Pole! The Downtown Oshkosh Holiday Parade presented by Oshkosh Defense begins at 6:15 pm!
*Parade route begins at the intersection of N Main and Ceape and heads north until the intersection of N. Main and Irving. 
December 2nd- December 1st Friday!
Enjoy all Downtown Oshkosh has to offer the first Friday of each month from 5-9pm. Every First Friday we list where you can find the coolest art galleries, shop late, see awesome live musicians, enjoy great cuisine and local beverages and partake in fun downtown experiences!
December 3rd- Christmas in the Air at the EAA Museum
Warm up your holiday spirit at Christmas in the Air! The EAA Aviation Museum welcomes all for this FREE family event on Saturday, December 3, 2022, from 10 a.m. to 3 p.m., presented by Festival Foods. Enjoy local music, choral, and dance groups, and much more! Roam the museum to enjoy the holiday decorations throughout the exhibits, write letters to Santa, and stop in the Sweet Shoppe for cupcakes, cookies, and milk.
To top it off, you won't want to miss Santa Claus arriving at noon in a helicopter at 12pm! While Santa visits don't forget to get your picture taken with him!
Donations of unwrapped toys for Toys for Tots or non-perishable food goods for Father Carr's Place are greatly appreciated.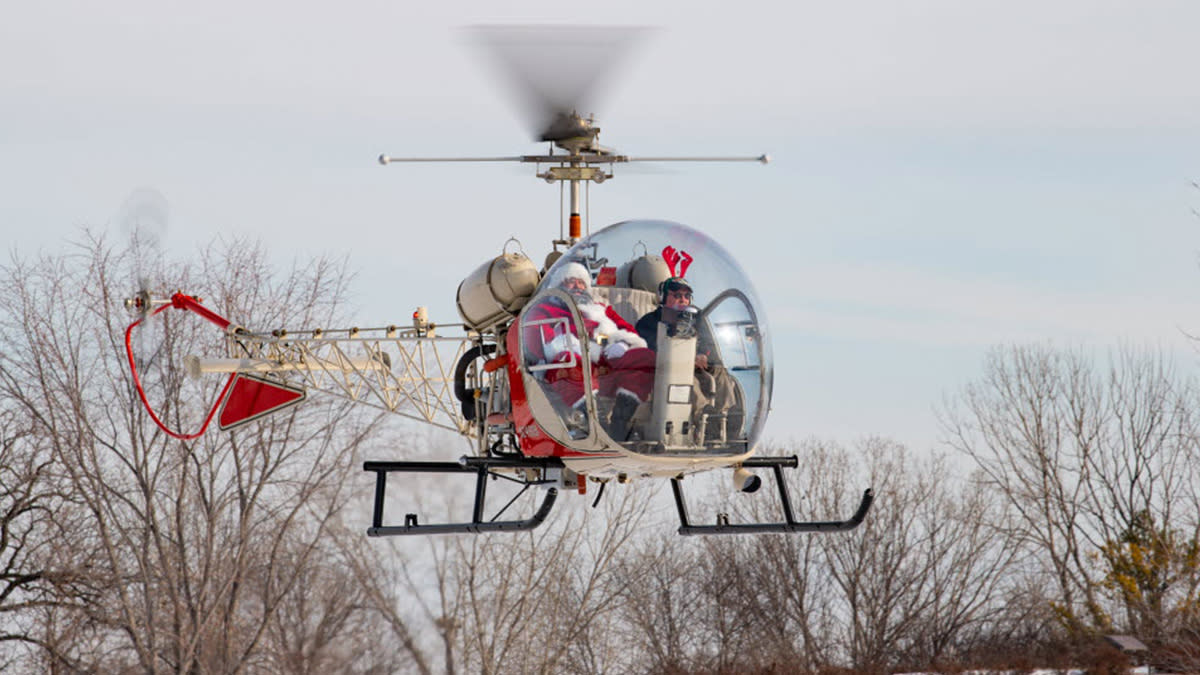 December 9th- The Holiday Open House Dance Party at Venue 404
The Holiday Open House Dance Party at Venue 404! Holiday themed party for you and your friends. Free Admission! Check out our vintage themed space including the Bank Vault Speakeasy Lounge!
5:00pm - 7:00pm Happy Hour in The Vault! Drink Specials and appetizers. Vinyl record music set by DJ JD.
7:00pm - 11:00pm Dance Party with Kate Voss and The Hot Sauce. We can't wait for this amazing 5 Piece Band! Super fun and festive to kick off your Holiday Season! 
1:00am - Close?? DJ Set by JD - dance to all your favorites and requests.
Games! Prizes! Full cash bar with drink specials all night long!
December 10th- Reindeer in the Square sponsored by the Wisconsin Herd!
Grab lunch, do a little shopping and stop by Opera House Square to see LIVE reindeer from 3:30-6:30pm. See the reindeer, enjoy live music, take photos and enjoy some reindeer games with the Wisconsin Herd!
December 17th- Ice Skate with Santa! Family Night at the YMCA
Ice Skate with Santa! Bring the whole family for a night of holiday FUN at the 20th Ave Y on Saturday, December 17!
Family Night Activities Include: Ice Skating with Santa, Swimming, Basketball and MORE! Family Nights are FREE for Y Members and only $8/family for Non-Members.
December 31st- New Year's Eve Family Night at the Oshkosh YMCA
Looking for a safe, affordable way to spend New Year's Eve with your family? Ring in the New Year with the Y! Join us for the Oshkosh Community YMCA's New Year's Eve Family Night at the 20th Ave Y!
NEW YEAR'S EVE FAMILY NIGHT
20th Ave, YMCA 6:00-9:00 p.m.
FREE for Members
$8/Family for Non-Members
Bounce House, Ice Skating, Swimming, Basketball, and MORE!
SPECIAL Balloon Drop @ 8 p.m. - In the Main gym. Hats and horns will be given to all kids!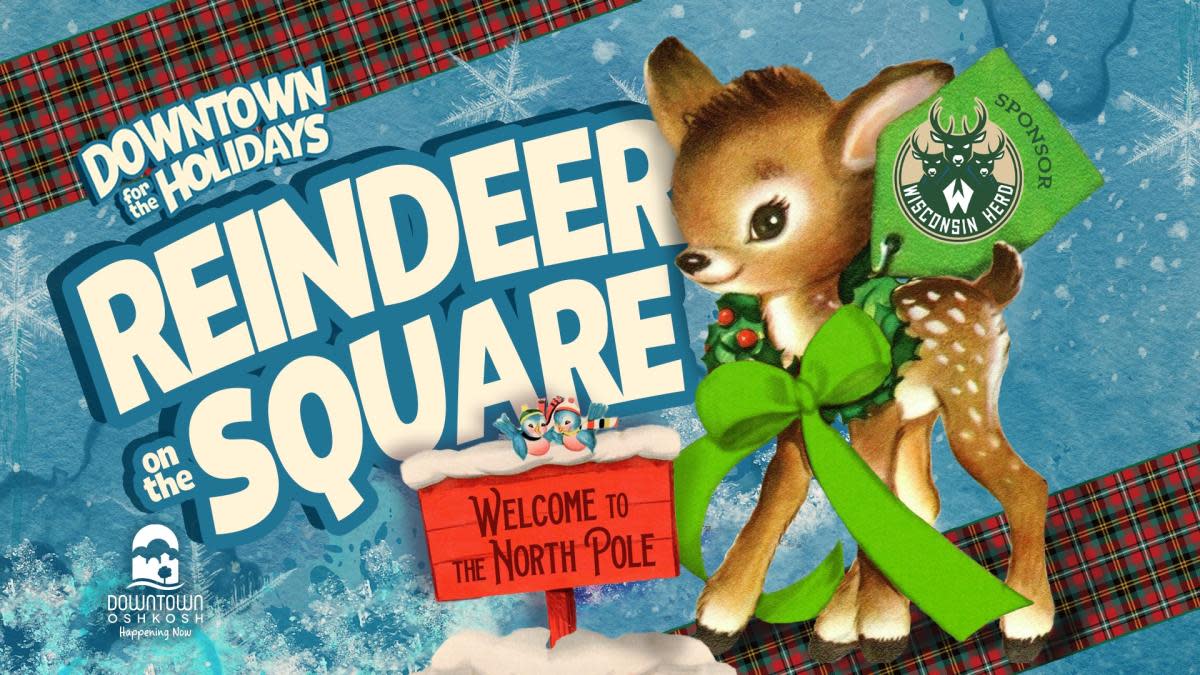 ALL SEASON LONG!
From November 25th to December 31st, enjoy the drive-thru light show at Menominee Park. This year the Oshkosh Celebration of Lights has 7 FREE Community Nights. EVERYONE enters FREE these nights because of our sponsors generosity! Enjoy the show FREE from 5:30-9pm November 28, December 2nd, 6th, 13th, 16th, 20th, & 25th! (A donation of a sealed hygiene item (shampoo, deodorant, soap, etc.) or non-perishable in-date food items appreciated)
Did you know a church in Oshkosh, Wisconsin is home to one of the largest permanently displayed nativity collections in the world? Step into the extensive display room at Algoma Boulevard United Methodist Church and view over a thousand of nativity sets made out of everything from fine porcelain to popsicle sticks! This Nativity Collection is one of a kind and is worth a visit.
Drop off your letters to Santa all holiday season in our mailbox in Opera House Square! Drop your letters off by December 15th for a response from Mrs. Claus and Santa's elves! Download the letter template and coloring page: here!
Holiday Evening Hours and Gift Wrapping!
Participating stores will be open late until 7 pm in December! Free gift wrapping will also be provided at Venue 404 (404 N Main St) where you can enjoy festive drinks and live holiday music from local high school students.
December 8th – Oshkosh West Madrigals & UWO Choir students
December 15th – Lourdes Academy & Oshkosh North Madrigals
December 22nd – Santa & Mrs. Claus
Holly Jolly Trail!
Support local by completing stops along the Holly Jolly Holiday Trail and win cool prizes!  Learn more here!