Welcome to Hudak in the City! In a nutshell, I am a sub-par blogger with a true love for food and fun in Oshkosh. Follow along monthly for updates on some of my favorite things to do, eat and drink in the greatest city in Wisconsin!
 
Karmali's Bar and Grill located at 1903 Harrison St in Oshkosh is a hidden gem you have to check out. Unique menu items and a cozy bar, Karmali's was opened seven years ago by Crystal and Ron Mulvey and they have been serving up some neighborhood favorites since! Open Tuesday-Thursday from 1:00pm- 11:00pm and Friday-Saturday 11:00 am to 12:00 am, they have something for everyone! And Happy Hour everyday from 2-6! Fun Fact: One Sunday a month, they are open for Breakfast and feature homemade favorites like Dirty Biscuits and Gravy. (Hash browns, gravy, cheese and eggs!) 
Karmali's is also known for their weekly specials. Whether it is food or fun related, they have it all! Bingo, toy drives- you name it! Follow along their Facebook to see what they are up to.
Tuesday- Tacos
Wednesday- Wings (boneless and traditional in ½ or 1 pound)
Thursday- Chef Choice
Friday- Fish Fry
Saturday- Chef Choice
We had the honor of meeting Annemarie, the resident pastry chef, and she gave us all her favorites to check out too! Kicked Bourbon is her favorite wing sauce, the tenderloin, curd burger and the shrimp po boy are what she recommends! Read along below for everything we tried and LOVED!
 
Appetizers
Hot Bites- spicy cheese curds served with a spicy/savory sauce. We could not get enough of these!
Portabella Top Hats- deep fried portabella mushrooms served with a horseradish sauce. We all agreed we could have eaten about 2 more baskets of these, they were huge!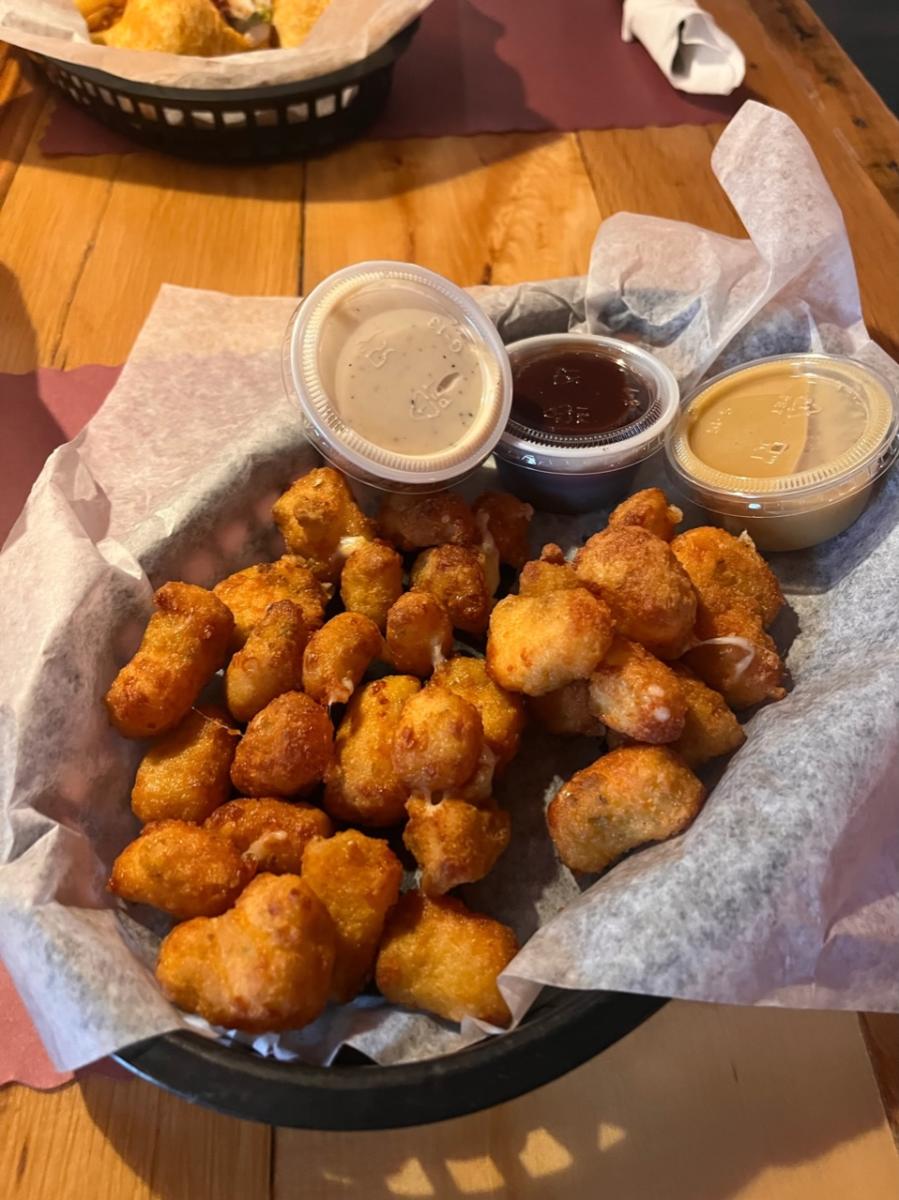 Mains
Chicken Bacon Ranch Wrap- Grilled chicken breast, bacon, lettuce, cheddar cheese & ranch and served with french fries. As you can see in the picture, the chicken was the star of the show and it was very fresh! So great!
Western Burger- Cheddar cheese, bacon, onion rings BBQ. This burger was huge! Also served with french fries, this classic burger was definitely a crowd favorite!
Fried Haddock- All dinners include french fries, coleslaw & rye bread. Served with tartar sauce or drawn butter. Check out that piece of fish! Make sure to add this to your list of stops for Friday Fish, you won't regret it!
Stuffed Portabella Sandwich- Tomato & onion marinated in Italian dressing with mozzarella cheese. This was the star of the show for me. The flavor was unreal and unlike anything I have had! Please get it and share your mutual love of it with me!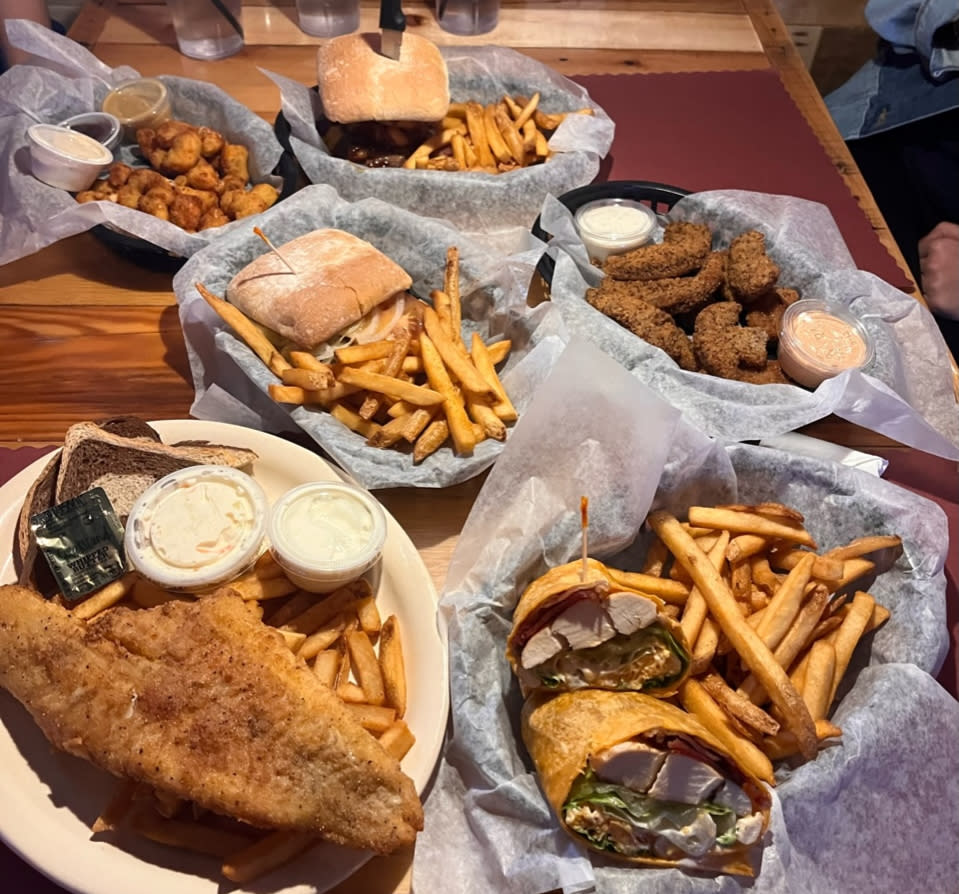 Dessert
Remember Annemarie? She whips up specialty desserts to serve and we hit the jackpot on the special that day- Whiskey Old Fashioned Cheesecake! Do I even need to say more? You really just have to go and try it for yourself, so so good!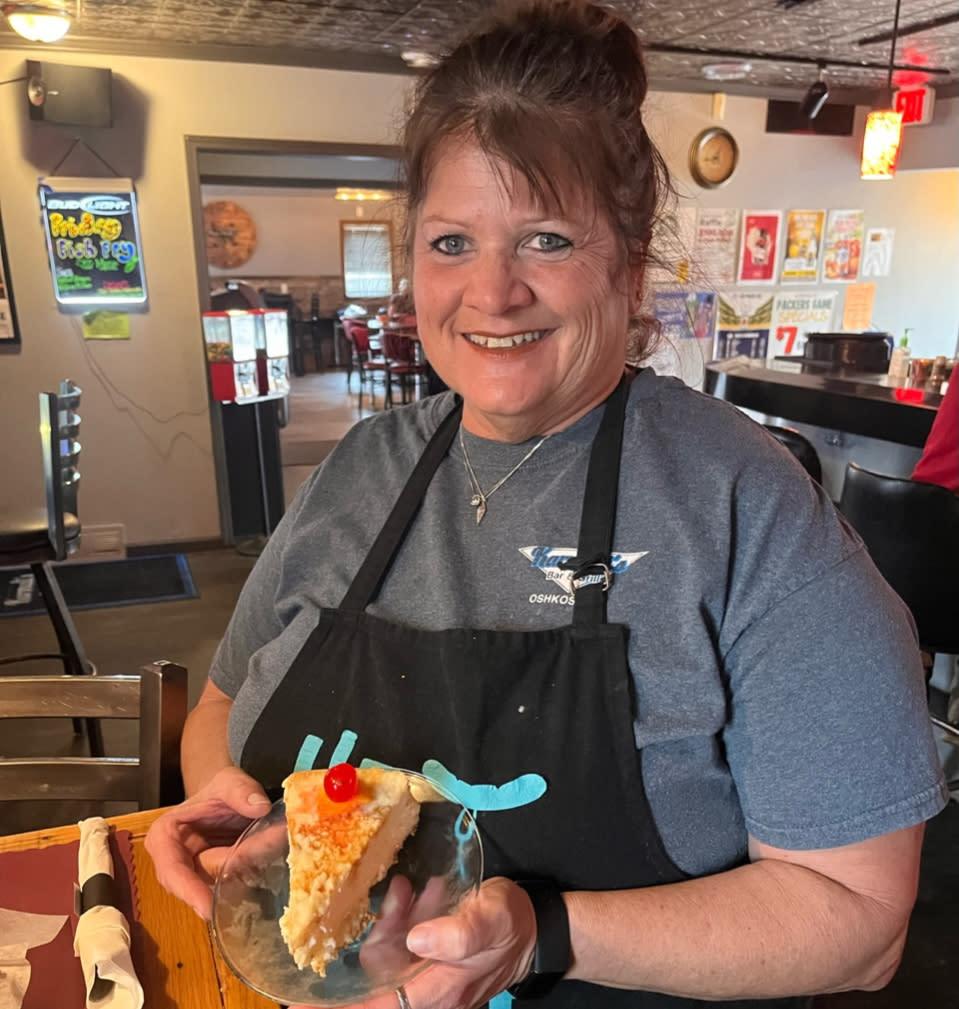 Karmali's, thank you for having us! We will definitely be back! And if you made it to the end of this, cheers to you! Hopefully I will run into you at Karmali's soon so we can chat about your favorites and spread some #SupportLocalOshkosh love!
 
Don't forget to tag Discover Oshkosh in your wood fired adventures at Karmali's on Facebook and Instagram for a chance to be featured!!
Stay the night in Oshkosh—click here for overnight options!