Let me start off by saying I won't let 3 months go by with no Hudak & the City again!! There's too much dang good food in this city to take that long of a break! My apologies... Hi again and welcome to Hudak & the City! In a nutshell, I am a sub-par blogger with a true love for food and fun in Oshkosh. Follow along monthly for updates on some of my favorite things to do, eat and drink in the greatest city in Wisconsin!!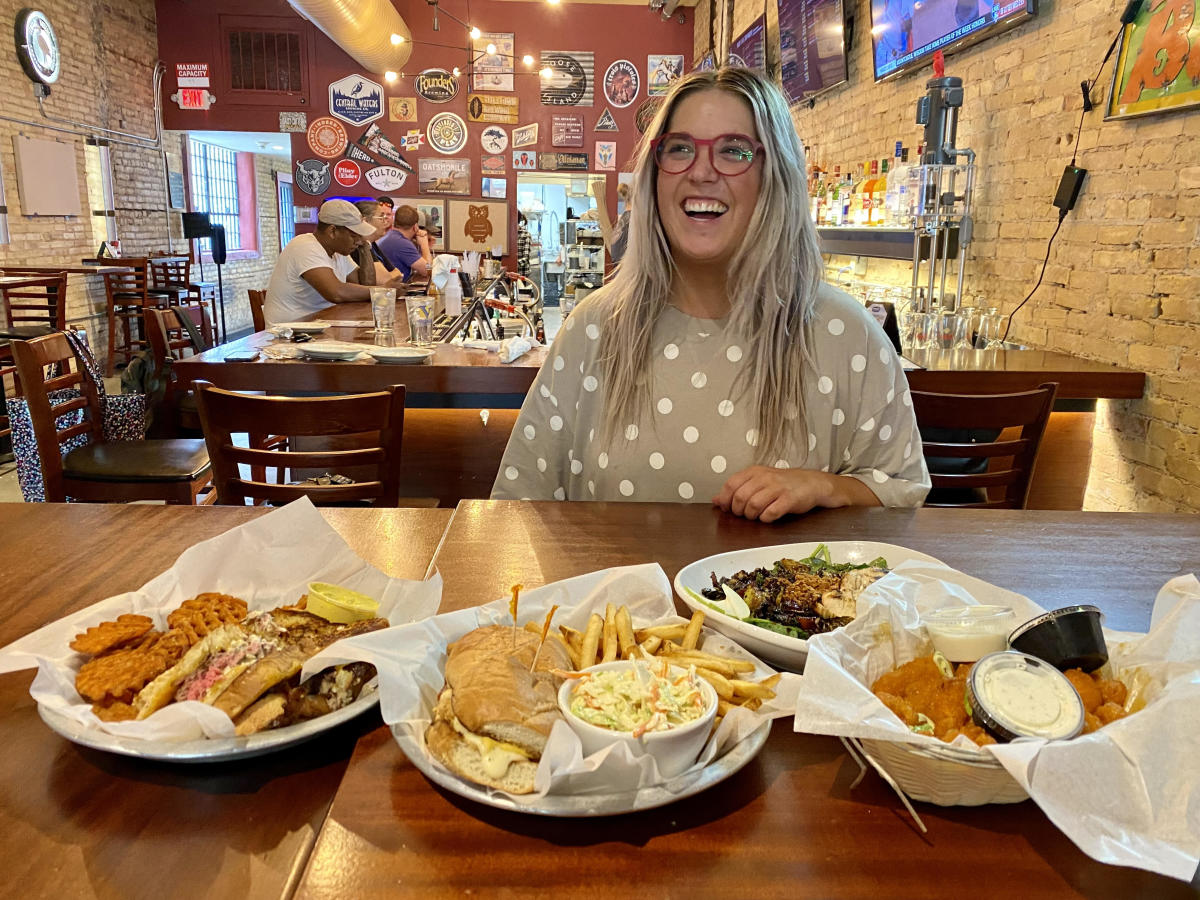 Ruby Owl. Ruby frickin Owl!!! Man you guys are in for a good one.
Opened in Downtown Oshkosh in 2016- it is dubbed "Oshkosh's Downtown Craft Beer Bar." With 30 different beers on taps and countless others in cans or bottles, I can see why! Their variety is truly outstanding and I can promise they have something for everyone! If you are interested in getting one of their 30 beers on tap to go, they also have a Crowler machine so you can do just that! Not into beer? Their Whiskey/Bourbon list is also extensive! With so many options to choose from, it helps that they have whiskey and beer flights for you to try more than just one! (Word on the street is they may have a new Cocktail menu too- we see you "Bobby Jones Martini"- Stoli vodka, Lemonade, Lemon juice, Raspberry Tea Syrup and a lemon garnish.. YUM!)
A common theme I am noticing for the restaurants I have been to, is that their staff gets 12 stars!!! Ruby Owl's Bar Manager, Will, was working while I was there and he made the whole experience even better! Super willing to offer suggestions when asked, knowledgeable, and very easy to see why he was a Finalist for "Best Bartender in Oshkosh" in The Herald 2020 City Picks! I asked Will what some of his and other customers' favorites were, and he gave the following!
Will's Pick: Buddha Bowl add Chicken- Mixed Greens with Pickled Carrots, Cherry Tomatoes, Red Onion, Orange Supreme and Feta Cheese. All tossed in a Sesame- IPA Vinaigrette and topped with Purple Cabbage, Roasted Beets and Crisp Wontons
Customer's Favorites: Union Star Cheese Curds (can confirm- these are wild!!!!) and the Flat Iron Flank Steak Sandwich- Thinly sliced Seared Flank Steak Served on Garlic Toasted French Bread with Sauteed Mushrooms, Onions and Provolone Cheese with Au Jus on the side.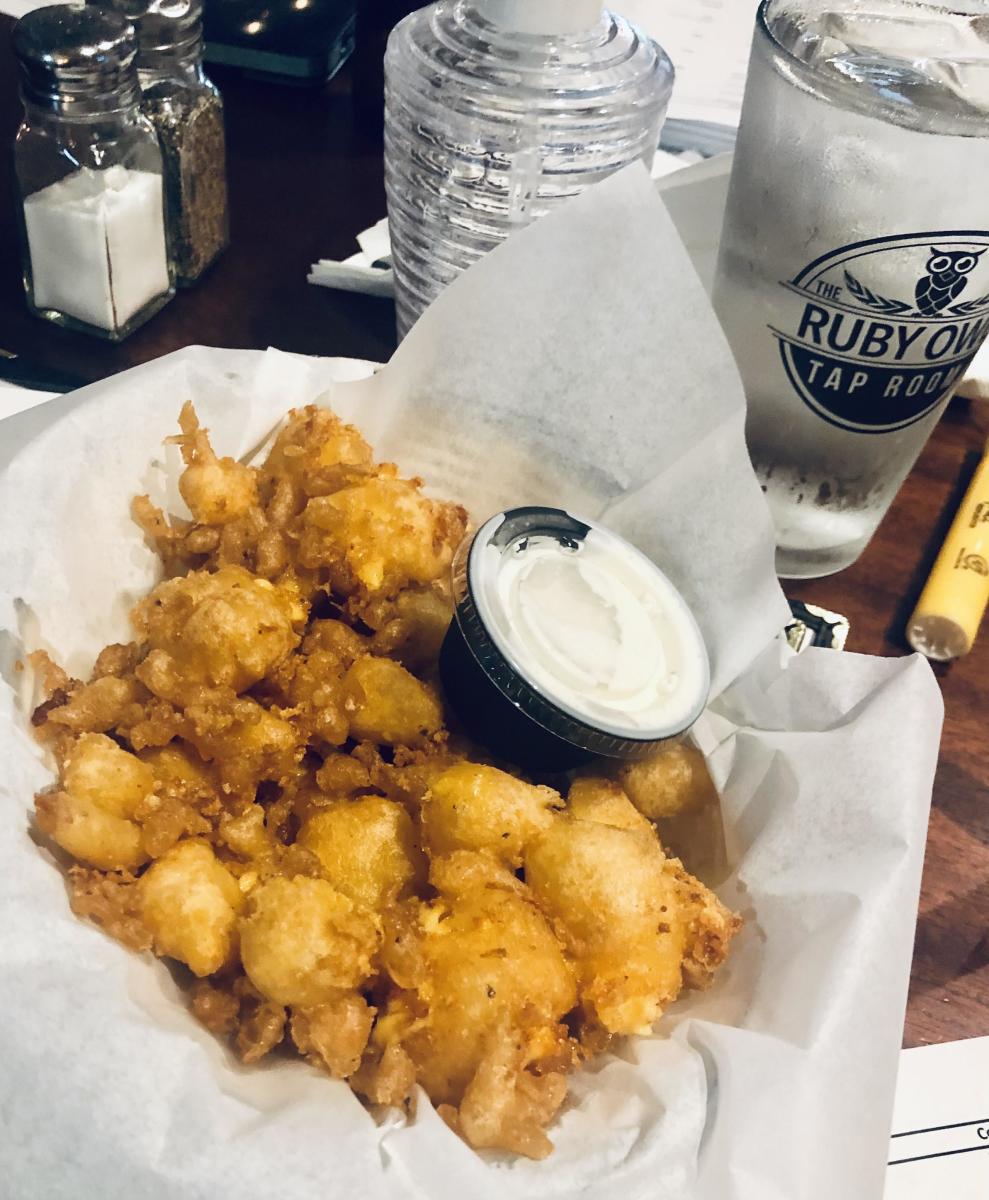 Weekly Specials offered at Ruby Owl
Every week they have a "Sandwich/Nacho/Rice Bowl/Salad of the week!" No, not all at once, but one of those options is picked and they have different variations offered. (More to come on that later as I picked their current Sandwich of the Week to sample!)
Wing Wednesday- 12 wings for $9.95 or 24 wings for $17.95. (Orders of 24 include a side of french fries) Sauces available- Mild Buffalo, Hot Buffalo, Honey- Sriracha, Sesame- Ginger, Bourbon BBQ or Teriyaki Pineapple!
Fish Fry Friday- Hand Dipped Schlitz Beer Battered Cod!
And now for Hudak's Picks...
CAULIFLOWER MANCHURIAN- Guys. Every time I am here I get this and am NEVER disappointed. They are also one of Ruby Owl's Vegan options, (they have many more if that is your thing, btw)! These aren't just any ordinary deep fried cauliflower, these are made with some real love. Panko breaded and tossed in some of the best sauce ever, I chose Honey Sriracha, these are a must. Like I always say, Sauce responsibly- Always use a condiment! Get the ranch and blue cheese on the side and these will easily be a new favorite of yours!
ROASTED BRUSSEL SPROUT SALAD. Absolutely out of this world. Roasted Brussel Sprouts, Leeks, Pears, Bacon and Spinach tossed in a Port- Balsamic Reduction with Hazelnuts. I added Chicken because, protein. If you haven't tried this yet, get on it. Easily one of Oshkosh's best salads offered!!!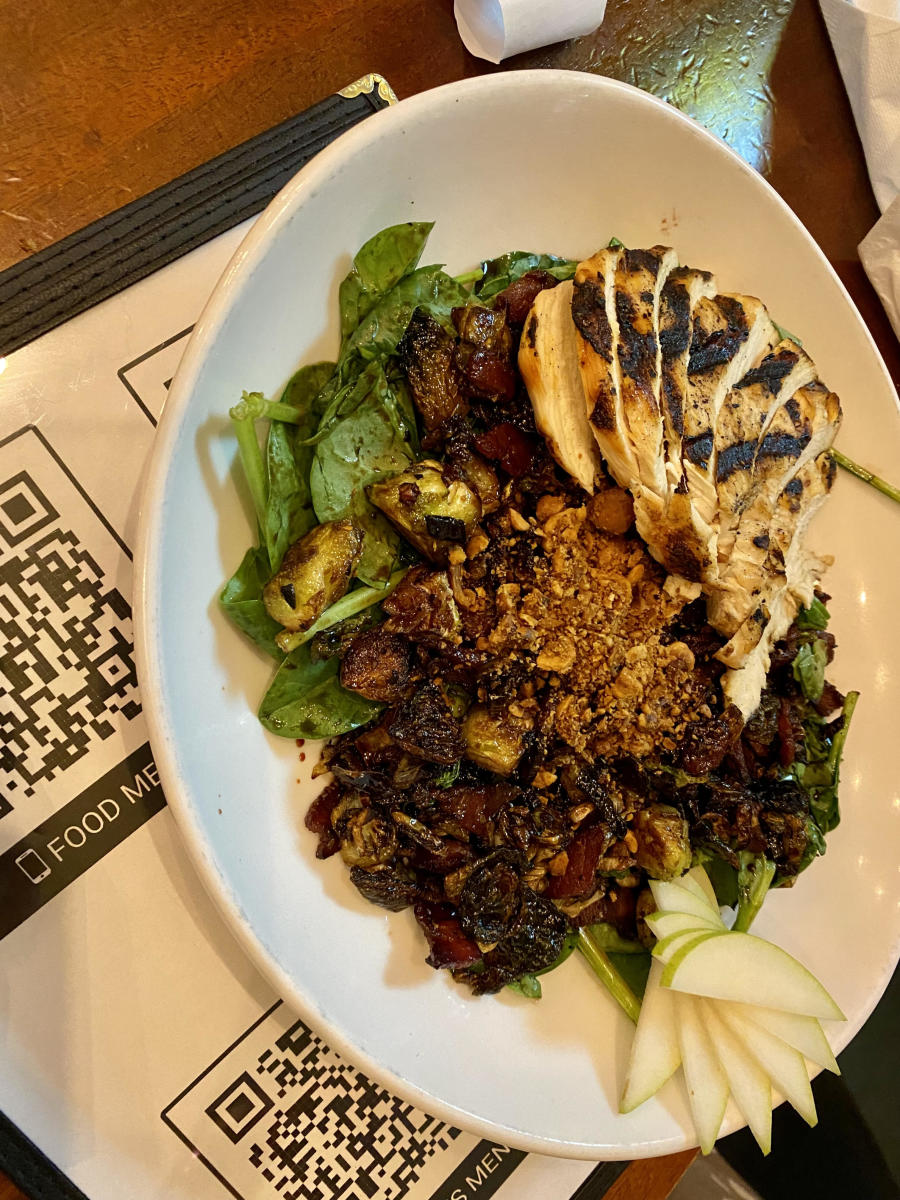 JALAPENO POPPER BURGER. Cream cheese is my love language and this sandwich did not fail me on that! Sirloin Burger Served on Sourdough bread, with Cheddar Cheese, Bacon and Chipotle- Jalapeno Cream Cheese. If you haven't caught on by now, I'm a big carb gal. Bread is important to me! This burger being served on sourdough, (which, btw is my favorite. So if there is a sourdough bread sponsor reading this and needing a new spokesperson, hit me up), takes it to a new level. I'm not sure if I am alone on this, but sometimes it is the sides that really seal the deal on my order. If you are at Ruby Owl and don't order their sweet potato fries with their house made curry sour cream, you are doing a HUGE disservice to yourself. I can't elaborate more on this or I will need to put another order in for tonight....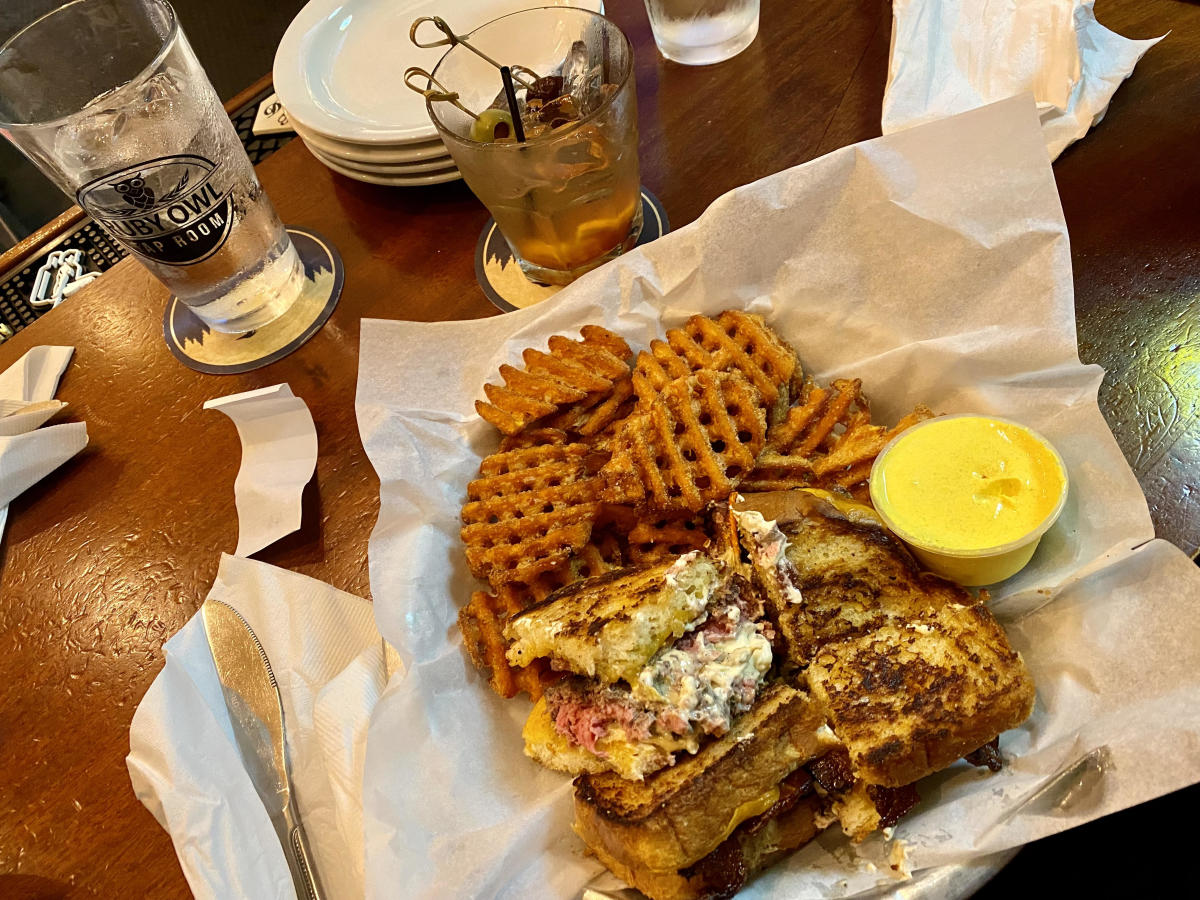 CHICKEN CORDON BLEU SANDWICH- This week (6/7-6/13), sandwich of the week!!! As soon as I saw the description, I knew I had to have it! Hand Breaded Chicken Breast topped with shaved ham served on buttered French Bread with Dijon Mustard and a rich & creamy house made Swiss Cheese Sauce. If you don't go there this week and try it, I will be extremely sad for you and may take another 3 months off...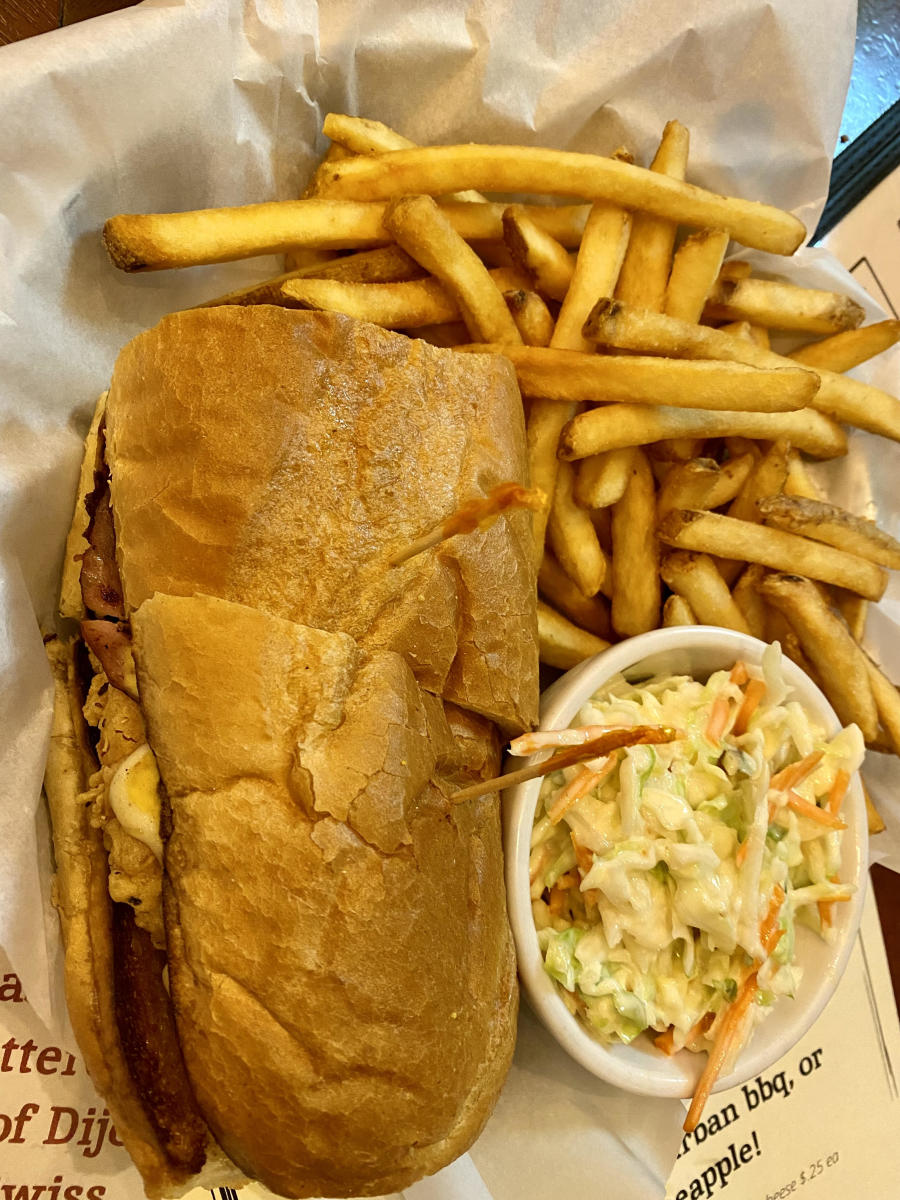 There you have it folks- Ruby Owl. A seriously great spot with fantastic food and even better employees! Did I mention they are open 7 days a week? That means no excuses, get down there and try them out!! And as always- I would love to hear your favorites! Can't wait to see you all out enjoying this gem.. Say Hi to Will for me!! Cheers!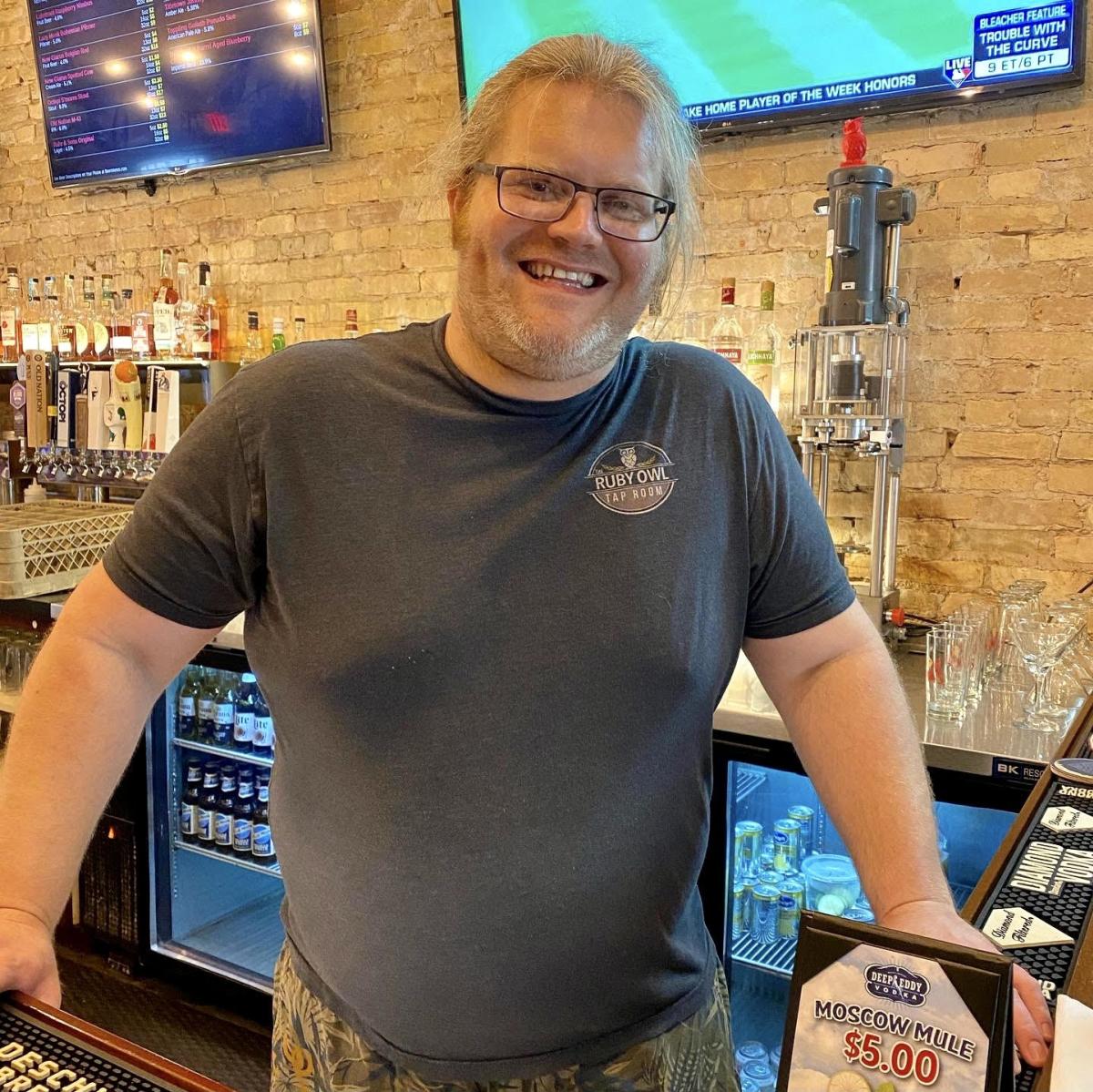 Stay the night in Oshkosh—click here for overnight options!