What's my top destination in Downtown Oshkosh? Kitz & Pfeil Ace Hardware of course! Kitz and Pfeil is more than just a retail establishment, it is a local landmark that has been serving the community for decades. With a rich history dating back to the beginning and a unique dog-friendly policy, this store stands as an Oshkosh historic business. Since I live in a 100-year-old home, there's always something that needs fixing. I'm not a handyman, so I've come to rely on the Kitz Pfeil team as my home improvement secret weapon. I've shown up dozens of times with a broken 'whatever' and they always have the perfect replacement!
My love for Kitz & Pfeil exists on several levels:
They're a family owned-business; I prefer to buy local!
I can bring my dog. The staff loves to see Beau, and he gets a treat at the check-out counter!
I can buy 1 screw, or nut or bolt, instead of buying an entire box,
There's so much cool stuff in the store, that I always find something I can't live without!
As we head to cooler weather, here's a few things I start taking care of at Kitz & Pfeil. All these services are handled on the lower level, just talk to the staff at the downstairs service counter:
Snow shovel! I'm a big YoHo shovel fan–the yellow steel shovel. When the wear strip gets all rusty and jagged, you can have a new wear strip put on and your shovel is like new!
Fix your screens, this is the perfect time to repair damaged screens on doors and windows. You'll be so happy in the spring!
 Sharpen your chainsaw, be ready for winter tree trimming with a fresh sharpened chain.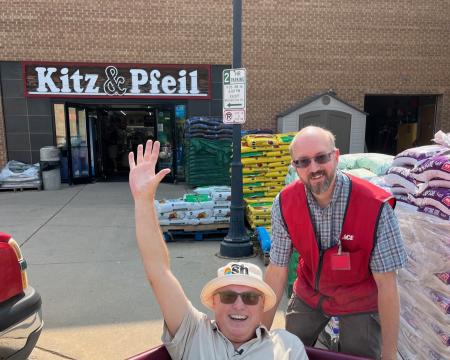 A Glimpse into the Past
The story of Kitz and Pfeil begins in 1924 when two ambitious entrepreneurs, John Kitz and George Pfeil, decided to start a journey to provide the Oshkosh community with the tools and resources they needed for everyday tasks. When the store opened, Oshkosh was going through a time of expansion and transition. Kitz and Pfeil's store quickly became a cornerstone of the community, offering a wide range of hardware products that catered to the needs of both homeowners and hard-working professionals.
As the years rolled on, Kitz and Pfeil adapted to the changing times while staying true to its roots. The store survived economic challenges, technological advancements, and shifts in consumer preferences, all while maintaining its commitment to quality products and exceptional customer service. Hence—it's long lasting business and recognized customer service in the community.
A Dog-Friendly Store!
What sets Kitz and Pfeil apart from the rest is its unique dog-friendly policy. This establishment goes the extra mile to ensure that shopping can be a family affair. The store's dog-friendly approach is a reflection of the values that have been passed down through generations of ownership. As families change and new faces enter the community, Kitz and Pfeil continues to provide a welcoming environment for all, whether two-legged or four.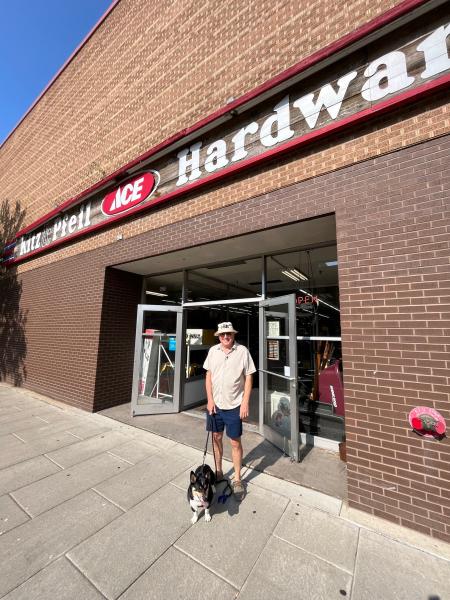 Community Connection
Kitz and Pfeil is not just a place to buy tools and supplies; it's a community hub that fosters a sense of belonging. The knowledgeable staff members are more than happy to assist customers, offering advice, guidance, and even sharing stories about the store's history. It's not uncommon to hear locals reminiscing about their first visit to the store as children and how they, in turn, bring their own kids and pets to experience the same sense of wonder.
The store's involvement in community events, workshops, and initiatives further cements its position as a true local partner. Whether it's hosting DIY workshops, participating in charity drives, or supporting local artists, Kitz and Pfeil is deeply ingrained in Oshkosh.
For more information:
Kitz & Pfeil Ace Hardware | 427 N Main St, Oshkosh
Phone: (920) 236-3340 | Hours: Monday-Friday 7AM-8PM; Saturday 7:30AM-5PM; Sunday 9AM-2PM
Hardware store stocking household tools, garden supplies, home decor & more. Service options: In-store shopping, Curbside pickup, Delivery