Welcome to Hudak & the City! In a nutshell, I am a sub-par blogger with a true love for food and fun in Oshkosh. Follow along monthly for updates on some of my favorite things to do, eat and drink in the greatest city in Wisconsin!!
Of all the "National ___ Day's", National Pizza Day very well may be my favorite… What isn't to love? And with so many options in Oshkosh, we might as well make every day National Pizza Day! I am going to take you along to two of my favorites in Oshkosh- one dine in/delivery option and one take and bake! Read along for my favorite pies and let's celebrate National Pizza Day together!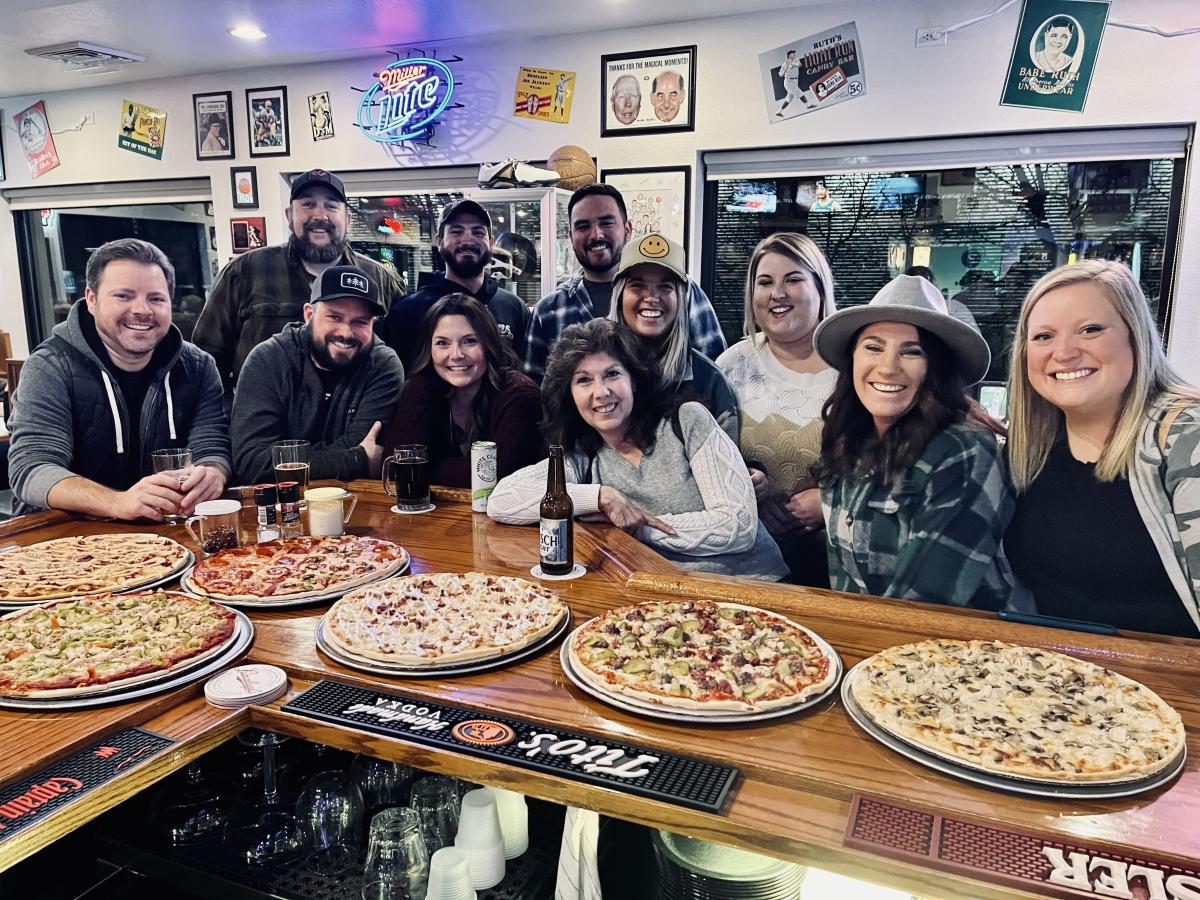 WEST END! For the love of pizza… What did we do before West End was a thing!!?! It is hard to remember a party at my house without West End being involved! It is always a crowd favorite and tastes just as great the next day, (if there are leftovers..) Started in 1959, West End has been a family run business ever since! The Weigandt Family are pizza legends as far as I am concerned! Jon, Aaron and Ben are the current owners and took it over from their Dad, Blackie, 5 years ago. With the freshest ingredients and majority of everything made in house, West End is pumping out some fantastic pizza! When I asked about their favorites and their customers' favorites, their homemade italian sausage is by far their most popular pizza topping with the sausage, mushroom and onion being the most popular pizza combination. I may be in the minority here, but Italian sausage is just not my jam, so I am going to take their word on it! I can confirm however that my father, who is a pizza critic for sure, always orders the sausage mushroom when he is in town, so it has to be good!! Fun fact- the sausage and sauce has only ever been made by members of the Weigandt family and the same ovens they started making pizzas with in 1959 are still the same ovens they use today! What do I love most about this place? They have the best pizza sauce in my opinion and the combination with the thin crust is just really hard to beat! I have my go to favorites everytime I order here, but wanted to know some of the Weigandt Family favorites. They are the following:
BBQ chicken with bacon, pineapple and jalapeno
Extra cheese, extra sauce
Any pizza with the Spicy Giardiniera 
Hudak's Favorites? Buckle up folks!
BBQ chicken pizza- add onion and jalapeno. Sweet Baby Ray's BBQ, topped with all white meat chicken and more BBQ sauce! 
Reuben Pizza- Premium corned beef, special cheese blend, topped with sauerkraut and thousand island dressing!
Bacon Cheeseburger Pizza- add pickles and onion. Ketchup/mustard sauce topped with special blend cheese, 100% angus beef and bacon! (Pictured)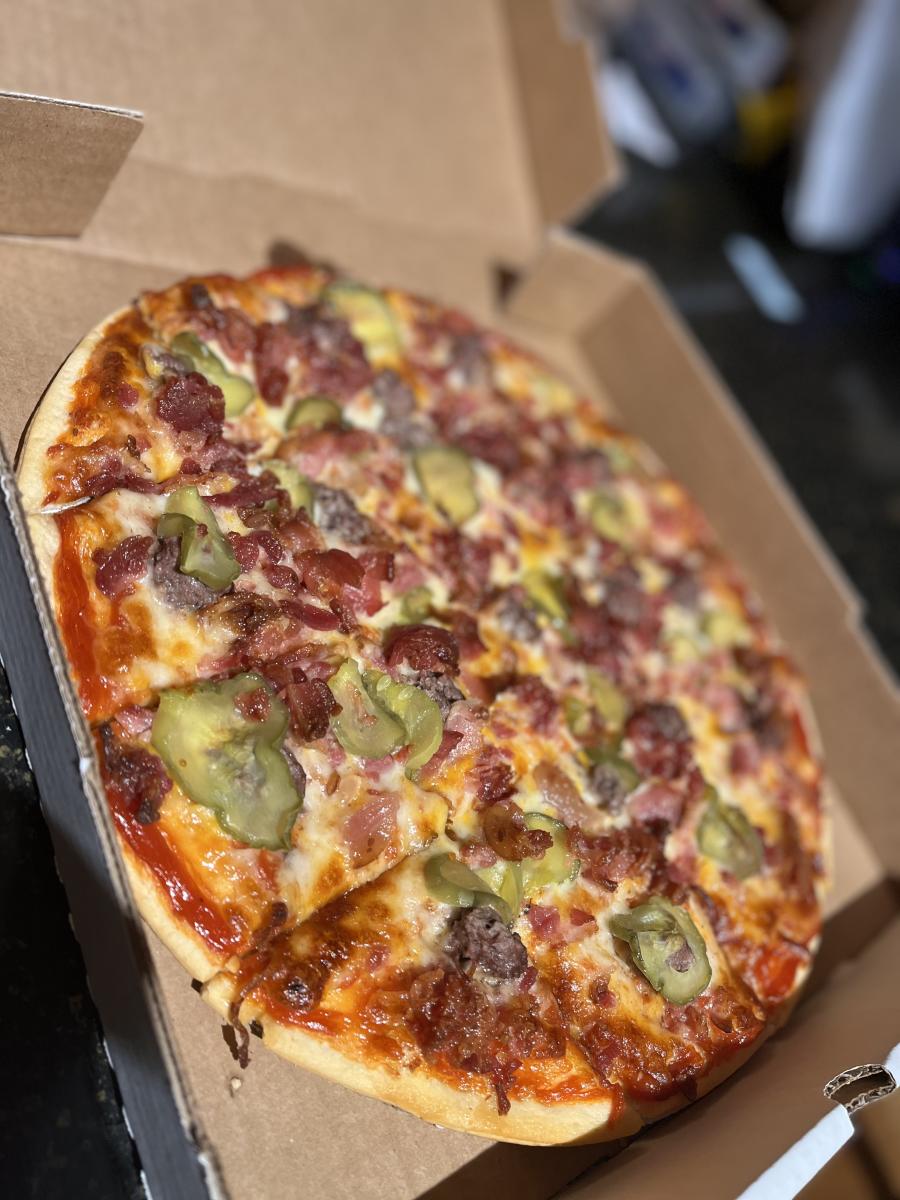 Tuna, Pickle, Onion, Spicy Giardiniera (a spicy mix of pickled vegetables)- I know what you are thinking.. Gross. But my friends, the Coleman's (and previous West End employee), had me try this and you have to give it a shot! Think Tuna Melt on a pizza… SO good!
And my new favorite- Extra cheese, extra sauce… That sauce and cheese combo is seriously so good! (Pictured) And because I am an extra person, I saw that their Creamy Tomato Basil soup was on special that day and ended up using the pizza as a dipping stick for the soup. Highly recommend you give that a try!! Thanks for the recommendation, Ben! I owe you a maui wowi next time I come in!!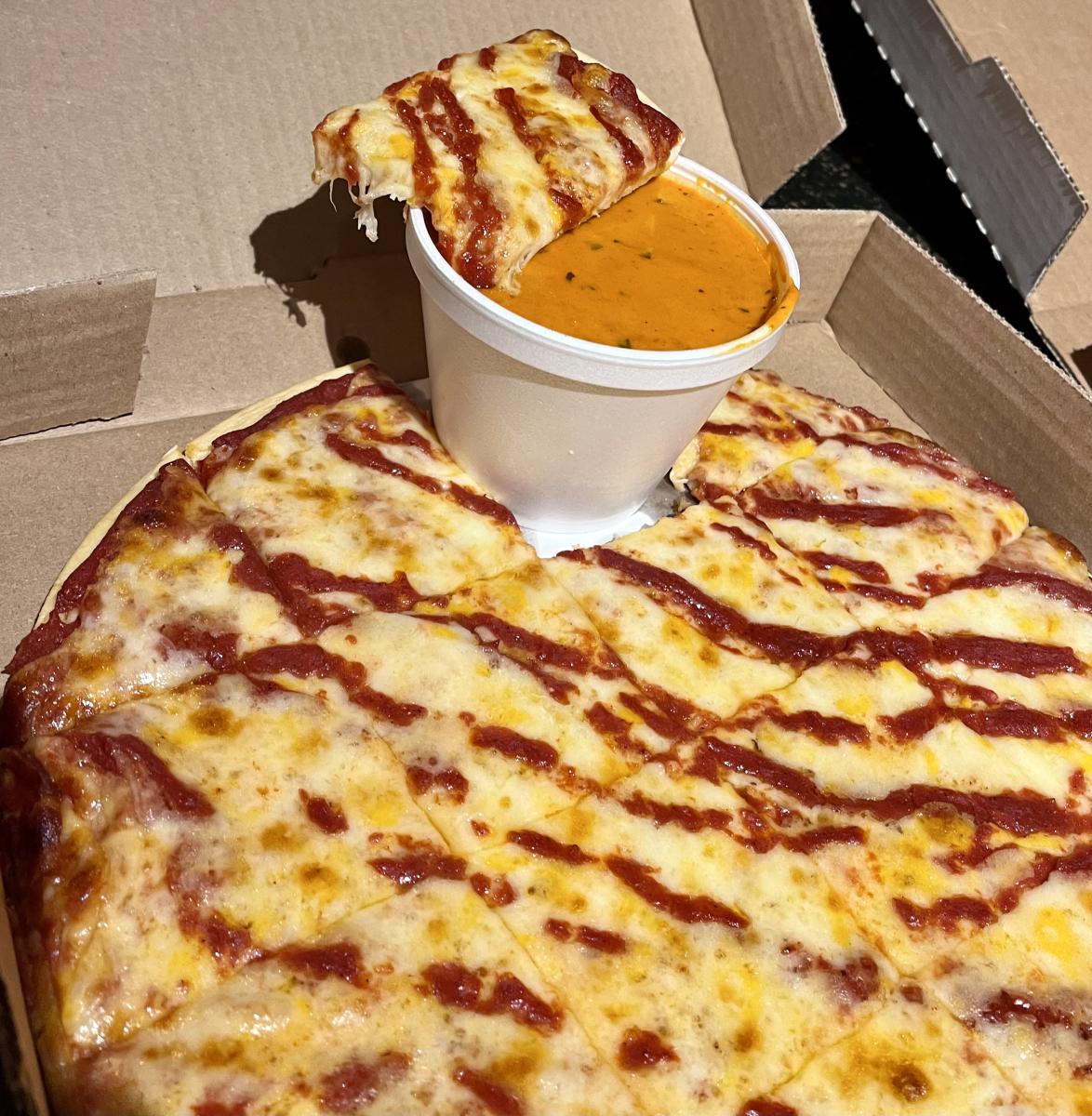 Hats off to you Weigandt Family!! I love everything about your spot and look forward to many more pizzas and celebrations with West End! (Shoutout to Ben Cleaver for being one of the best Friday night bartenders out there, everyone go visit him at West End on Friday's!!!)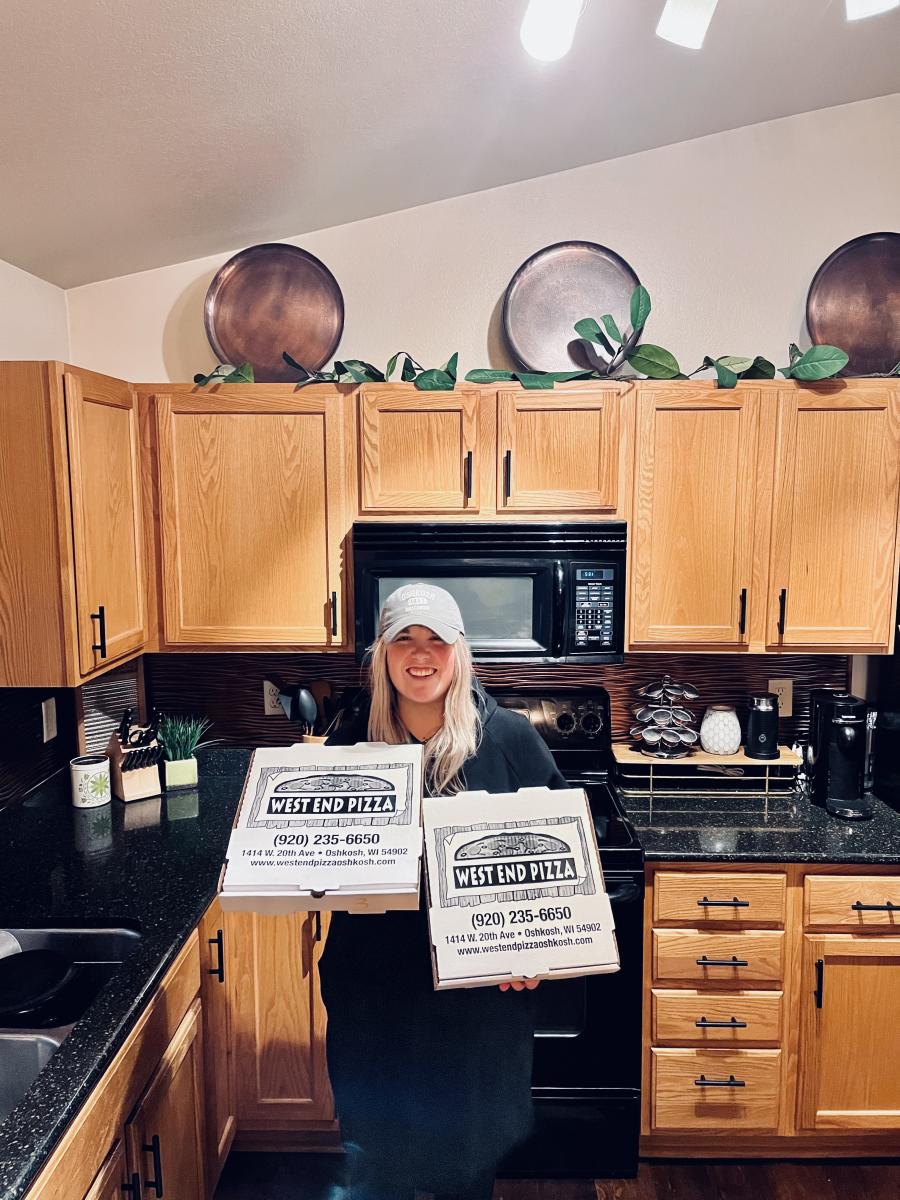 EATON'S PIZZA! Some of the best take and bake pizza you are ever going to find!! Owned by Michele and Jason, this is also a family run shop! Eaton's opened in 1980 in Fond du Lac and was a small grocery store with some fresh pizzas being sold out of the back! There were 6 stores total in 3 different cities. Jason's family owned all 6 stores by 1982 with Michele and Jason purchasing the Oshkosh stores later down the road. (The Fond du Lac stores are now owned by a different family). Both Michele and Jason work daily in the two Oshkosh stores as well as their son Cody and daughter Sophie! Their soon to be 15 year old, Jack, will be joining the family team soon! To go along with their delicious pizzas, they also have custom subs that you can personalize and build for a crowd! Their Wisconsin Cheesesteak sub is an absolute must try.. Catering options include their cheese/meat trays, veggie trays, subs, taco dip, box lunches, etc.! I asked Michele some of their family and customer favorites and she mentioned the following:
Chicken Parmesan Pizza- Chunky marinara sauce, mozzarella cheese, breaded chicken, parmesan cheese and more marinara!
Fresh Italian Pizza- Mozzarella, sausage, fresh mushrooms, fresh tomato slices, green peppers and onion!
Packer Pizza- Mozzarella, sausage, hamburger, pepperoni, cheddar, onions and green peppers!
Chicken, Bacon, Ranch Pizza- Creamy garlic sauce, mozzarella, garlic chicken, bacon, tomatoes, and ranch!
Their multiple crust options- Keto (sauce and toppings in an oven safe dish), cauliflower crust and their gluten free crust!
Hudak's Favorites (not limited to though!)
BBQ Chicken- Sweet Baby Rays bbq, mozzarella, garlic chicken, shredded cheddar and more bbq! (Big BBQ chicken gal if you couldn't tell!)
Quiche Pizza- Ham, bacon, green peppers, onions and swiss cheese!
Create my own- I call it the Spicy Beer Cheese: Beer Cheese sauce, onions, green peppers, jalapenos and pepper jack cheese!
Create my own- Hudak Special: Extra sauce, pepperoni, banana peppers and extra cheese!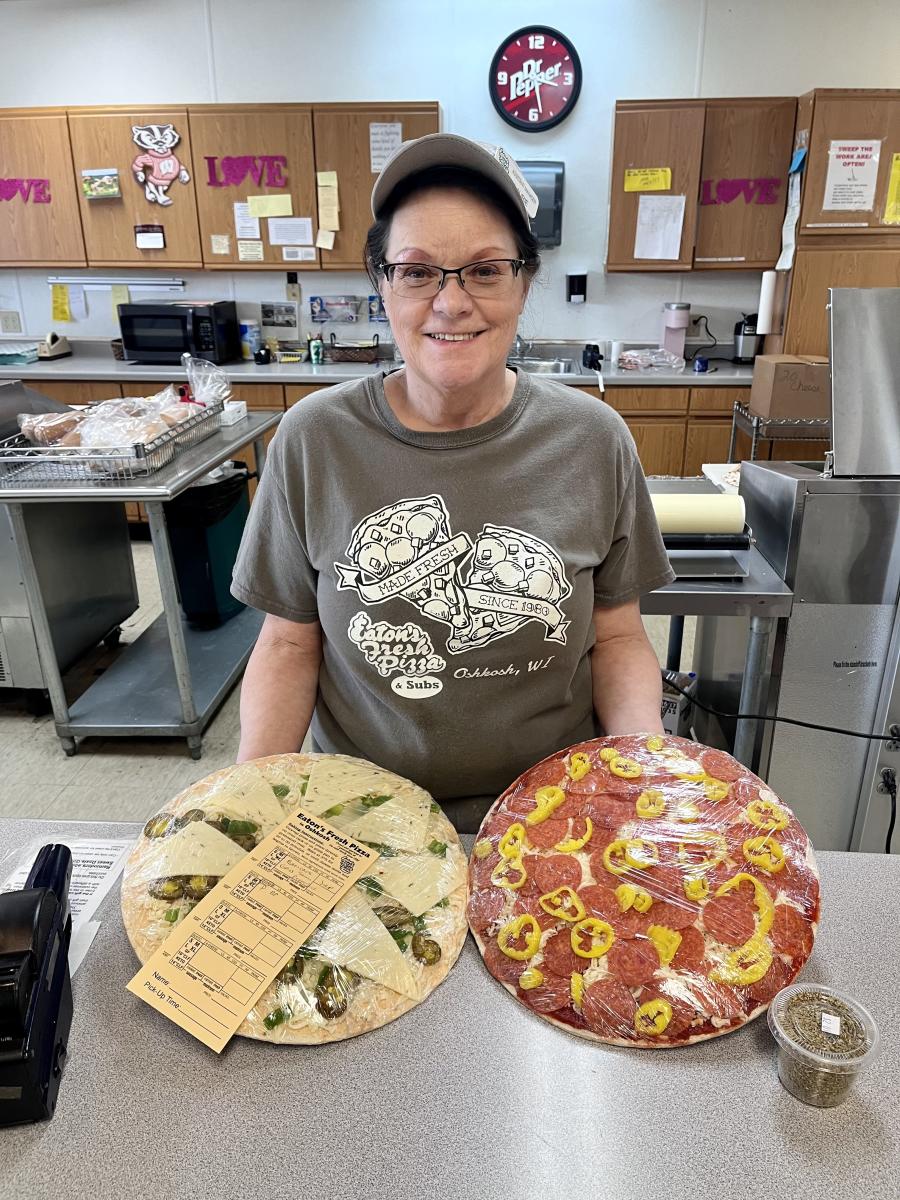 If you are looking for some extra snacks for the Super Bowl this weekend, they have a ton of local treats you can purchase: Osh Pop, Bloody Mary supplies, Chips and Dip and even local pasta sauces! Eaton's has a stocked, ready to grab cooler of pizzas and other treats for you if you need to make a quick stop! I also highly recommend grabbing their Italian seasoning container by the checkout when you are there to make that pizza even better! We are seriously so lucky to have these options to stock our freezers with! I love a family owned joint and this one is up there with one of my absolute favorites!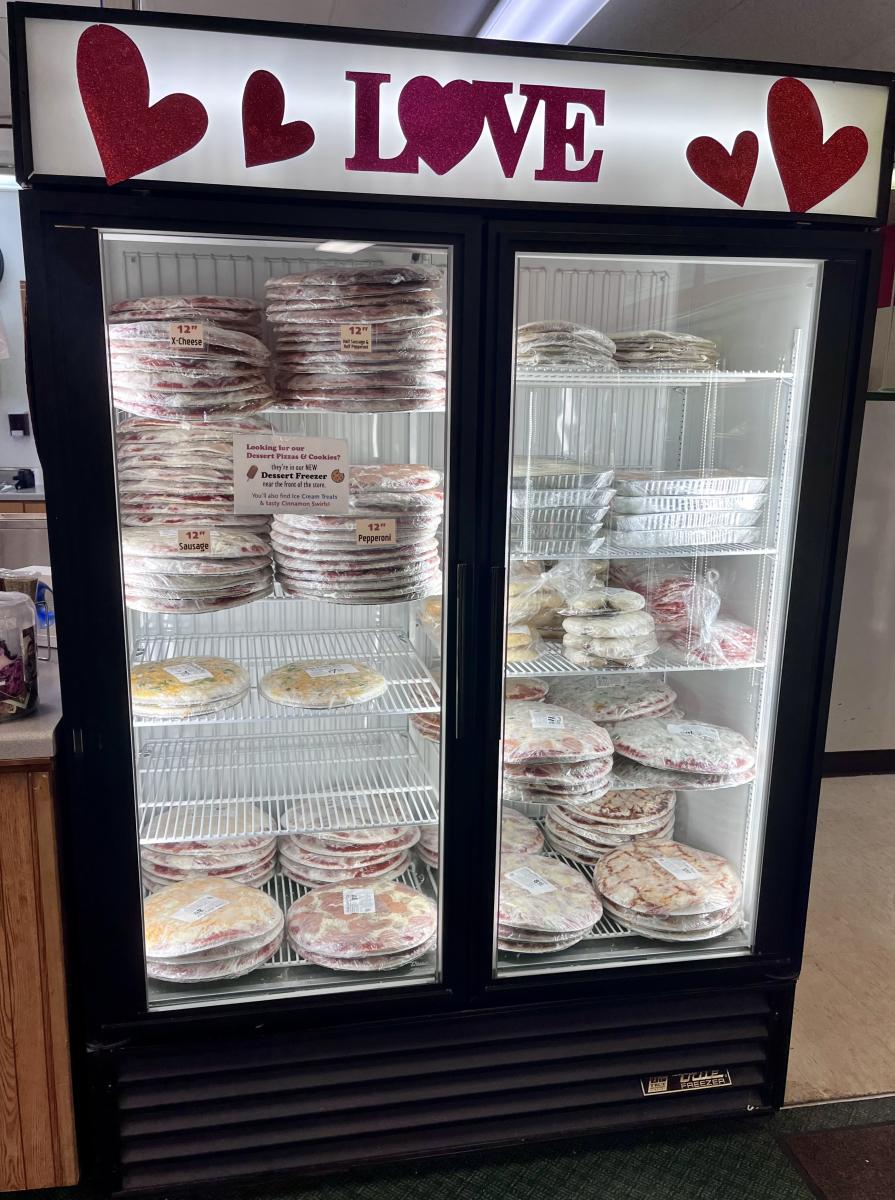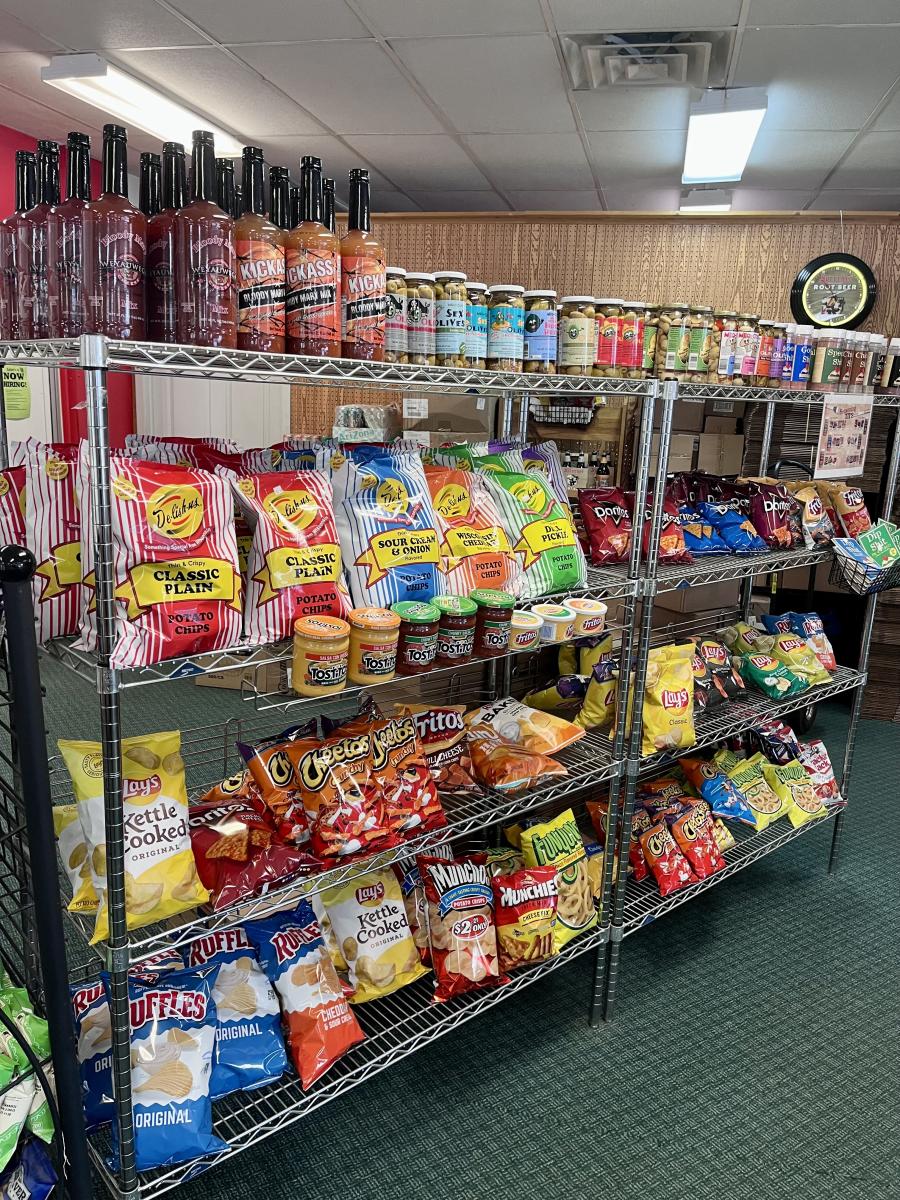 So Oshkosh, how are you celebrating National Pizza Day? However you choose, you can't go wrong that's for sure! Tag me along in your journeys and let me know some of your favorites from these local gems! Happy Pizza Day, ya'll!!!!
Stay the night in Oshkosh—click here for overnight options!