You do not need to go far to find exceptional places to get a dessert fix in Oshkosh. From popcorn to cupcakes, custard to handmade chocolates, Oshkosh is home to a remarkable assortment of great places to get something sweet to eat. Here are some of the City's best spots to find a sweet treat! 
Located at 1823 Doty Street, Hughes Home Maid Chocolate Shop serves up some truly marvelous chocolates. This humble shop is located in the basement of the original Hughes candy makers home. Though the house, nestled in with the others on the residential street, seems unassuming from the outside, don't let that fool you – this shop makes some of the best candy in the state. With admirers from all over the Midwest, the Hughes Home Maid Chocolate Shop takes you back to another time when craftsmanship was king. Sink your teeth into a peanut butter cup. Let their homemade caramel dissolve in your mouth. You're going to be hooked.  Open seasonally--it is always a good idea to call ahead--(920) 231-7232.
Oaks Candy Corner at 1200 Oregon Street is the location of another classic name for candy in Oshkosh. Established in 1890, Oaks Candy is truly an old-fashioned shop, with a mind-boggling variety of candy and all the delightful sights and smells you would expect. Meltaways, nut-rolled candies, soft centers, fudge, clusters, and candy bars – you'll find it all. There's even a healthy supply of roasted nuts for you to enjoy. These two shops are amazing and a visit to either location is an Oshkosh "must!"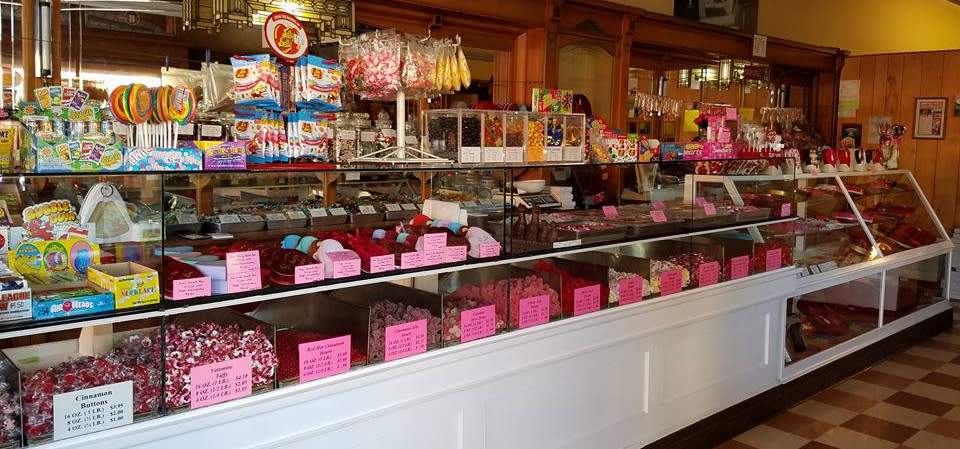 OshPop Gourmet Popcorn at 1300 Oshkosh Avenue is a one-stop shop for all sweet and savory popcorn needs. This family-owned company strives to serve tasty and unique gourmet popcorn. They have a minimum of 25 flavors in their shop each day with flavor names to represent the City of Oshkosh such as, "Chief OshPop" and "Sawdust City Mix." Stop into their store to enjoy the fantastic smells and colorful displays. 
Carmel Crisp & Café at 200 City Center D has been plying Oshkosh visitors and residents with sweet treats since 1933. The first thing you'll want to try is the caramel corn, a recipe unchanged since the café was founded. Then, move on to a piece of pie, a cookie, or an ice cream cone. If you are someone that can't decide, try out their ice cream flight—offering 4 different ice cream flavors at once! If you insist on dinner before dessert, the Caramel Crisp & Café offers a complete lunch menu of deli-style salads, soups, and sandwiches.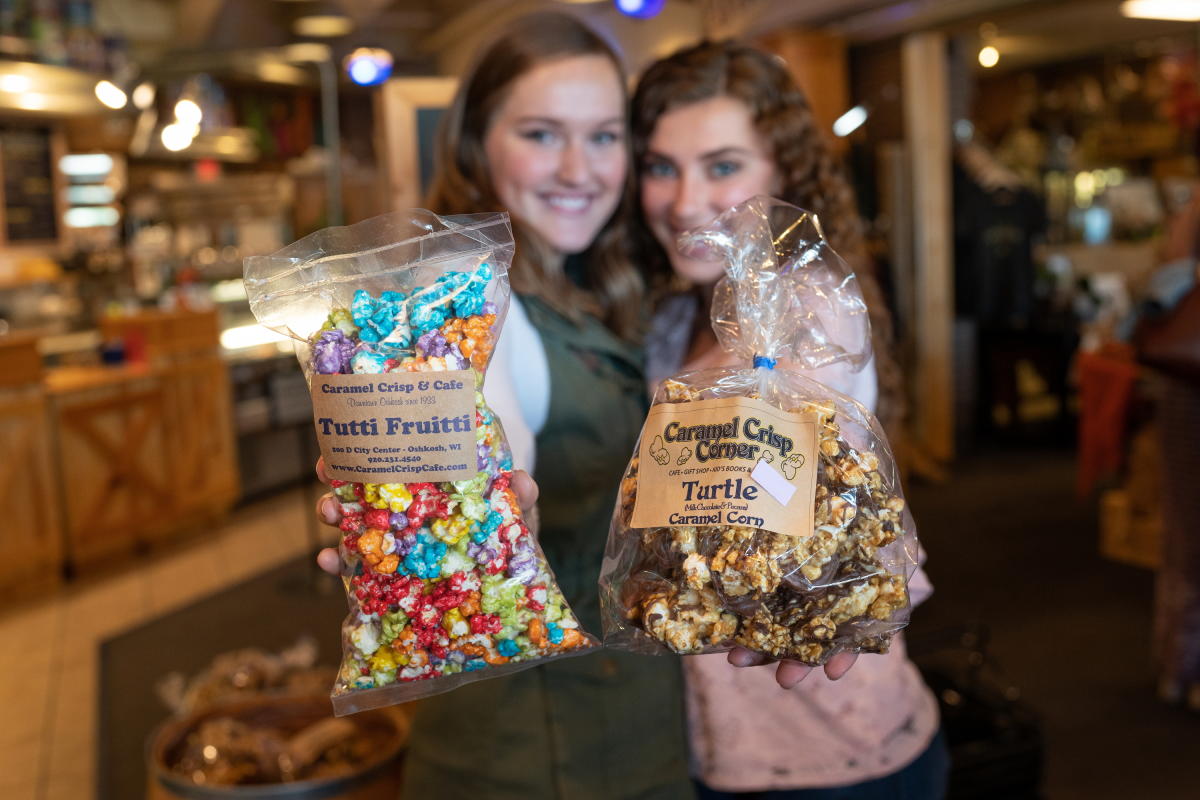 Tamara's the Cake Guru is the cupcake heaven of your dreams. Check out this sweet shop at 2271 Westowne Avenue, they have 13-40 flavors of cupcakes on their shelves each day. You can also get personalized cakes, "pup" cakes for your animal friends, and many other tasty snacks like brownies, cookies, and macaroons! Stop in for what we call "dessert overload" in the absolute best way.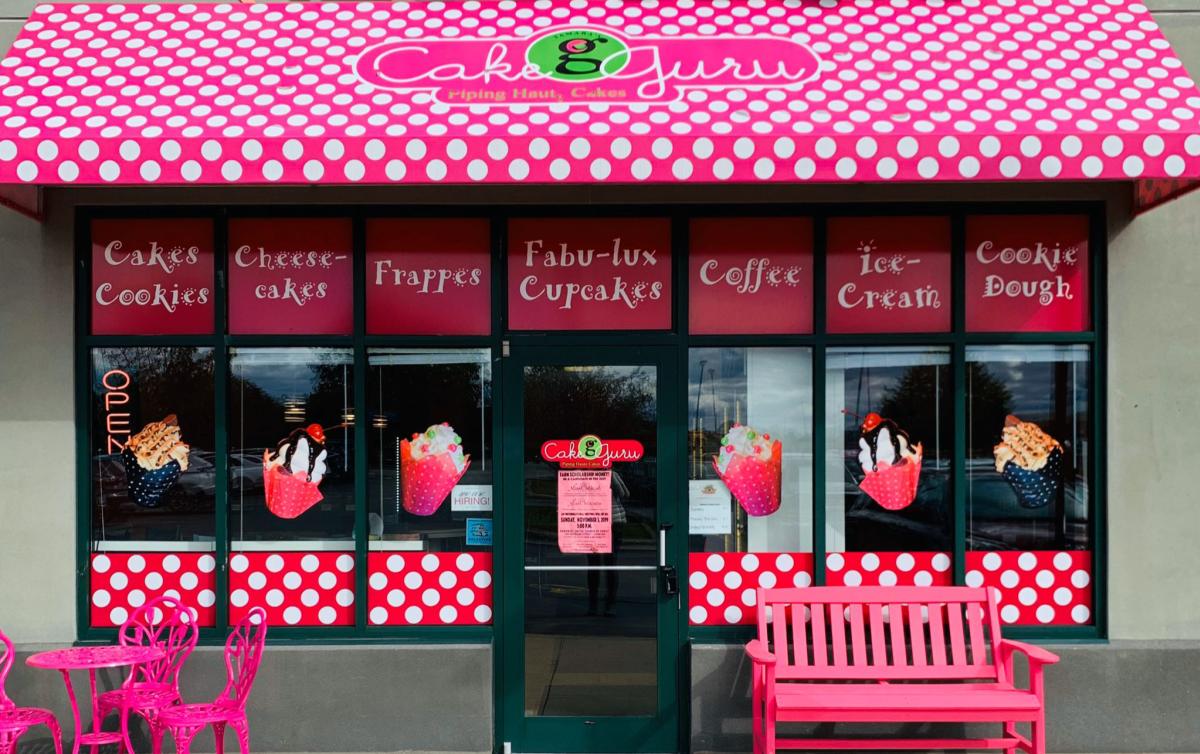 Leon's Frozen Custard at 121 W Murdock Avenue has been serving Oshkosh residents since 1947 and is named the oldest drive-in in the Fox Valley. With car-hop service and classic custard flavors, this Oshkosh novelty will send you right back to the 50's. Known for their Turtle Sundae and Joos Burger, you'll know you are there when you see the neon sign. 
Rhapsodies at 1226 Oregon Street is another great stop for lovers of frozen custard. Family owned and operated, this place serves everything from shakes and malts, to sundaes and floats. True to their name, this place is for music lovers of all types. Request a song to be played with your order and they even have music trivia discounts!  
Ardy & Ed's Drive-In at 2413 South Main Street is another classic summer stop in Oshkosh. 4 words for why you should go... Roller Skate Car Hops! Hang out at this 1950's themed drive-in and enjoy the delicious ice-cream and scenic Lake Winnebago views. Their Root Beer Float in a frosty mug voted #1 in Oshkosh is essential to every visit! This blast from the past serves up tasty treats that make every visit special.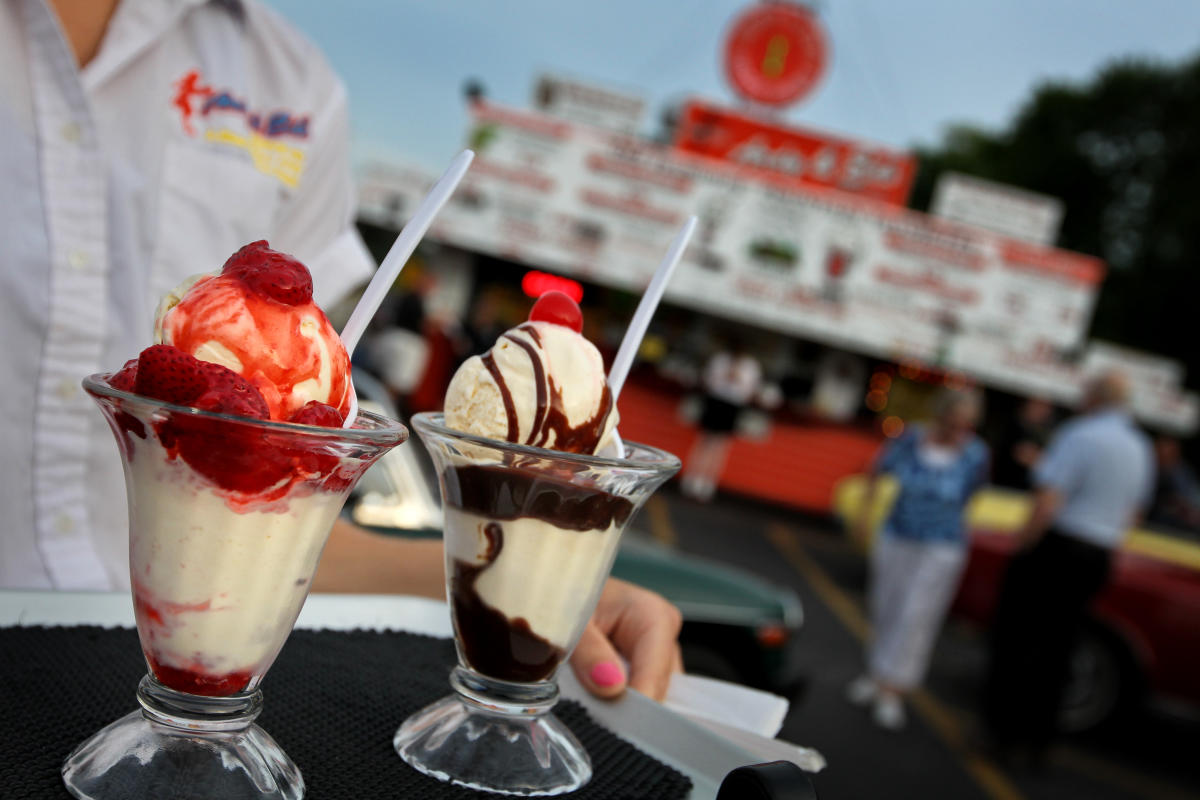 These are just a few of the places we found to enjoy dessert in Oshkosh. Let us know in the comments what your favorites are!
Stay the night in Oshkosh—click here for overnight options!