The 22nd Annual Oshkosh Celebration of Lights is happening this year from November 24, 2023 - December 31, 2023! This year, Oshkosh Celebration of Lights will take place at the EAA Grounds in Oshkosh (Open daily 5:30 pm – 9 pm).
New Location: 1858 Neunteufel Ave, Oshkosh, WI 54902
The COB attracts over 16,000 vehicles each year filled with family and friends geared up to drive through a million twinkling lights. Take your own car through 1.2 miles of holiday sights and sounds through the beautiful EAA Grounds. This endless trail will engulf you into millions of lights, 100+ trees wrapped in lights, sculptures, and light displays! Hop out of your ride and visit with Santa - available November 24th through December 23rd from 5:30-8:30pm! Make sure to have your children bring their Letter to Santa - plus Christmas Eve, he will be out with his reindeer delivering presents!
For the 2nd year - Celebration of Lights will be offering a horse pulled wagon ride experience available 6pm - 8:30pm on November 29, December 6, 11, 13, 18, & 20. Reserve your spot for this enchanting experience by calling (920) 303-9200 or email info@oshkoshcol.org.
Visitors can enhance their holiday sight and sound experience by tuning in to Oshkosh Media (101.9 FM) or WRST (90.3 FM), depending on the night. These stations will put you in the holiday spirit while playing holiday music throughout your drive through the park. At the end of the path, these radio stations will sync to the colorful musical animated pixel light displays for an experience like never before!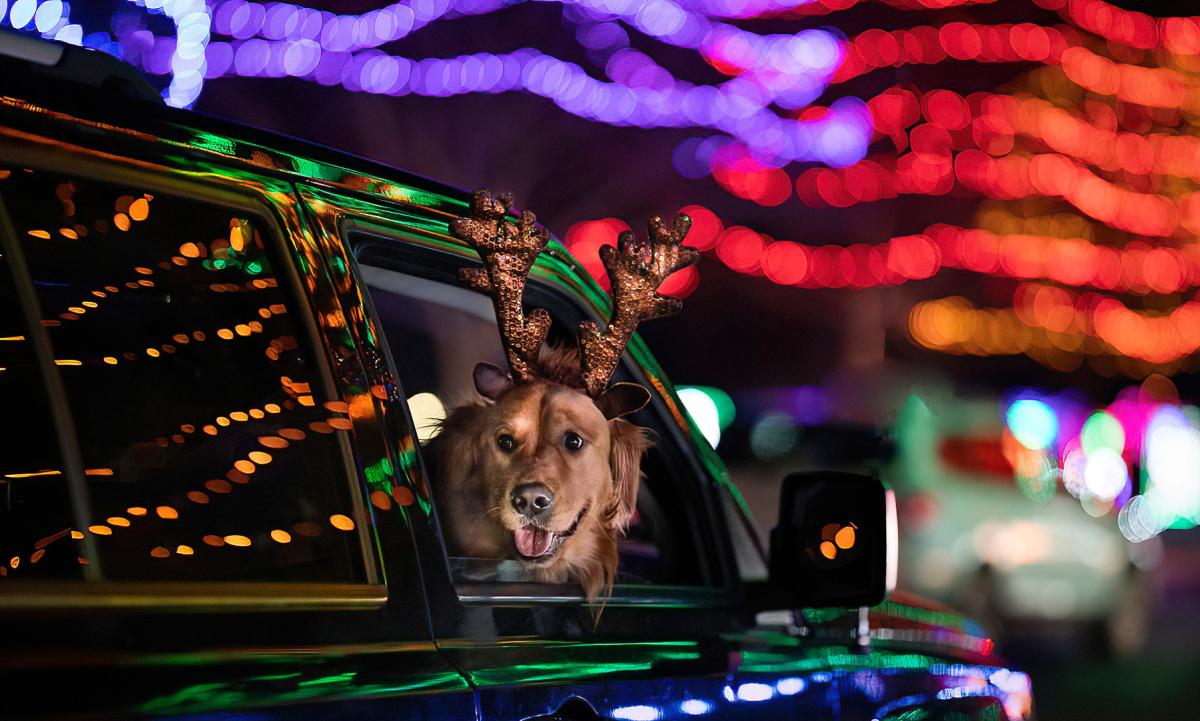 Entry
General Admission per carload is $20.00 with $5.00 off with donation of a sealed hygiene item (shampoo, deodorant, soap, etc.) or non-perishable in-date food items appreciated.
Special Nights
ALL COMMUNITY NIGHTS OFFER FREE ADMISSION – A sealed hygiene or food item appreciated
Oshkosh Area Humane Society Night - November 26
Let's not forget our furry friends this Christmas! Visitors receive $5 discount per carload when they donate items, such as Canned cat and dog food, Purina One dry cat and dog food, Purina One Healthy Kitten dry food, Paper toweling, and Gift cards to area grocery stores to purchase fresh greens for small mammals like rabbits and Guinea pigs.
Fox Communities Christmas - November 27
A very special Community Night sponsored by Fox Communities Credit Union that brings a holiday message of hope to our area children by collecting toys for FOX COMMUNITIES CHRISTMAS! Guests are asked to donate new, unwrapped toys to be distributed as Christmas gifts and send a message of hope to less fortunate children in the Oshkosh area.
Race For the Light 5K FUNdraiser - December 2nd
Your journey begins at the new EAA Youth Education Center (EAA Aviation Museum) and takes you through Celebration of Lights now located at Camp Scholler. Join this fun holiday tradition to kick off the season of giving.  Registration includes a race T-shirt*, a set of jingly, jingle bells, a dose of holiday spirit, and serious kudos for wearing an ugly holiday sweater or fun costume. Register Here!
Senior Citizen Day - December 4
Sponsored by Evergreen and 4imprint, Senior Center and residential facilities are invited to bring bus loads of folks to enjoy the dazzle and magic of the Celebration of Lights. Discounts for busloads of seniors. The first 200 seniors to attend will receive a complimentary gift.
Oshkosh Area Humane Society Night - December 10
Let's not forget our furry friends! Visitors in vehicles receive $5 discount per carload when they donate items such as dog food, cat litter, paper towels and pet toys for the Oshkosh Area Humane Society
Golden Years Night (55+) - December 7
Sponsored by Bella Vista and Lakeshore Manor, 55+ Seniors are invited to be recognized on this special Celebration of Lights night. Discounts for busloads of seniors. The first 100 seniors receive a complimentary gift.
Veterans Appreciation Night - December 11
To commemorate and honor ALL SERVICE MEN AND WOMEN, past and present, the Celebration of Lights is proud to feature our Patriotic Display. ALL VETERANS ENTERING THE LIGHT SHOW FOR FREE TONIGHT. The first 200 Veterans entering the light show receive a complimentary gift.
Night of the Torches - December 30
Hundreds of Torches against a winter's sky add dazzle to the Celebration of Lights.
 
Community Nights
This year the Oshkosh Celebration of Lights has 8 Community Nights. EVERYONE enters FREE these nights because of our sponsors generosity!
A donation of a sealed hygiene item (shampoo, deodorant, soap, etc.) or non-perishable in-date food items appreciated