Welcome to Hudak in the City! In a nutshell, I am a sub-par blogger with a true love for food and fun in Oshkosh. Follow along monthly for updates on some of my favorite things to do, eat and drink in the greatest city in Wisconsin!!
This month's stop-THE OSHKOSH FOOD CO-OP!  My god- the Food Co-Op. So much to say, only so much these fingers can type. Let's get started. (Trader Joe's lovers- you're gonna wanna pay attention!)
Did you know that this project is 10 years in the making?! 10 YEARS! And is the only Food Co-Op in NE WI!! The idea was born in 2011 and became an entity in 2013. The years in between were dedicated to funding, researching and perfecting the store that Oshkosh needed. Brenda Haines led myself and Jess Meidl, the Downtown Bid Manager, on a tour the day before opening and to say we were floored would be an understatement! Brenda Haines is the Oshkosh Food Co Op Board of Directors President and really one of the main reasons the Food Co Op exists in Oshkosh! (Brenda Haines kicks ass!! There, I said it!)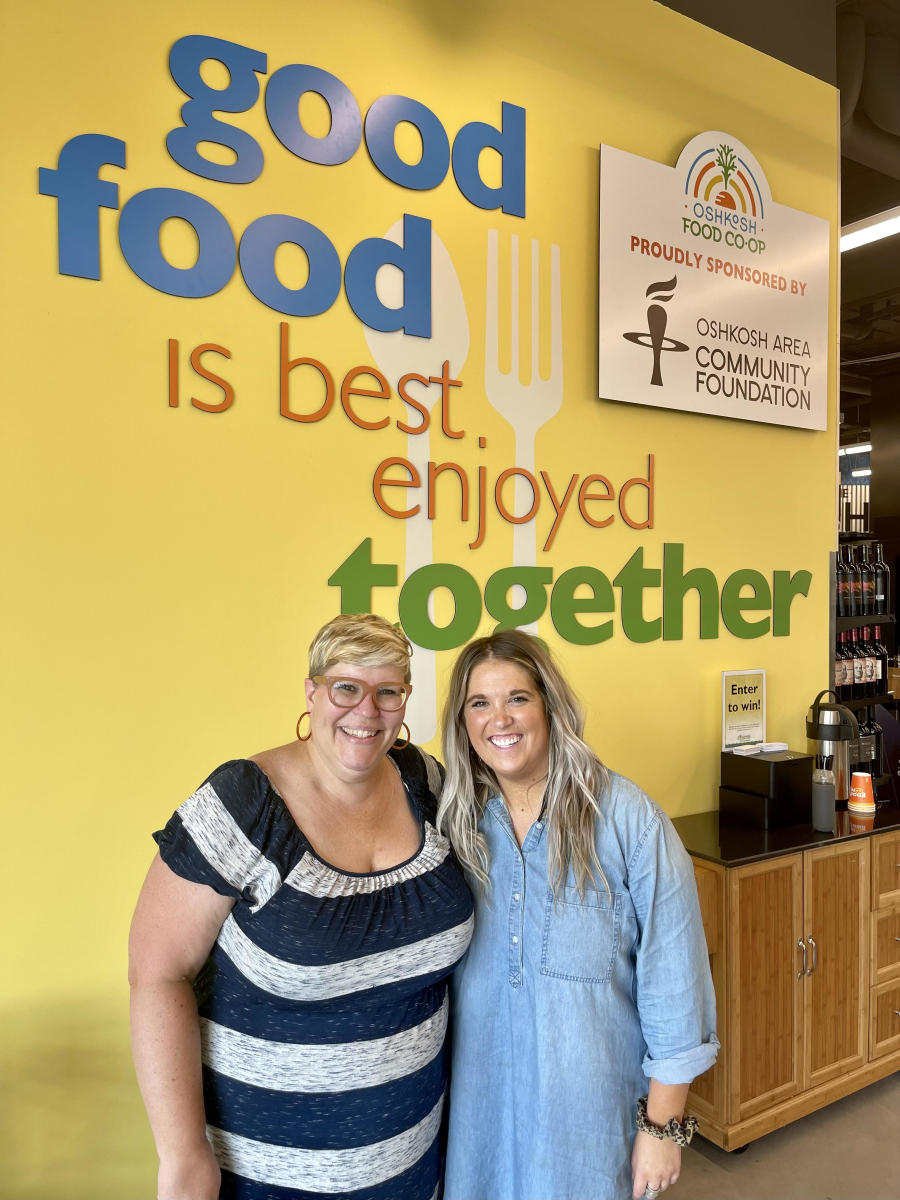 Brenda started us at the entrance and really highlighted the, "Everyone's Welcome" sign. One of the biggest questions they get asked is, "Can I shop here if I am not a member?". The answer is YES! You do not need to be a member to shop at the Co Op, as the sign says, everyone is welcome! If you do want to become a member, here is the link to do it! https://www.oshkoshfoodcoop.com/join  A one time payment of $180 gets you the following, (taken right from their fantastic website),
Member appreciation discount days
Online special ordering
Member-Owner giveaways
The right to vote on official co-op matters, such as the annual Board of Directors election
Attend our annual meeting
Add a secondary member from your household to your account
Other food co-ops around the country may honor your membership at their co-op
Before I started typing this, I became a member and am encouraging all of you to do the same!! I mean, now we can say we "own" a grocery store ;)  There are monthly payment options, as well!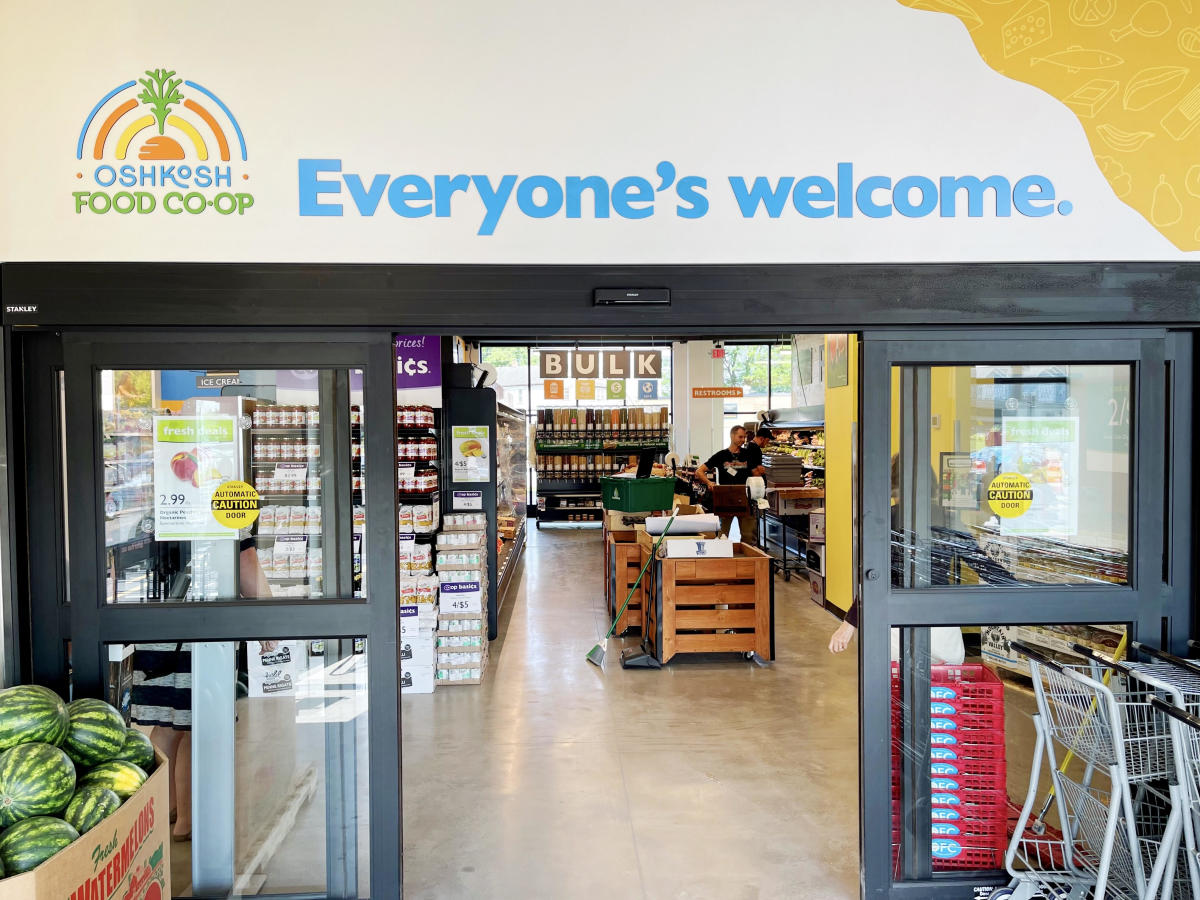 As soon as I walked in, I got "Trader Joe's vibes". IYKYK. I know a lot have mentioned that they would like a Trader Joe's in the area, and guess what, we essentially do now! 20% of the store is locally sourced, (meaning it is coming from a store within 100 miles or the State of WI)! SO many great local farms/restaurants/breweries, etc. are highlighted here making it easier than ever to Support Local!! Some of the local places I saw around the store were:
Pilora's (hello garbanzo bean salad in their deli!)
Fifth Ward Brewing Company (Sweet Heat!!!)
Thunderbird Bakery (You guys… Their cookies are absolutely out of this world delicious!!)
Red Barn Family Farms cheese (word on the street is that this is the only store in the surrounding area to sell it!)
And so many more! Interested in selling your product at the Co Op? This is the link for you! https://www.oshkoshfoodcoop.com/new_sell_at_the_co_op
I am going to attempt a "Hudak's Favorite Things" list  for the Co Op, but it very well may be a highlight of the whole dang store because it is THAT GOOD!!
All things LOCAL. I love how it is a one stop shop to be able to support so many of the local gems our area has to offer! Local beer, cheese and cookies all in one stop? Sign me up!



Co Op Explorers. This is a program that promotes healthy eating for children and allows them to get a free piece of fruit each visit while they are shopping!



The Kitchen. This is what they are calling their deli in the store and it is fabulous. There is a cold and hot section that offers soups, salads, hot bar options that change daily, sandwiches, and grab and go options galore! The hot bar will offer breakfast, lunch and dinner that changes daily! There is also a coffee bar that will highlight local coffees. They have truly thought of everything at this place! There is seating indoors and outdoors for you to enjoy your treats also!



The Chatty Checkout. Sponsored by the Women's Fund, this is a checkout lane designated to combat social isolation. There are people who crave human interaction who unfortunately may not have access to it at home. This lane is for them! Take your time, chat about the store, the weather, your favorite color, heck- chat about whatever you want!

This is a one stop shop for a full shopping trip! Food, drinks, household items, beauty, health and wellness, etc. You can get it all here! 



The unique products. I saw some of my favorite dip that I have only found at Costco, (hello La Terra Fina artichoke jalapeno dip and Bitchin Dip in the dairy section)! And some pre- made charcuterie meals in the dairy section that I can't wait to get my hands on!
While I could go on for a while about this place, I think I gave you a starting point for what to look for and to go explore for yourself!  Become a member, Support Local and lets give this awesome addition a very warm WELCOME to Oshkosh!!! More surprises and specials to come from this Co-Op and I am excited to be along for the ride!
Stay the night in Oshkosh—click here for overnight options!