The Winnebago County Historical and Archaeological Society has announced the return of a very popular summer attraction – 'Pie On The Porch.'  This very popular destination will return to the Oshkosh Saturday Farmer's Market starting June 4th in Downtown Oshkosh.
Located in the same location as last year in front of 525 N. Main Street, this popular fundraiser returns for another season of offering delicious home baked pies and cool refreshing drinks. Historical Society President, Randy Domer, said, "We are very proud of being perhaps the "oldest" venue at the Oshkosh Farmer's Market. Pie on the Porch began in the early days when the Farmer's Market was located in the parking lot of city hall. Back then, pie was served on the porch of historic Morgan House located right across the street. We are honored to carry on this timeless tradition."
Pies offered each week are the results of hard work by a team of volunteer pie bakers. Some of these bakers will provide as many as three pies per week which helps the society keep up with the demand.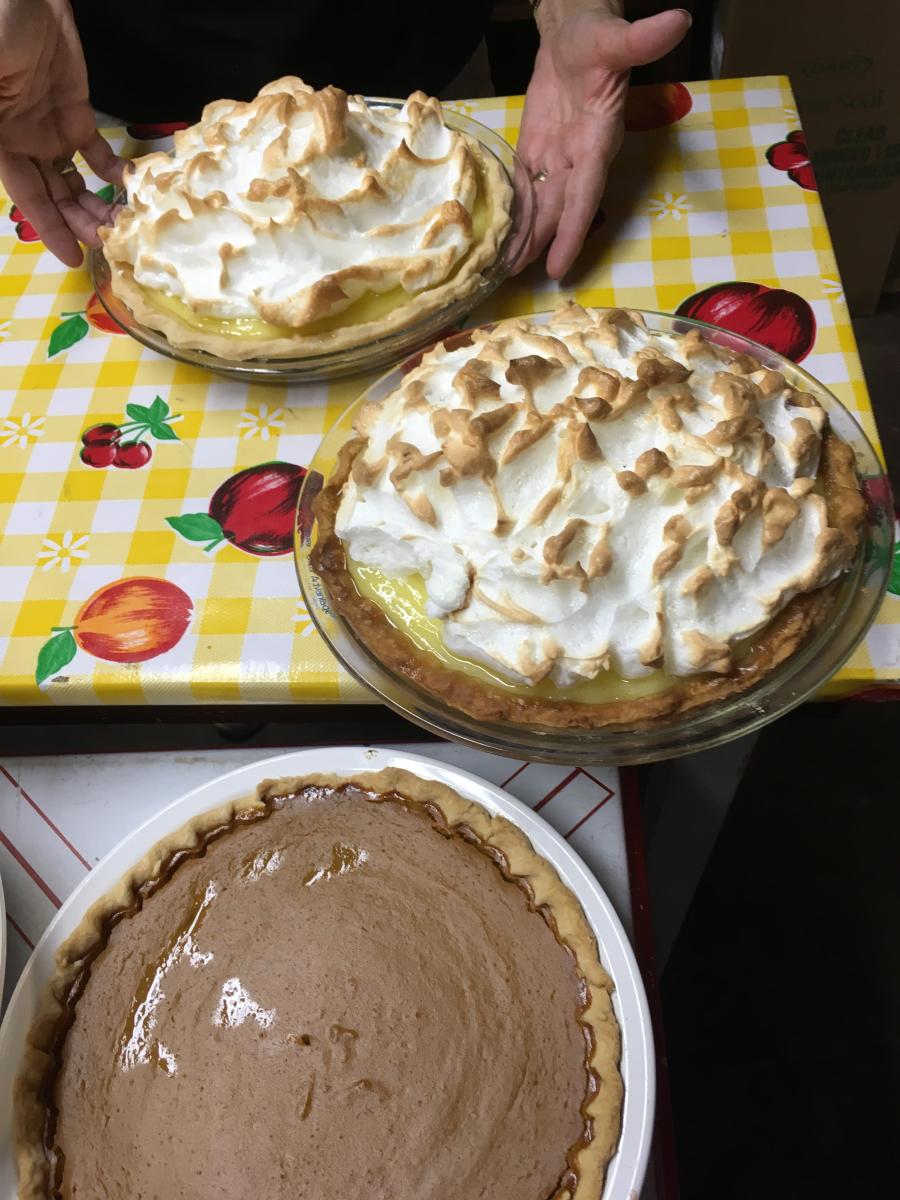 "We have created an identity and brand awareness with Pie on the Porch" Domer stated. "We missed one year about three years ago when we lost our "pie home" at Crescent Moon when the business and building was sold. Thanks to Mary Janness and the NAMI organization, they took us under their wing and gave us a place to continue our program. That first year back we received so many comments from Market attendees that they missed us and were glad to see us back", he added. "There are some customers, or pie regulars we call them, who come back EVERY WEEK!" 
Pie on the Porch takes many hands to make things happen every Saturday. A team of volunteers arrive around 6:30 am to set up the canopies, tables and chairs. Others will spend their morning there cutting pie and working in the tent serving pie and refreshments. On any given week there may be as many as 15-20 volunteers involved with baking, setup, serving and take down.
Pie on the Porch is the Society's biggest fundraiser of the season. Domer pointed out "We are a non-profit, 501c3 organization that relies fully on memberships, donations and fundraisers to fulfill our mission to preserve our local history for future generations. POTP is a critical element in our ability to serve"
Historic Morgan House will also be open for tours this summer. Due to a major conservation project and maintenance, the opening will be delayed a few weeks. It is hopeful that tours can resume by mid-June. For more details check out the Winnebago County Historical & Archaeological Society's Facebook page or their website.
Volunteers are still needed. If you enjoy baking and want to donate a pie or two, or want to help with the execution on Saturday, contact Randy Domer (rrdomer@gmail.com)
Pie on the Porch begins on Saturday, June 4 and will continue through Labor Day weekend in September.
Stop by this week and enjoy a slice of our delicious home baked pie.
Stay the night in Oshkosh—click here for overnight options!