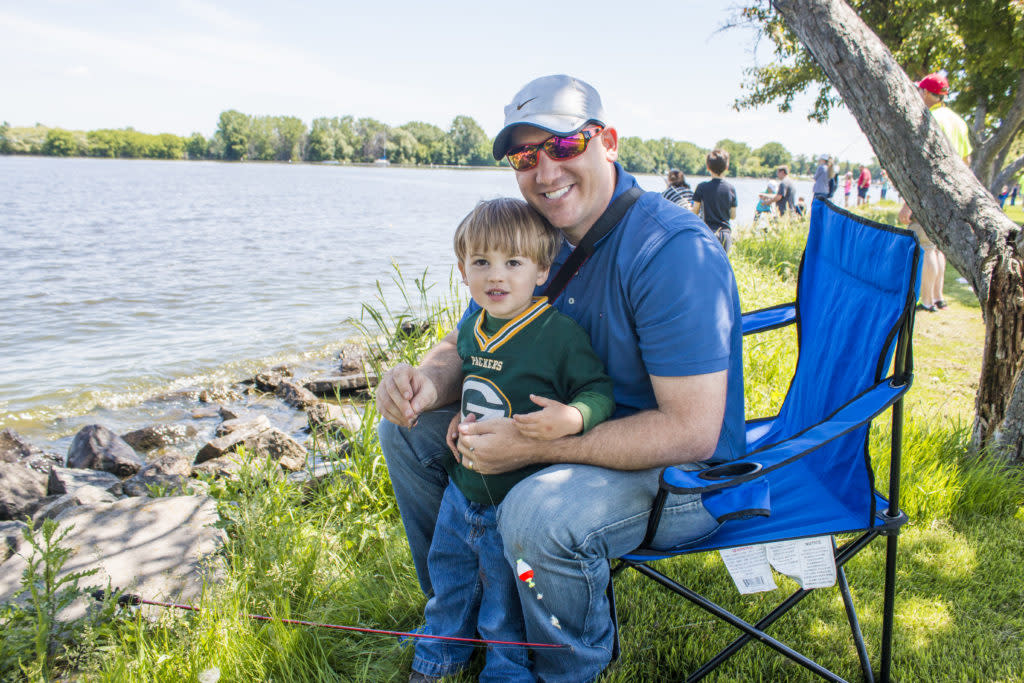 Given that 21st-century children are constantly surrounded by different types of electronic entertainment, it is important to make some time to introduce them to a few outdoor hobbies, like fishing. Most kids love to learn how to fish, and it is a great way to spend an afternoon with your family.
Nestled between Lake Winnebago and Lake Butte des Morts, Oshkosh is the perfect place to introduce your kids to the sport. But no matter where you take your kids for their first fishing trip, you'll want to be sure you actually catch fish; otherwise, your kids will likely grow bored and lose interest in fishing entirely.
Fortunately, you can increase your chances of catching fish by embracing a few simple tips and tricks.
1. Use Kid-Friendly Equipment
Avoid the tangled lines and technical problems that often plague young anglers by using the simplest rods and reels possible, while you introduce your kids to angling. Spincasting combos are ideal, although most kids can learn to use a standard spinning reel if need be.
2. Target Easy-to-Catch Species
The walleye and black bass who dwell in Lake Winnebago may draw anglers from near and far, but your kids will have more luck targeting the plentiful panfish in the lake. Perch, bluegill and crappie are often aggressive feeders, and they occur in much larger numbers than the larger, predatory species that get all of the attention do.
3. Use Productive Baits
Instead of using artificial lures, which are likely to become snagged on trees and rocks lurking under the surface, set your youngsters up with some good real baits. Earthworms, leeches and crickets all work, but you can even use corn or doughballs to catch bluegill and perch.
4. Select Good Locations
As the saying goes, "80 percent of the fish are in 20 percent of the water." This means that you can't just chuck a bait in the water and catch fish – you'll have to concentrate your efforts in those locations holding fish. The best locations vary from one lake to the next, but main lake points and areas near boat docks often hold tons of bluegill and perch.
5. Keep Morale High
No matter how good the fishing is on a particular day, you'll undoubtedly face periods in which the fish stop biting. Instead of forcing your kids to keep fishing during these times, allow them to take a break. Let them enjoy a snack, run around a little or simply enjoy the beautiful Lake Winnebago scenery for a while – they'll want to start fishing again once the fish resume biting.
No Need to Wait for Summer: Fishing is a Year-Round Activity
While most anglers prefer to teach their children to fish during the summer, there's no reason your child's first fishing trip can't take place on the ice during the winter. Many panfish will continue to bite through the winter (especially yellow perch), but you may even get lucky and drag a walleye or pike up through a hole in the ice. You'll need an ice auger to cut through the ice, and you'll probably want to set your kids up with ice fishing rods (which are much shorter than conventional rods), but these things won't set you back too much money.
If you'd like to learn more about teaching your kids to fish or taking them on their first fishing trip, check out Outdoor Empire's comprehensive review of the subject. There, you'll learn more tips for selecting the best fishing locations with your kids, picking the best tackle and equipment and keeping their spirits high during the slow times.
Stay the night in Oshkosh—click here for overnight options!