Do you enjoy walking outdoors, bird watching, or bird photography? If so, Oshkosh, a designated Bird City Wisconsin community, is the right place for you. Oshkosh and Winnebago County offer several unique locations for birding. Beautiful lakes, rivers and wetlands provide a variety of habitats for many fascinating birds.
When is the best time to go bird watching? Spring and fall migrations are a great time to see a variety of waterfowl: swans, ducks and geese plus the always hard to identify shorebirds. Spring is also a fantastic time to see warblers. Winter months provide great opportunities to see bald eagles that congregate near open water on Lake Winnebago and along the Fox River. The Oshkosh area is home to the usual owl species year-round and often visited by snow owls during the winter. It's hard to pick one season as the best because each season has special bird watching opportunities.
Use this guide to enjoying the birds of Oshkosh and Winnebago County compiled by Anita Carpenter, local naturalist, avid birder and board member of Winnebago Audubon.

Welcome to Oshkosh and Winnebago County where white pelicans, peregrine falcons, sedge wrens, yellow-headed blackbirds and snowy owls are a few of the 250 bird species that can be seen here. Blessed with its seasonal changes and a rich diversity of habitats including lakes, rivers, marshes, wet meadows, grasslands, woodlands and fields, Winnebago County offers excellent and varied opportunities for both the seasoned bird watcher and the budding novice. Bird watching and bird photography are great year-round with spring and fall migrations providing the greatest number of species.
Popular birding locations in Oshkosh
Miller's Bay. Located in Menominee Park on Lake Winnebago. Look for ducks, geese, grebes, gulls, terns and herons. A great waterfowl staging area, Miller's Bay opens in mid to late March before the rest of Lake Winnebago providing open water for a variety of ducks. Before freeze-up, ducks also congregate here during November and December. On any given day, a surprise bird may show up in Miller's Bay so check this area often, throughout the year.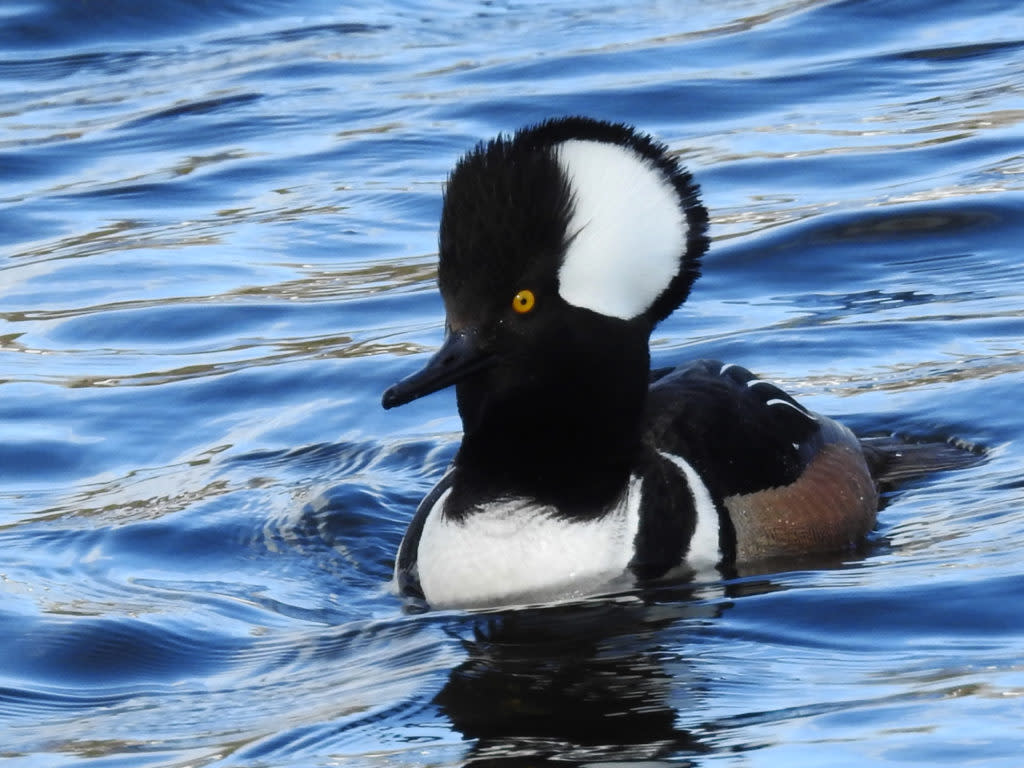 Menominee Park. Located on Lake Winnebago. Walk the trail that winds through the park along the lakeshore and keep your eye on the lake for ducks. During spring migration from mid-April through May, look for warblers, vireos, orioles and kingbirds.
Mouth of Fox River. This area opens up before Lake Winnebago in late winter. It's a great spot for waterfowl. Look for bald eagles on the retreating ice as well. Access is available on Pioneer Drive south of the river and at the end of Bowen Street on the river's north side off of Bayshore Drive.
Oshkosh Riverwalk. A scenic walkway along the Fox River provides another waterfowl viewing spot; especially, in winter if the river is open. Look for bald eagles sitting on the ice or perched in trees during winter and find barn and cliff swallows nesting under the bridges in summer. Year-round, look for birds flying up or down river such as gulls, terns, cormorants, herons, ducks and osprey.
Wiouwash Trail. The Oshkosh Riverwalk becomes the Wiouwash Trail, a converted railroad right-of-way that follows the Fox River. It winds through the University of Wisconsin Oshkosh campus and continues north out of town and eventually out of the county. The trail is wonderful for hiking and biking. On campus, look for spring and fall migrants including sparrows, thrushes, warblers and vireos. Nesting gray catbirds, eastern kingbirds, house wrens and tree swallows reside here as well. Peregrine falcons nest in the box atop Gruenhagen Hall, a 10-story UWO dormitory.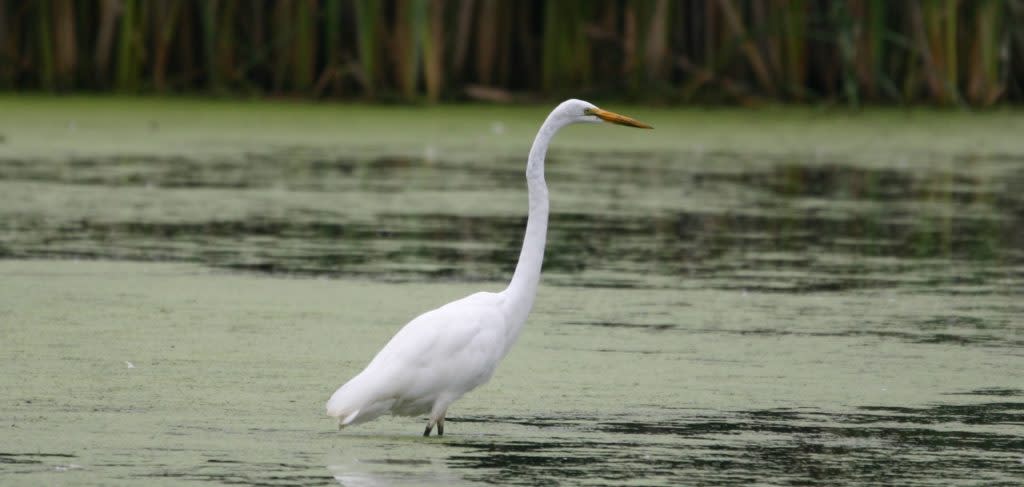 Riverside Cemetery. Continue north on the Wiouwash Trail along the Fox River. Check wetlands and woods behind Riverside Cemetery. This can be a great spot for spring warblers. Access to the cemetery and trail is possible from Algoma Boulevard.
Sheldon Nature Area. A natural area behind Oakwood School on Oakwood Road is open to the public. Trails wind through forest, wetland, prairie and pond habitats. Great birding year-round; especially, during spring and fall migrations.
Popular birding locations in Winnebago County
Uihlein Marsh. Located off County Road M south of State Road 91 by the small community of Waukau. Uihlein Marsh is a wetland managed by U.S. Fish and Wildlife Service. In the extensive cattail marshes and wet meadows, search for ducks, black terns, rails, bitterns, marsh and sedge wrens, yellow-headed blackbirds and sandhill cranes while walking the dikes. Spring migration can be excellent for warblers, vireos and orioles along the entryway with its overarching cottonwood trees.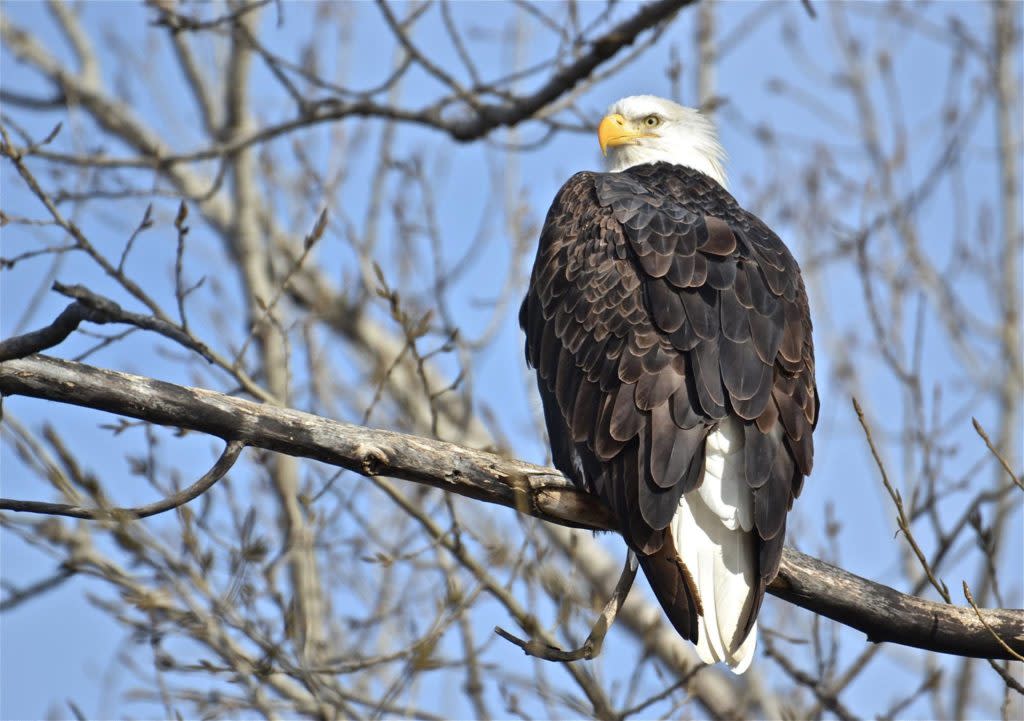 Terrell's Island. This is a 265-acre wetland restoration project on the southwest end of Lake Butte des Morts. The 3.7-mile breakwall trail is a must to hike. Look for ducks, gulls, terns, rails, nesting white pelicans, herons and woodland birds. Snowy owls and snow buntings are often seen on the trail during winter while bald eagles may be out on the ice if there is open water. March is a good time to see a variety of migrating ducks as the ice breaks up.
Shady Lane Road. This country road west of State Road 76 north of Oshkosh is lined with woods and wet meadows. It is a good spot during spring migration for woodland birds including warblers. Wet meadows host nesting bobolinks, meadowlarks, sedge wrens, clay-colored sparrows, harriers and sandhill cranes. Short-eared owls can be seen here in the winter. Meander along nearby roads keeping your ears and eyes open. The Wiouwash Trail crosses the railroad crossing by Medina Junction Road. Walk in either direction on the trail and find great spots during spring migration for vireos, thrushes, sparrows and warblers. Look for wetland birds including nesting yellow warblers and common yellowthroats, herons, grebes, ducks and osprey.
Winneconne. This is a small community bisected by the Wolf River. The river often remains open during winter and is a great spot to check for ducks and bald eagles.
County Road D. Travel on this country road west of Winneconne through the town of Borth to the extensive wet meadows. Rough-legged hawks are frequently seen here during winter. Also, search for northern shrikes and tree sparrows.
Sullivan's Woods. This area of meadows, prairie and woods is the Oshkosh Area School District's Outdoor Education site. Located west of Oshkosh on Hay Road off of Elo Road, this area is open to the public, with limited parking. Find good birding any month of the year; especially, during spring and fall migrations. The trails can sometimes be wet.
Waukau Creek Nature Preserve. This county park, located just north of Waukau on Delhi Road off County Road K, is a beautiful nature spot. Waukau Creek meanders through the hilly woodland where spring flowers are abundant. Trails can be wet and muddy, but this is a great spot during spring migration for warblers, grosbeaks and sparrows.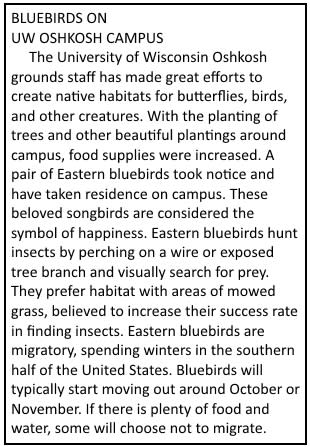 Asylum Bay. A public area located north of Oshkosh off of County Road A on Snell Road east toward Lake Winnebago. Locals call it the "Carp Pond". Check the bay off Lake Winnebago during spring ice breakup for ducks, geese and tundra swans. Scan the meadows for blackbirds, sparrows and yellow warblers and keep an eye open for the bald eagle nest. Check the woods near Lake Winnebago for spring and fall migrants. This is a good spot to see horned grebes as well. You can also find Asylum Point Lighthouse in this area. Any country road. Drive slowly along any country road if traffic permits. Avoid the busy main highways (41, 26, 44, 21, & 76), unless you can bird at 55 mph. During winter look along roadsides for snow buntings, Lapland longspurs, tree sparrows, juncos and horned larks (beginning in February). Scan trees for perching rough-legged hawks and northern shrikes. During spring and late summer migration, look for shorebirds in flooded fields.
Oshkosh is proud to be recognized as a Bird City Wisconsin, which it received by meeting established requirements. Being a Bird City means our community strives to educate the public and implement sound conservation practices designed to address common threats that have resulted in declining urban bird populations. A healthy environment is good for birds and people. Oshkosh was first designated a Bird City in 2011, one of the first to be recognized in the state. Oshkosh has also been awarded High Flyer status because it has gone above and beyond in its conservation and education programs. Check out these fun facts about the birds found in Oshkosh and Winnebago County.
Oshkosh Bird Fest, which celebrates birds and International Migratory Bird Day, is held the first Saturday in May at Menominee Park. For more information, visit www.oshkoshbirdfest.com.
For more information on birding opportunities in Oshkosh and Winnebago County contact Winnebago Audubon at winnebagoaudubon@gmail.com or Bettie Harriman at 920-233-1973.
Stay the night in Oshkosh—click here for overnight options!