The downtown Oshkosh community is home to unique options for those seeking out vintage clothing. Vintage clothing is commonly defined as old styles of clothing, which can stretch back 20 to 100 years. There are specific stores tailored to fit different decades of the past along with events that feature retro clothing. 
Curated Vintage Clothing Stores 
There are two stores downtown that feature curated vintage clothing, both finding clothing of the past and making it known that is what their stores carry.
01 Vintage is self-described as a "vintage and recycled clothing store," located downtown at 415 N. Main St.
The owner, Victor Kielman, is a 22-year-old who has always had the dream of opening a vintage clothing store. "I was always into clothes and fashion but didn't really know what I wanted to do in life," he said. "When I found out how cool old clothes were, it really just spiraled into a full-time side gig."
01 Vintage opened in August 2022, and Kielman keeps the store stocked with clothes ranging from the 1960s to the early 2000s. "I can't say exactly how I get all my stuff but the majority of the time I buy off wholesalers to then supply my store," Kielman said.
Kielman likes to keep the store well-stocked for customers, and attempts to keep his store constantly updated to fit the needs of customers and what they're looking for. "Something fun that I want to share with everyone is that I am always restocking," Kielman said. "I'm constantly putting new stuff out every single day so the next time you come in, you'll find a new piece you love."
Along with the vintage clothing, one of Kielman's favorite aspects is the vintage decor he puts into his store. "One of my favorite things we've added to the store is our old VHS box television that we use to pop in movies throughout the day," he said.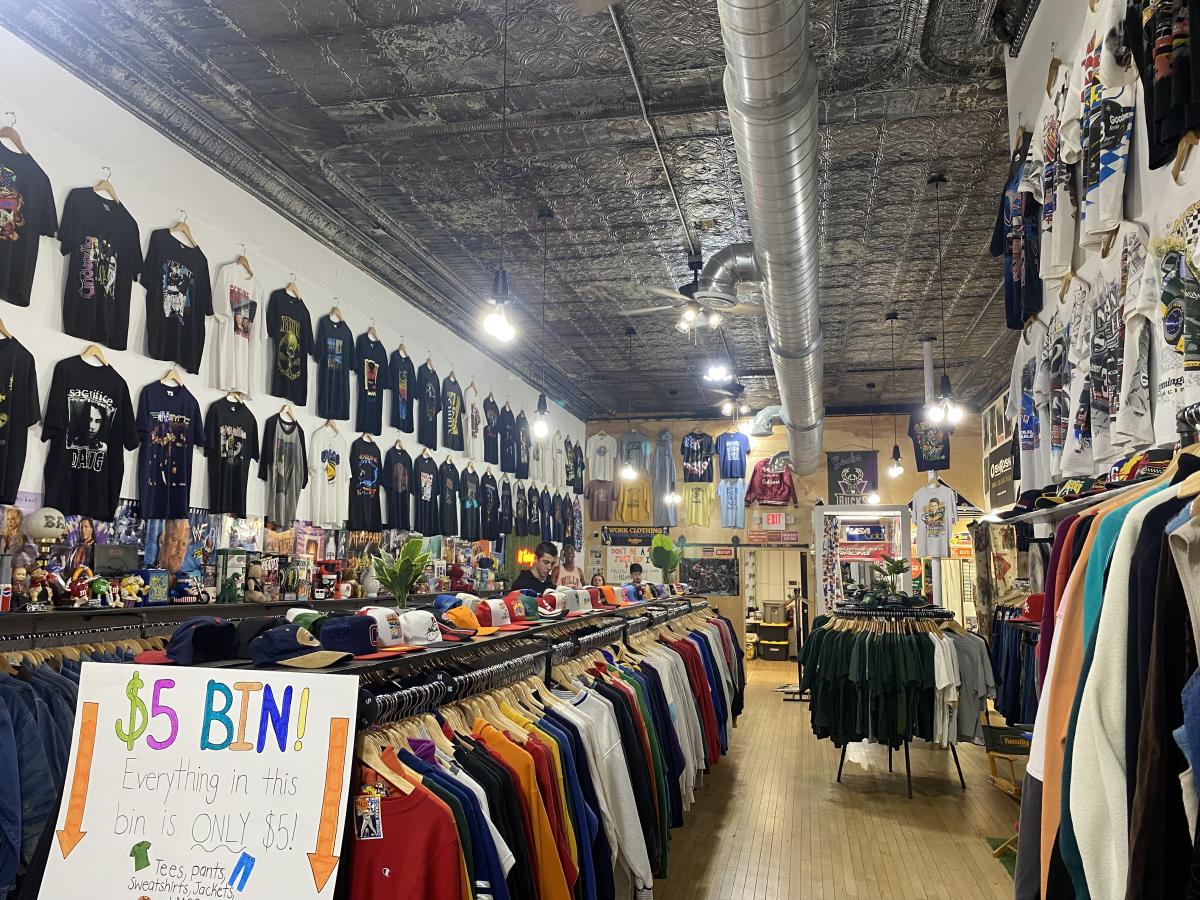 The other vintage clothing store downtown, AtomicKatz, features clothing, accessories and jewelry from the 1920s to '80s. 
AtomicKatz, located at 17 Waugoo Ave. features clothing handpicked for all who enter the store. As stated on their website, the clothing in the store is picked "for its design and/or representation to that era." Sandy Prunty, the owner of the store, started selling vintage clothing and things she had collected. "I love going to auctions and after a while you end up with 'stuff,'" she said. "A friend and I started selling in antique malls and did very well which led to opening a brick-and-mortar store." Prunty finds the stock for her store from multiple places in the area and beyond.
"We buy estates, go to auctions and buy from people that bring us their treasures and we focus on purchasing the best iconic pieces of each decade," she said. 
The clothing itself and what customers get from it is what she enjoys most about AtomicKatz. "Everything is one of a kind and our customers are very creative with their wardrobe," Prunty said. "We sell pieces of history and keep great clothing and furniture out of the landfill."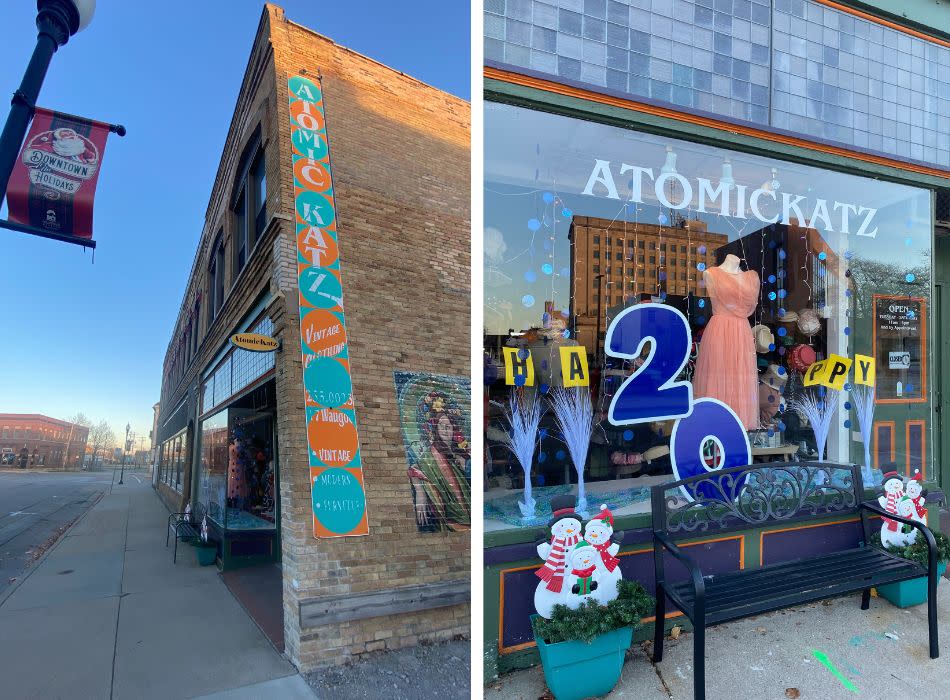 Vintage Events in the Community 
Fox Valley Vintage Fest has events held through the spring and fall in Oshkosh. The festival hosts vintage vendors from around the Fox Valley area, bringing in clothing, toys, accessories and even photo booths inspired by many decades.
Last year, Fox Valley Vintage Fest Three had 87 vendors with 77 booths that offered vintage clothing and more from different decades. Kinni Peters, who owns Fox Den Goods, puts together all the Fox Valley Vintage Fest events. One feature of the main sessions is the Vintage Arcade, where retro arcade games from many decades are brought in for shoppers to play after visiting the different vendors.
Along with the major Fox Valley Vintage Fest, there are summer sessions, which are smaller vintage vending events held outside at the parking lot at Fifth Ward Brewing Co. (1009 S. Main St).
The Oshkosh community has plenty of stores and events for those seeking out vintage clothing to fill their clothing with.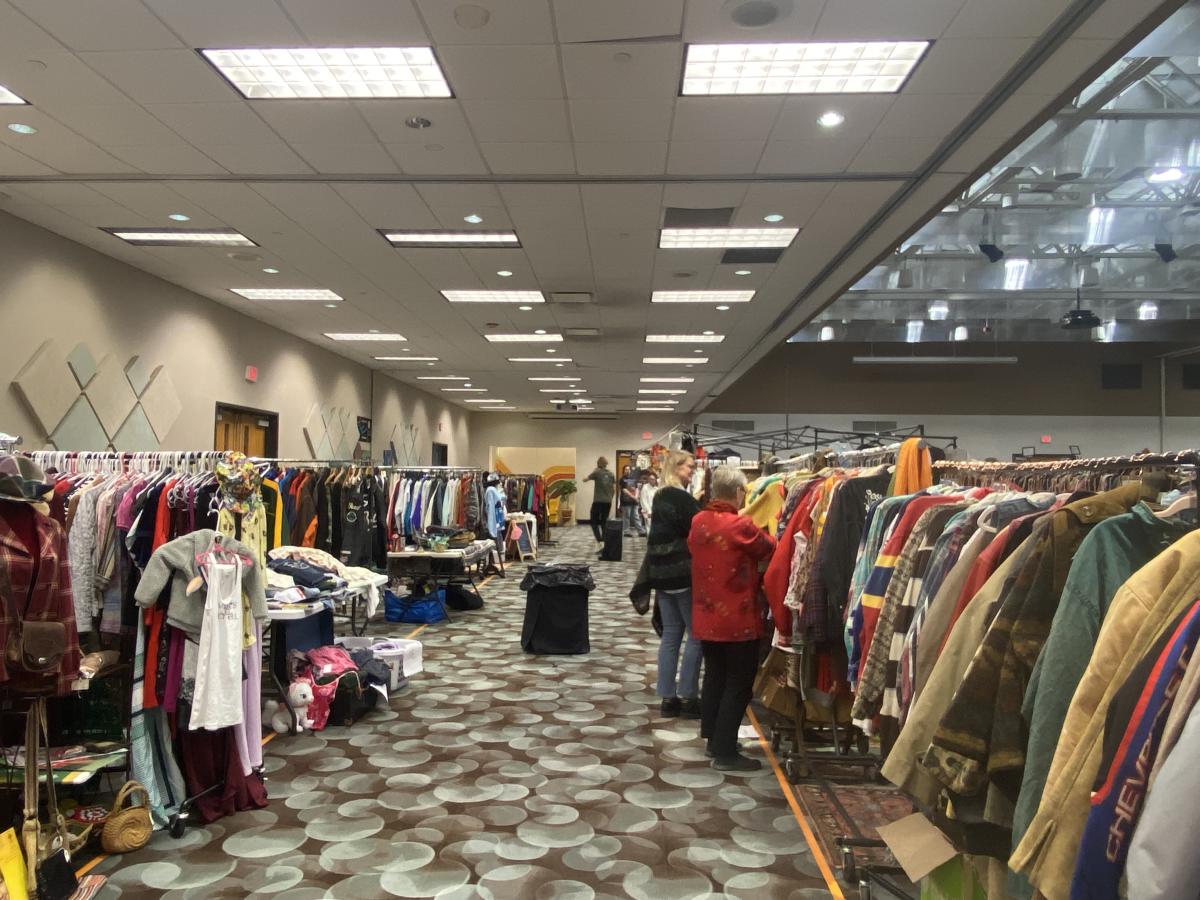 Don't forget to tag Discover Oshkosh in your Vintage Shopping Adventures on Facebook and Instagram for a chance to be featured!!
Stay the night in Oshkosh—click here for overnight options!