Meet Pat Tracey! Pat is an Oshkosh local with so many insider tips to share with you! Come along with Pat as he explores Oshkosh's hidden gems, along with places and events that make Oshkosh unique (while getting a good laugh)! Follow along with Pat as he discovers Oshkosh -- read more here!
Manila Resto in Downtown Oshkosh
Friends, have you had a Boodle Fight? Well I have, and now you can too! I ventured off my usual path to visit Manila Resto in Downtown Oshkosh, and I came face-to-face with the Boodle, where communal feasting meets fresh Filipino cuisine!
Manila has a lot to choose from: a fantastic sushi menu, rice bowls, noodles, classic Filipino dishes, it's hard to choose! That's why I'm here to tell you about the Boodle–you can have it all. I was able to not only eat the Boodle, but I got into the kitchen to see it created! I give props to the owners, Marlo and Patricia, for bringing this completely unique dining option to Oshkosh.
Flavor of the Philippines - Boodle Style
Originating from the Philippine military, a Boodle Fight is a tradition that symbolizes equal ranks and brotherhood among those who enjoy a Boodle together. After a hard day in the jungle, soldiers worked up quite the appetite. Dinner was served over banana leaves, with no silverware! All the soldiers would stand elbow to elbow and 'fight' for food, which was of huge quantity and variety!
Manila adapted the Boodle for modern manners–we can use silverware or chopsticks, but kept the fun and camaraderie aspect. I Boodled with a group of 10 and when that Boodle came out, honestly, it was ten feet long! We had the new Barkada Boodle (there's 3 boodle choices) and it is really something to see. It includes Crab Rangoon, Shanghai Lumpia, Onion Tempura Rings–which I had 4 of– Pork Sisig, and Ninoy's Fried Chicken; sushi like Dragon Roll, Ninoy Roll, and rice and noodles. It was a LOT :)
We Boodled, we laughed, we toasted (Mabuhay!), and we Boodled some more. Everyone found their own 'new' favorite dishes, no one wanted to leave, and we all got leftovers to take home. Boom! I'm thinking my next visit to Manila Resto could be for the Manila Boodle...so I can try the Crispy Pata. Mabuhay!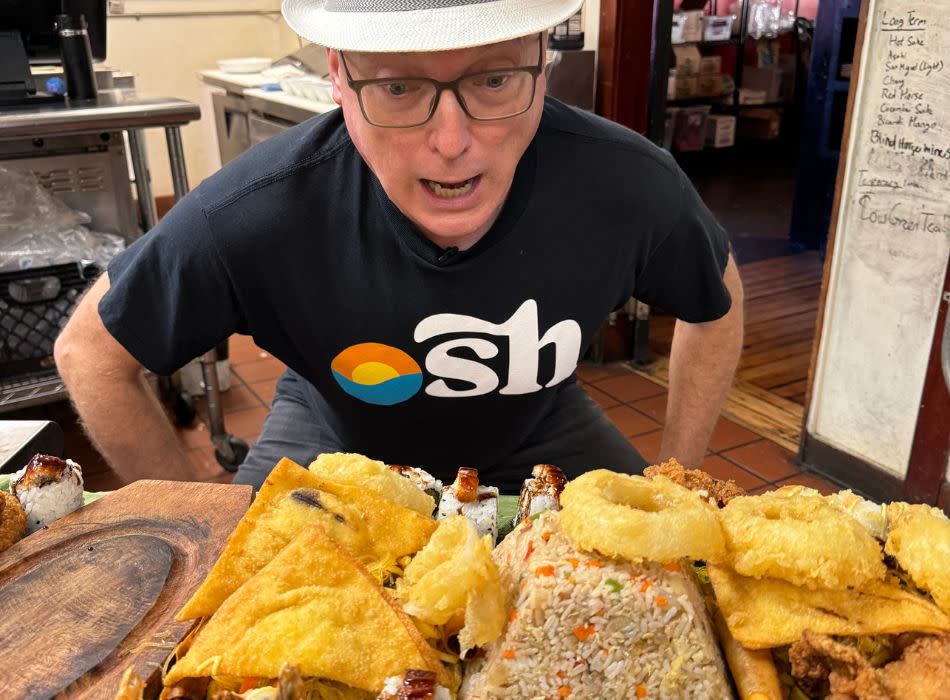 Pat's Tips
Manila Resto is at 107 Algoma Boulevard, right off Main Street; I just love the location. My favorite parking play, when I visit Manila, is to snag a left-side parking space on Algoma (which is a one-way street, right?) It's rock star parking with a twist: when the driver steps out you are at Manila's front door. Just keep an eye on your passenger who is now stepping out into oncoming traffic! 🤪
The Boodle Fight is designed for groups of 4 or more, and HEADS UP!, you need to order your Boodle three days in advance, you can do it here: https://www.manilaresto.com/boodle. 
The Boodle is interesting enough to carry some of the conversation when needed, for example a team dinner or if you're celebrating with the quiet side of the family.  
Next time I Boodle, I'll order some Edamame or Sisig to appetize. I was so excited about the Boodle, I forgot to be a host :)
Try and save room for dessert, oh my gosh can you say Taal Volcano Cake?
Plan for leftovers, we had enough Ninoy's Fried Chicken for lunch– for two days!
Fun bar with an amazing signature cocktail the Weng Weng!
 
For more information:
Manila Resto | 107 Algoma Boulevard, Oshkosh
Phone: (920) 203-1082 | Kitchen Hours: Tuesday-Thursday 4-9PM; Friday & Saturday 11AM-Close; Closed on Sundays and Mondays
Tag us in your Boodle Fun @DiscoverOshkosh for a chance to be featured!