If you grew up in WI or another northern state, there's a good chance you grew up skiing, either at regional-area hills or on trips out West.
I, however, was not one of those people.  Growing up on Lake Winnebago, whether it was Summer or Winter, we spent our time on the lake.  In Winter that meant lots of ice skating, ice hockey, ice boating, snowmobiling, shoreline snow forts, and other ice-related shenanigans.  My parents didn't grow up skiing either, so that combined with the frozen Winnebago playground as our backyard (front, if you live on the lake;), skiing wasn't something we thought much about.
My first introduction to the downhill sport was as a late twenty-somethinger, with two young kids.  My husband and I wanted to try something a little out of our comfort zone and a little adventurous.  You know, the feeling of needing to break out of the diaper, Daniel Tiger, dinosaur snack parenting rut.  That was us.  Snowboarding was our refresher course in adrenaline.
We took an evening lesson package at a local hill about an hour away that included rentals.  We never made it off the bunny hill, and definitely earned a few bruises, but we had a great time.  We learned a few lessons beyond snowboarding basics.  One. Skiing, like others told us, was probably an easier place for newbies to start.  Two. Much like learning a foreign language, learning a downhill sport is best started at a young age and requires LOTS of practice.  Three. We were not too old to try something new!
Fast forward a few years and a couple more kids, we were ready to give the downhill game a better effort. This time as a family.  Having our kids start skiing at younger ages was the big motivation since learning at 5 is preferable to 35!  After a few seasons in ski boots and gear, we are more comfortable. Our kids are more confident & comfortable than I sometimes wish they were on the slopes.  It is also great hobby sport to enjoy with friends.
While Oshkosh may not be a downhill or cross-country skiing destination, we are within driving distance to a range of ski hills and trails.  Nordic Mountain, Sunburst, Little Switzerland, and Granite Peak ski hills are just 1-2 hours away. 
There are numerous XC ski trails at state parks & recreational spots around the area as well, including the Winnebago Community Park. 
What if you're new to the sport or simply curious to give either type of skiing a try?
Well you're in luck.  Oshkosh not only has proximity to skiing options, we have a tremendous treasure in the Eliason family.  You may know the name from the sailing experiences they offer each summer in Miller's Bay, but they give just as much of their time and talent to the community in the winter months as well.  For years the Eliason's have partnered with Dr. Eric's Skate Club to offer XC skiing and skating experiences to elementary students throughout the Oshkosh Area School District.  These ski & skate experiences are such gifts they give to kids, particularly ones who may not otherwise have the opportunity.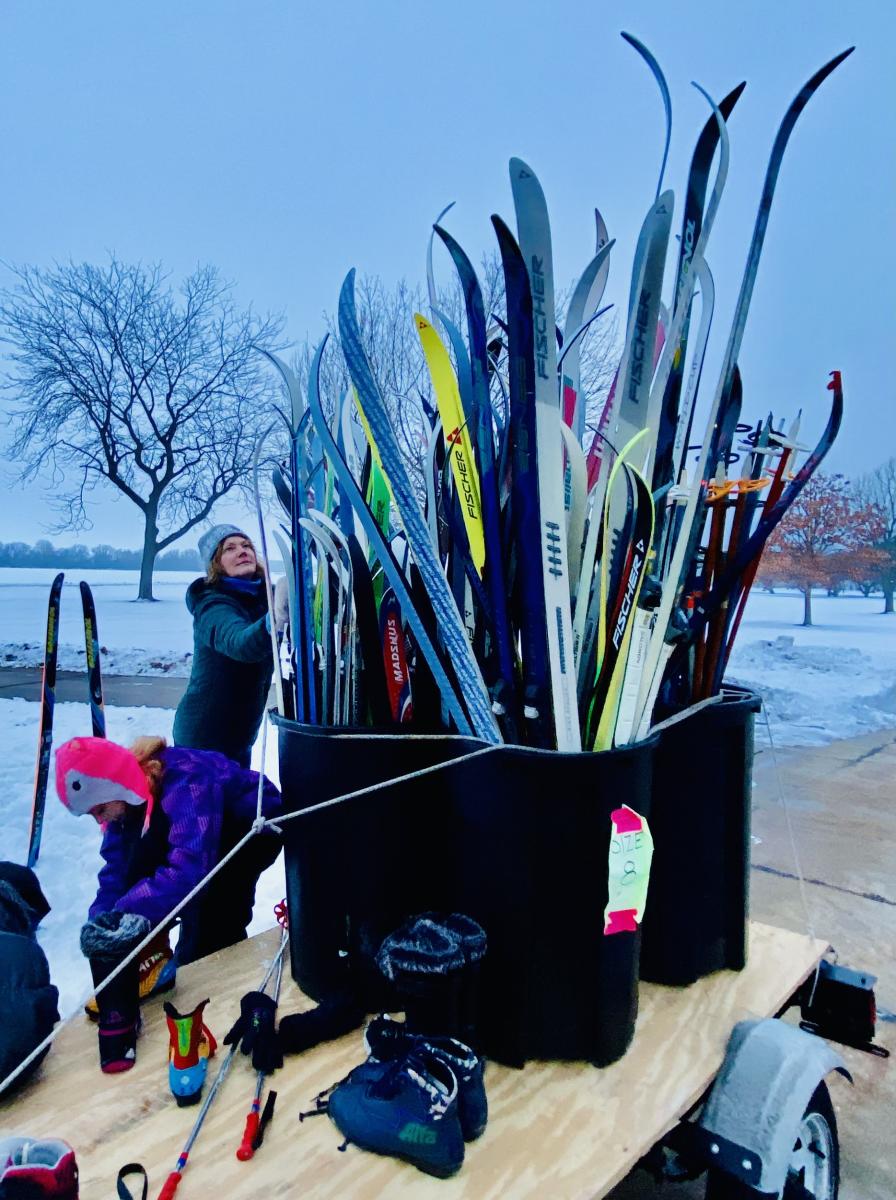 While school field trips and extracurriculars may be limited this year, the ski experiences are not!  Just as the ice skating opportunities are still available in Roe Park & in Milers Bay, the skiing options are as well.  All ages, kids & adults, can sign up to attend XC or Downhill ski lessons lead by Sarah or Steve Eliason in Menominee or Red Arrow Park throughout January and February.  (Sanitized gear and basic instruction is provided & dress for the cold).  You can quickly and easily up via their website here:  https://sailoshkosh.com/winter-activities#5b36f008-2ba1-4907-9bc9-a2889f673c70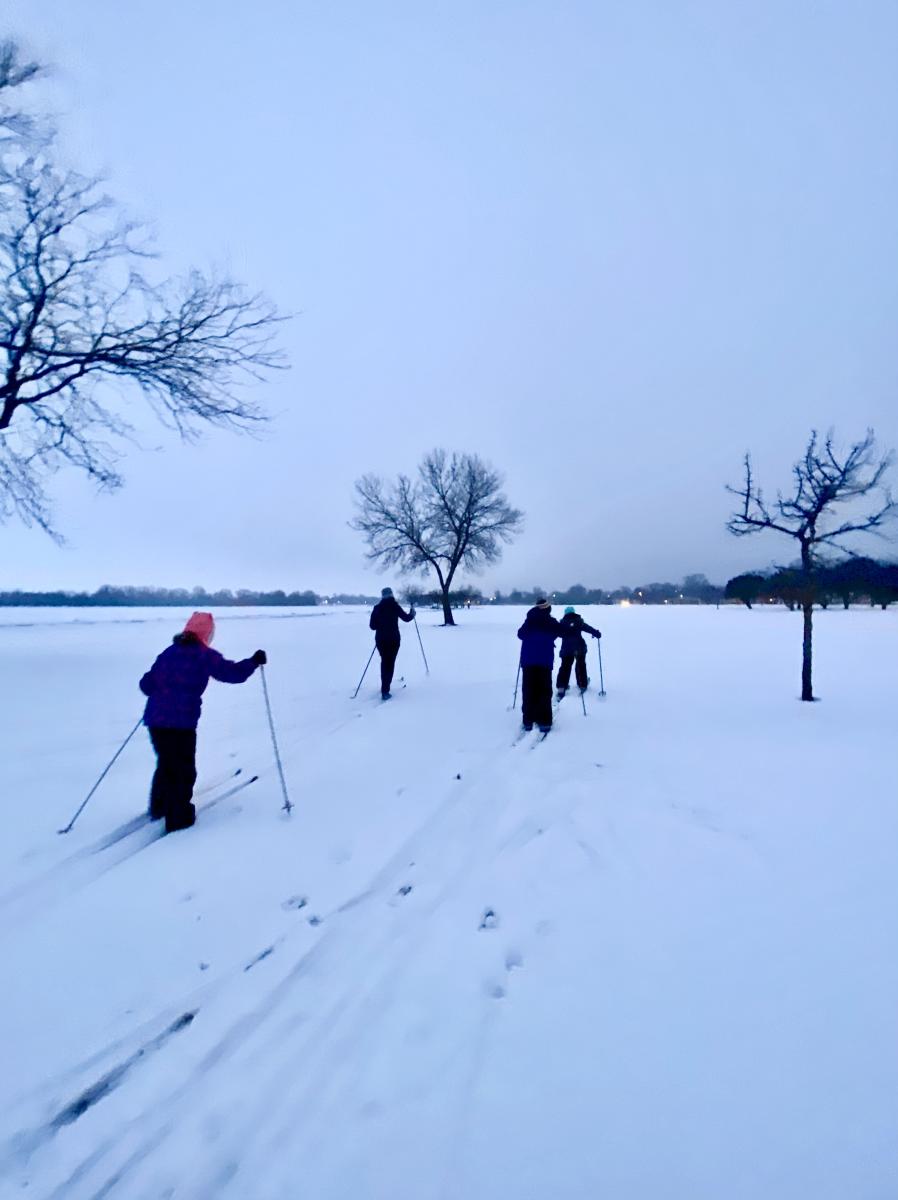 Perhaps seeking a little adventure for yourself via the skiing opportunities right in your backyard can be part of your 2021 bucket list.  This is a fantastic way to try something new as a family or solo.  Or it's not new to you, it's another great way to enjoy the outdoor recreation our Oshkosh has to offer!  
Stay the night in Oshkosh—click here for overnight options!