Spend your Saturday mornings with us in Downtown Oshkosh at the Oshkosh Farmers Market! Grab a coffee, enjoy live entertainment, pick up local produce for the week, and so much more at the Oshkosh Farmers Market! Consistently ranked as one of the best farmers markets in the country, the Oshkosh Farmers Market is one of the most popular events in the city. 
The 2022 Oshkosh Farmers Market opens for the summer season on June 4th with over 165 different vendors ranging from agriculture vendors, crafters, artists and more. With local live music at the center of the market, Downtown Oshkosh is vibrant every Saturday morning! We asked Michelle Schmid-Shultz, the manager of the Oshkosh Farmers Market, for her top five reasons why people should visit the Oshkosh Farmers Market this summer!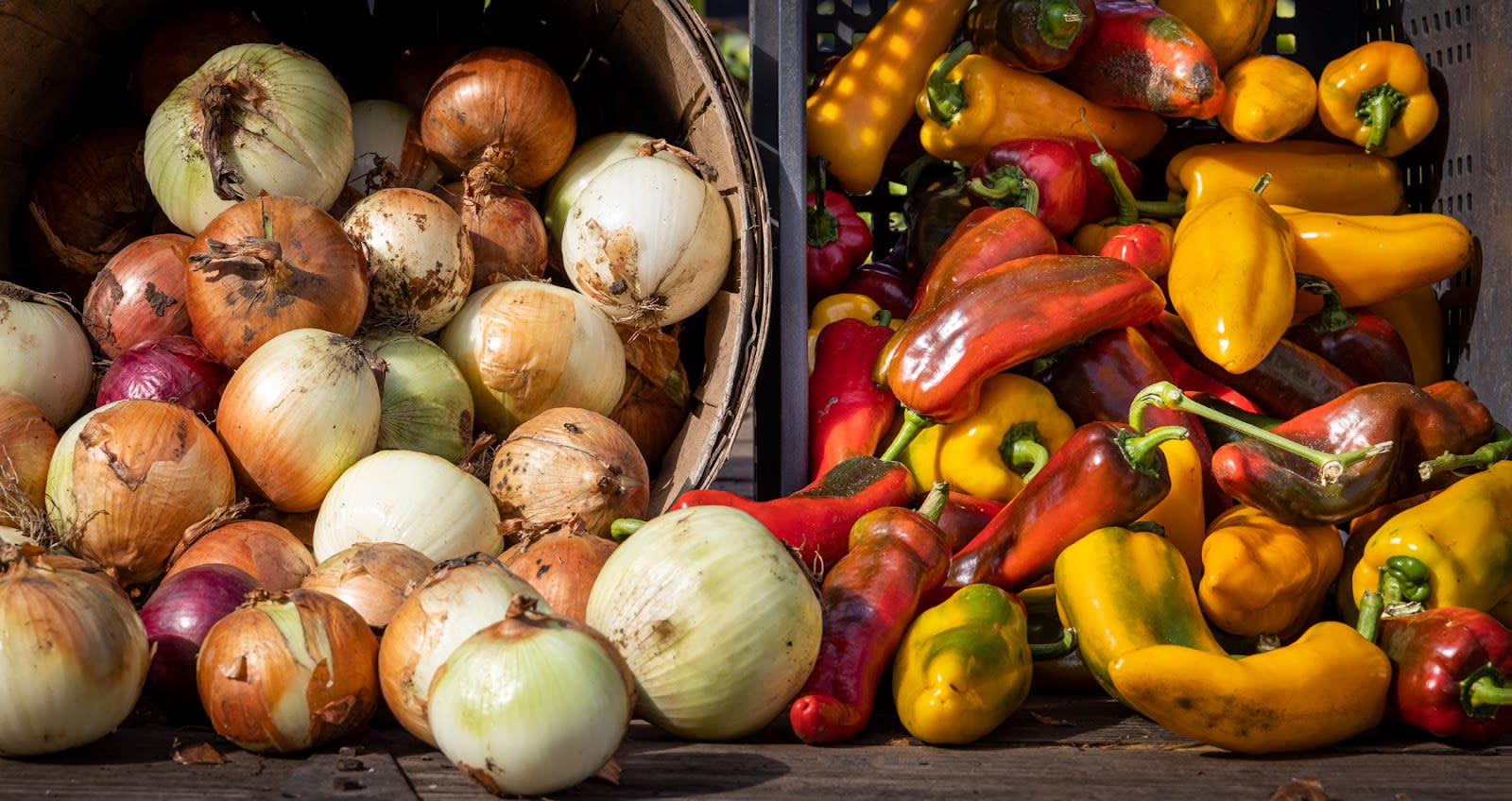 1. The fabulous produce and farm raised meat
The market's agriculture vendors will fill the market with fabulously fresh produce and farm raised meat throughout the market each week. Explore more than 50 agriculture vendors each week at the outdoor, summer market in downtown Oshkosh! Find an assortment of in-season fruits and vegetables, meats and poultry, artisan bread, crafts, and ready-to-eat foods.
Everything you find at the farmers market is top quality. The produce is fresh and has been grown naturally, giving the product a cleaner and fresher taste. Oftentimes, these products are harvested that very morning ensuring they are picked at peak freshness, with optimal nutrients and taste. This also applies to baked goods and artisan foods. These tasty treats are freshly baked - not processed - with quality ingredients and a dash of love.
2. The Yummy Food
Currently the market has 23 street food vendors and 21 food vendors signed up to vend at the 2022 Oshkosh Farmers Market. From fresh egg rolls, to mini donuts, to Mexican sweet corn, to brisket - there's always something good to eat at the market! 
If you haven't experienced Pie on the Porch at the Oshkosh Farmers Market yet - it's a must visit! Read more about POTP, which benefits the Winnebago County Historical Society.
3. The talented Artists & Crafters
Over 35 artists and crafters attend the Farmers Market in Oshkosh each year! Browse handmade crafts, local art, and so much more. This year the market is happy to be welcoming back the Oshkosh Fine Arts Association with Art at the Market on Sept. 10.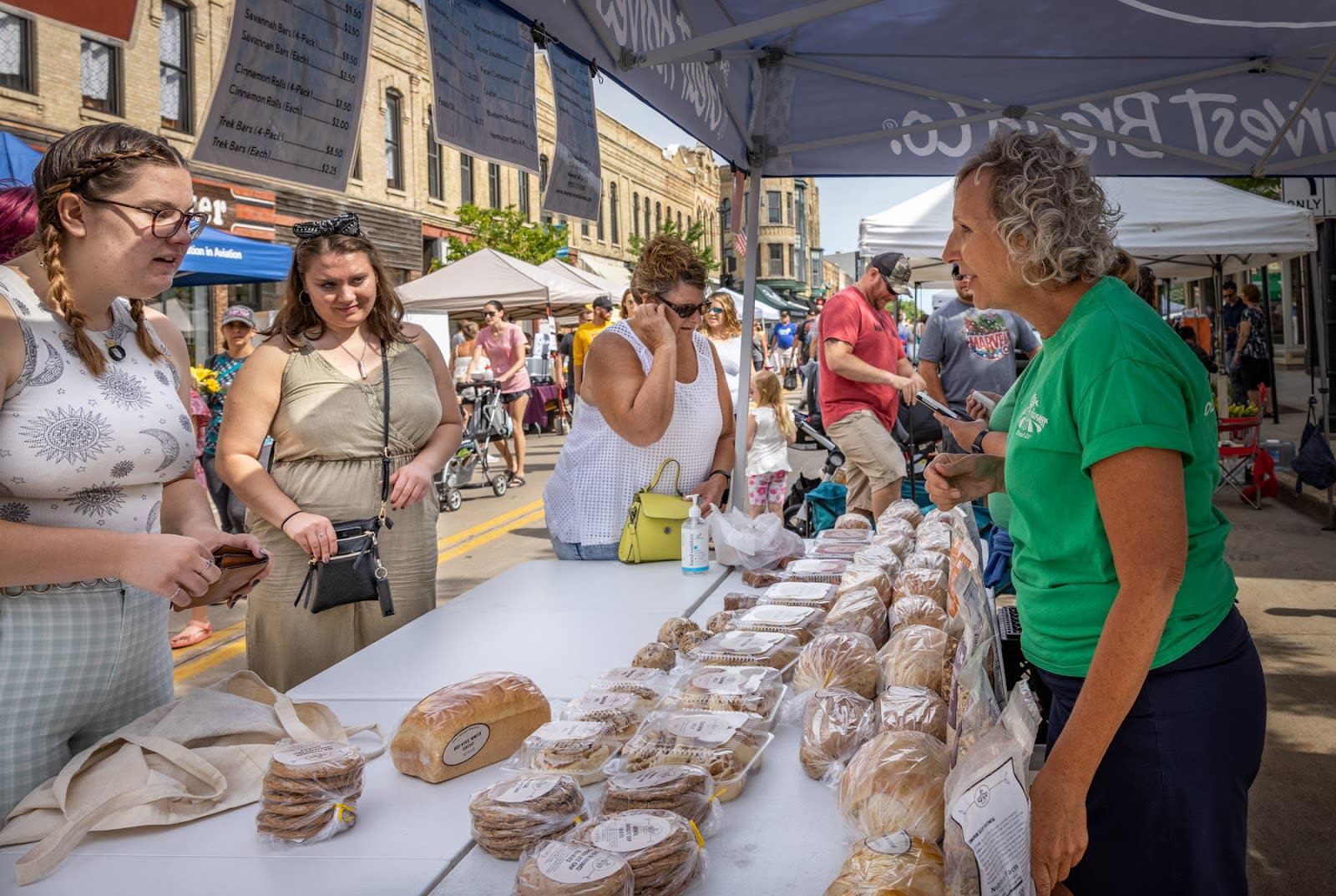 4. It's Oshkosh's Happy Place
How cool is it when you can actually speak to the person who grew your food? The farmers market brings like-minded individuals from all over your community. You'll meet local farmers and small business owners, which provides opportunities to ask questions or talk directly with them about their products. Vendors are always happy to offer helpful tips and tasty recipes to help you get the most out of your purchase. The farmers market is a great place to gather with friends and family and spend time with your kids outside. Whether you go for the produce, freshly cut, handpicked flowers, or just to enjoy some live music, there is always something for everyone at the farmers market.
The Oshkosh Farmers Market brings a variety of themed events! New this year is "Graze the Market" on June 18th. Oshkosh Farmers Market Food Vendors will be featuring smaller versions (2-3 bite sizes) of one of their signature items for only $1! A fun and affordable way to "sample" the market.  
Christmas in July on July 16th is another fun special event at the Oshkosh Farmers Market, which features Santa Claus and Selfies with Santa.  This year the market will be collecting donations for the Oshkosh Area Food Pantry and the Day by Day Warming Shelter in celebration of Christmas in July.


5. Fun way to get your 10,000 steps in per day
The Oshkosh Farmers Market spans the 400 and 500 blocks of N Main St in Downtown Oshkosh, as well as the 100 Block of Church Ave. Get your steps in and enjoy visiting the individual vendors lining the streets downtown! 
There are many benefits for you and your community when you shop at your local farmers market. Join us this summer at the Oshkosh Farmers Market.  The summer market is happening June 4th - October 29th, 2022 every Saturday, rain or shine, from 8 a.m. to 12:30 p.m. in Downtown Oshkosh. Click here for more information about the Oshkosh Farmers Market. 
Be sure to share your Farmers Market finds this summer with Visit Oshkosh by tagging us on Facebook and Instagram.
Stay the night in Oshkosh—click here for overnight options!