Sometimes date night needs a little variety. You can choose to go on a double date with another couple, but it can be hard finding something for everyone to enjoy. But don't fret, Oshkosh has plenty of options for couples looking for double date night ideas. We put together a handy list of double date night ideas for couples in Oshkosh to consider for your next double date.
If you would rather have a date night with your friends that's focused on an experience, consider axe throwing. Blades and Boards in Oshkosh offers a safe environment to throw sharp objects like knives and axes, even if you haven't done it before. You can bring your own food or order delivery while you throw axes, however alcohol must be purchased at Blades and Boards. Spend time with your favorite couple and relieve some stress at the same time!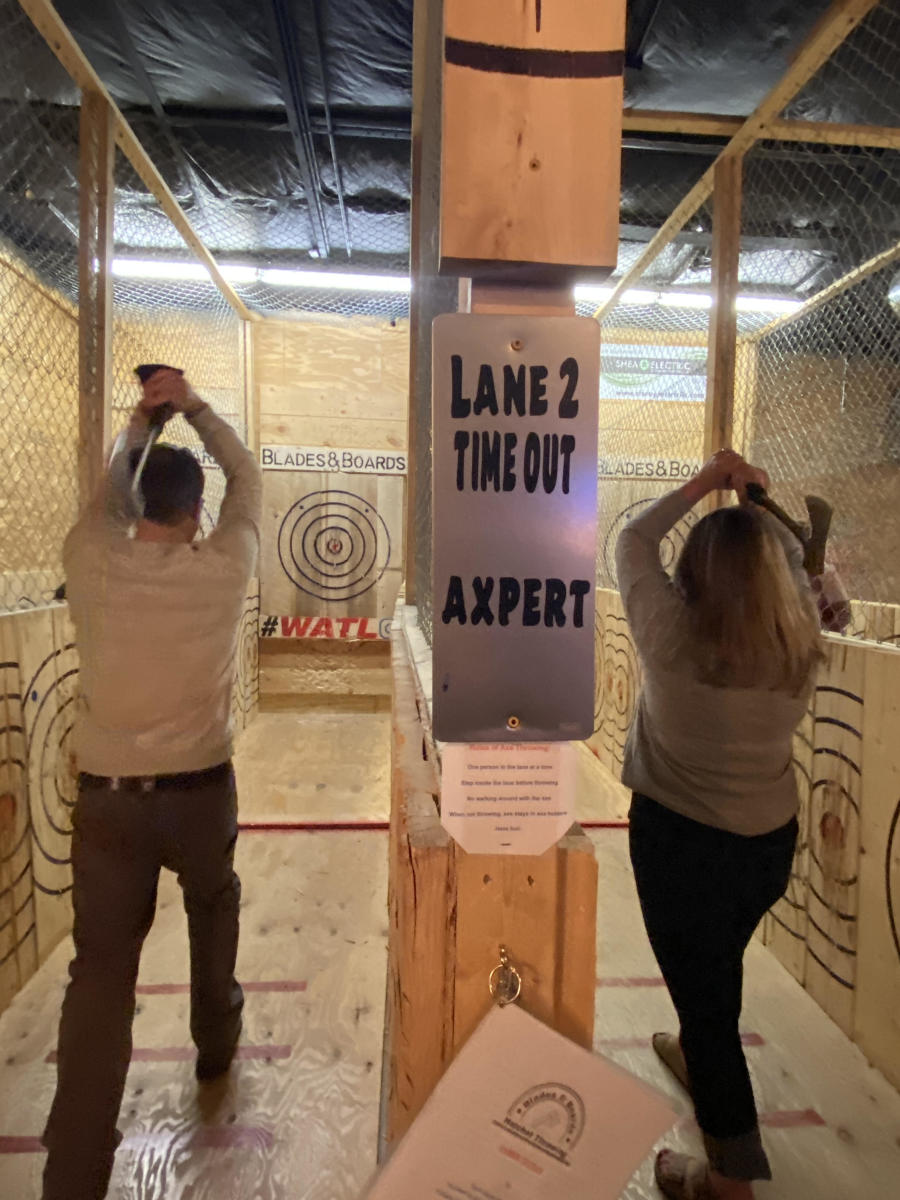 Test your Trivia Knowledge
If you're looking for a weekly double date night idea, consider forming a trivia team! Put your knowledge to the test and compete in a trivia night. Spend the night with your friends and significant other and enjoy some of Oshkosh's best restaurants and bars. You may even learn something new! Here's a list of places in Oshkosh that host weekly trivia nights.
Fire Escape is the perfect spot in Oshkosh for a double date, and to get your creative juices flowing. You can paint a piece of pottery already made, or you can take a workshop through them to create something yourself. In the couples wheel throwing workshop, you and your partner make three different pieces on the pottery wheel; one you each individually make, and one you make together as a team using only one arm!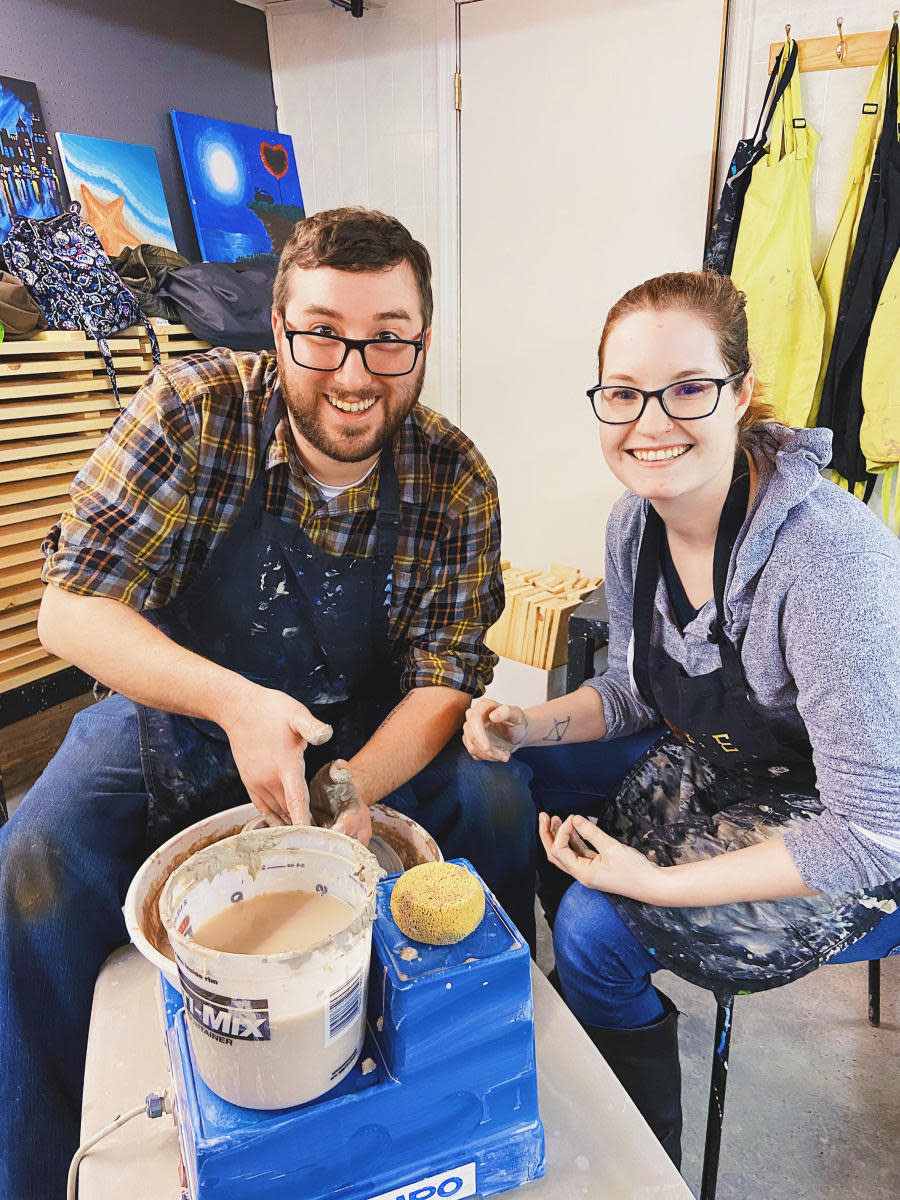 If you like puzzles and problem solving, consider Escape Oshkosh. Race against the clock to escape a themed-room by solving puzzles, figuring out clues, and working together with your teammates. Escape rooms are a perfect double date activity, since most rooms require more than two people. 
Game Night at Home
If going out isn't in your budget, consider hosting a game night at home! Oshkosh has several gaming stores to find the perfect game for you and your friends to play. Whether you're looking for video games, board games, or tabletop games, Oshkosh has you covered. Adventure Games and Hobby also offers tablespace for you and your friends to either bring your own game to play, or borrow one of their many games they have in stock. 
Enjoy the nostalgia of the arcade while enjoying food and drinks at Mineshaft in Oshkosh. Mineshaft is a full service restaurant and bar that also features an arcade room. If you're a couple that has children, Mineshaft is an excellent spot for a double date night for families! While it's family-friendly, anyone under the age of 21 is not allowed at Mineshaft after 10:30 PM, regardless if accompanied by a parent or guardian. 
Oshkosh is home to four museums, two of which are next-door neighbors! Spend an afternoon or a whole weekend exploring the different museums in Oshkosh. Everyone has a different reason for visiting a museum, and no matter your interest, one of these museums in Oshkosh will have something you like. Some of these museums even host special events that are perfect for double date nights!
The EAA Aviation Museum one of the most extensive aviation attractions in the world, a year-round destination for the entire family. 
Military Veterans Museum and Education Center
The Military Veterans Museum and Education Center aims to preserving the story of all of this country's citizen soldiers through an extensive collection of military artifacts.
The Oshkosh Public Museum lets guests discover history and compelling stories told through innovative exhibitions and educational programs.
The Paine Art Center and Gardens is an English-inspired estate in a beautiful Wisconsin setting.
See a Show
Sometimes it's nice to sit back and let someone else handle the entertainment for the evening. Oshkosh is home to the Grand Opera House, which hosts a variety of programming throughout the year, ranging from theatrical shows to concerts. If you check the schedule at Time Cinema, your favorite movie is sure to play at some point on the big screen. The University of Wisconsin Oshkosh has their own theatre department that produces several shows throughout the school year at the Fredric March Theatre. 
Previously known as Menominee Arena, the Oshkosh Area hosts plenty of concerts and events throughout the year that you can easily go to with another couple. The arena hosts events like sport matches, concerts, magicians, interactive live events, comedians, the Oshkosh Farmers Market [winter months only], and more. If you like basketball, the Oshkosh Arena is home to two professional basketball leagues: Wisconsin GLO and Wisconsin Herd, an affiliate team of the Milwaukee Bucks. 
Brewery Tour
If you like craft beer, Oshkosh has several breweries in town you can partake in--including Bare Bones Brewery, Fifth Ward Brewing Company and Fox River Brewing Company.  You could even tour the breweries yourself to see how their beers are made! Some non-breweries, like EAA, even host their own craft beer-tasting events during the year. Be sure to check back with Visit Oshkosh in 2022 for our Oshkosh Craft Beer Week.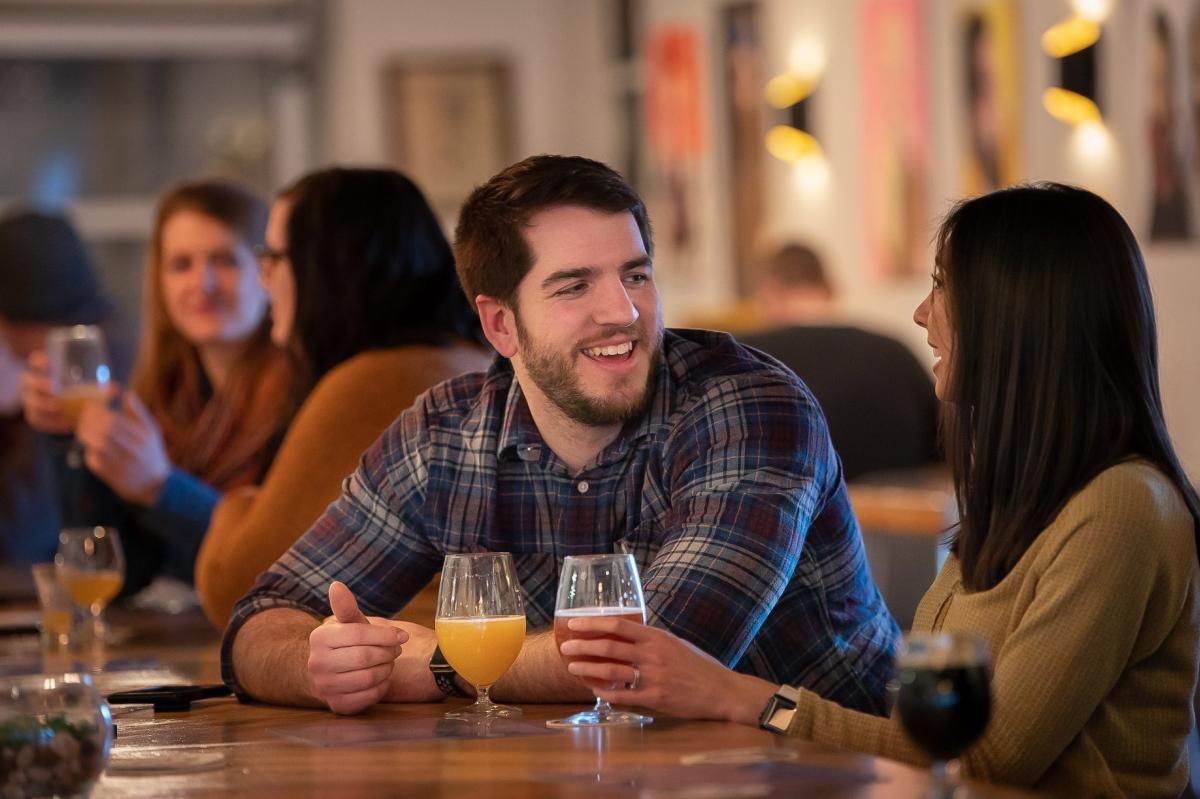 Bowling Alleys
Bowling is a great double date night activity! It's a great way to socialize and bring out your competitive nature. Getting an awesome strike or a fluke gutter-ball can be a great way to start a conversation. Bowling leagues even make for a great recurring double date night activity! The Howard offers a unique environment to bowl for those 21 and older. You could also bowl at Rev's Bar and Grill if you're looking for somewhere family-friendly. 
Did we miss any potential double date night ideas? Let us know in the comments! And don't forget to tag Discover Oshkosh on Facebook and Instagram for a chance to be featured!

Stay the night in Oshkosh—click here for overnight options!