As the vibrant hues of summer transition into the warm and inviting colors of autumn, Oshkosh transforms into a city that welcomes locals and visitors to embrace the beauty of the season. With crisp air, pumpkin-spiced treats, and a myriad of outdoor and indoor activities, fall in Oshkosh offers experiences that cater to all preferences. Whether you're an outdoor enthusiast, a food lover, or a culture seeker, there's something for everyone in this charming Wisconsin city during the fall months.
1. Fall Foliage Extravaganza
The true hallmark of autumn in Oshkosh is the breathtaking display of fall foliage that paints the landscape in shades of gold, orange, and red. Take a leisurely stroll along the scenic Riverwalk or venture into the Paine Art Center and Gardens for 4 acres of exploration and relaxation. Don't forget your camera – tag @DiscoverOshkosh in your fall pics!
2. Pumpkin Spice Paradise
Indulge in the season's flavor – pumpkin spice. Local cafes and bakeries adorn their menus with pumpkin-infused treats, from lattes and muffins to pies and ice creams. Check out all of Oshkosh's Cafe and Coffee Shops! And don't forget to taste a Sweet & Spooky Treat!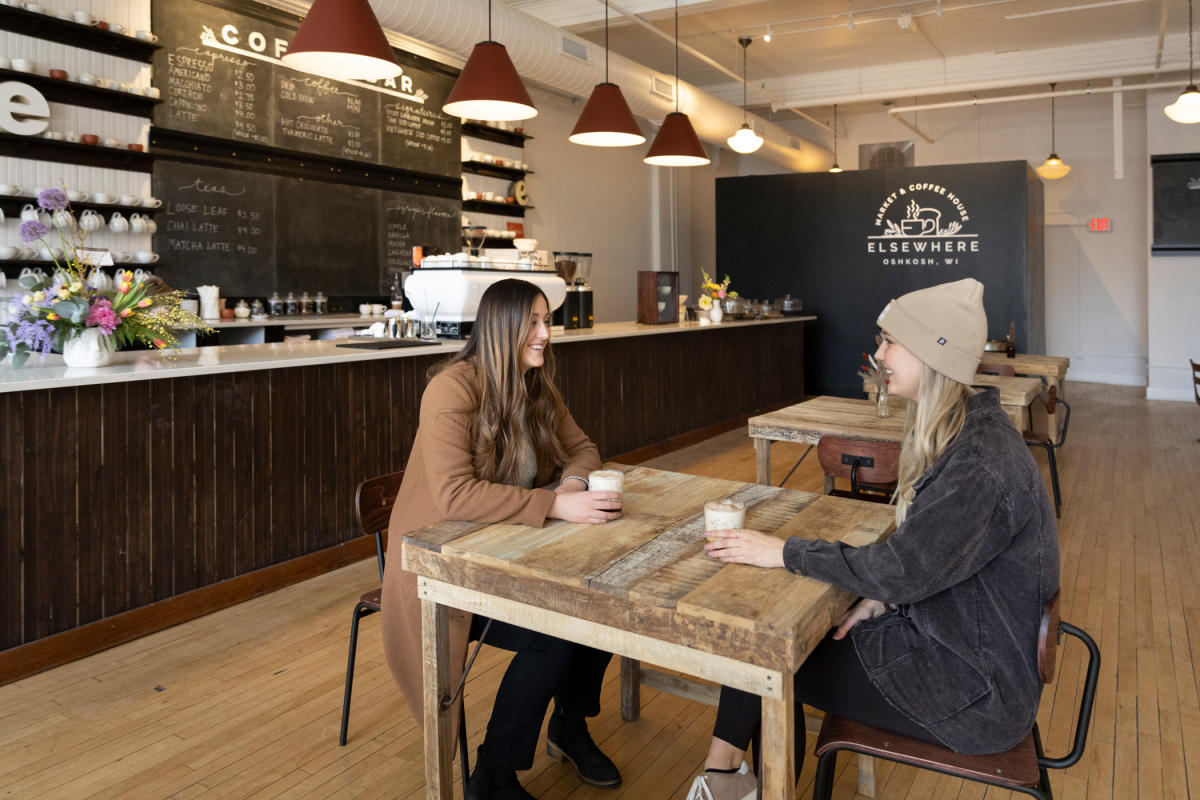 3. Outdoor Adventures
For the nature enthusiasts, fall is the perfect time to explore the great outdoors in Oshkosh. Lace up your hiking boots and venture into the nearby trails that wind through forests, wetlands, and prairies, showcasing the stunning transformation of the landscape. Kayaking on the Fox River is also a popular choice, offering a unique perspective of the changing leaves along the water's edge. Need a rental to get out on the Oshkosh Waterways to view the scenery? Oshkosh is filled with opportunities to rent a boat, kayak, and more!
4. Farmer's Market
Fall is synonymous with harvest, and Oshkosh's farmer's markets come alive with a bounty of fresh produce, artisanal goods, and charming crafts. The Downtown Oshkosh Farmer's Market, open on Saturdays from 8am - 12:30pm, offers an opportunity to connect with local growers and creators while savoring the flavors of the season. The Farmers Market is located on the 400 & 500 blocks of N Main Street and runs until October 28th.
5. Cultural Exploration
Immerse yourself in Oshkosh's cultural scene with visits to local museums and art galleries. The Oshkosh Public Museum hosts exhibits that showcase the city's rich history and heritage. For art enthusiasts, check out Oshkosh's numerous Art Galleries, showcasing art from local artists, and providing an opportunity to discover and appreciate the talent within the community.
6. Halloween Happenings
As Halloween approaches, Oshkosh embraces the spooky spirit with a variety of family-friendly events. Plan a visit to the Zooloween Boo at the Menominee Park Zoo, where little ones can enjoy trick-or-treating in a safe and fun environment. Don't forget to dress up in your favorite costumes so you can win the costume contest! The Grand Oshkosh is also offering family-friendly ghost tours this fall season!
The Grand also has some extra spooky events all season long—including spooky craft cocktail classes, glow yoga, ghost tours, tarot card classes, paranormal investigators, and even a paranormal sleepover! Check out all of the Haunted Happenings here!
 
Fall in Oshkosh is a time of vibrant colors, cozy experiences, and a sense of togetherness that permeates the community. From the stunning fall foliage to the aroma of pumpkin spice wafting through the air, there's no shortage of ways to enjoy the season. Whether you're a local seeking new adventures or a visitor looking to make lasting memories, Oshkosh offers an inviting and picturesque backdrop for your fall escapades. So, embrace the beauty of the season and immerse yourself in all that this charming Wisconsin city has to offer.
Share your Fall fun with Discover Oshkosh on Facebook and Instagram for a chance to be featured.
Stay the night in Oshkosh—click here for overnight options!