A Perfect Blend of Aviation, Culinary Delights, and Nostalgia
Welcome to Oshkosh, a picturesque city in Winnebago County, Wisconsin. Known for its rich aviation heritage, delectable food scene, and charming establishments, Oshkosh offers a unique blend of attractions that will captivate any traveler. Join me on this journey as we explore the fascinating Experimental Aircraft Association Museum, indulge in a delightful brunch at Ruby Owl Tap Room, sip on legendary Bloody Marys at Parker Johns, savor artisanal chocolates at Hughe's Chocolate Shop, relish a classic supper at The Roxy Supper Club, and experience a touch of nostalgia at Ardy & Ed's Drive-In.
1. Experimental Aircraft Association Museum:
Our first stop is the Experimental Aircraft Association (EAA) Museum, a haven for aviation enthusiasts. Located at the Wittman Regional Airport, this museum houses an impressive collection of historic aircraft and offers a glimpse into the world of aviation. As you wander through the exhibits, you'll marvel at the iconic planes, including the renowned Spirit of St. Louis. If you're lucky, you might even catch a glimpse of some aviation legends taking flight in the skies above.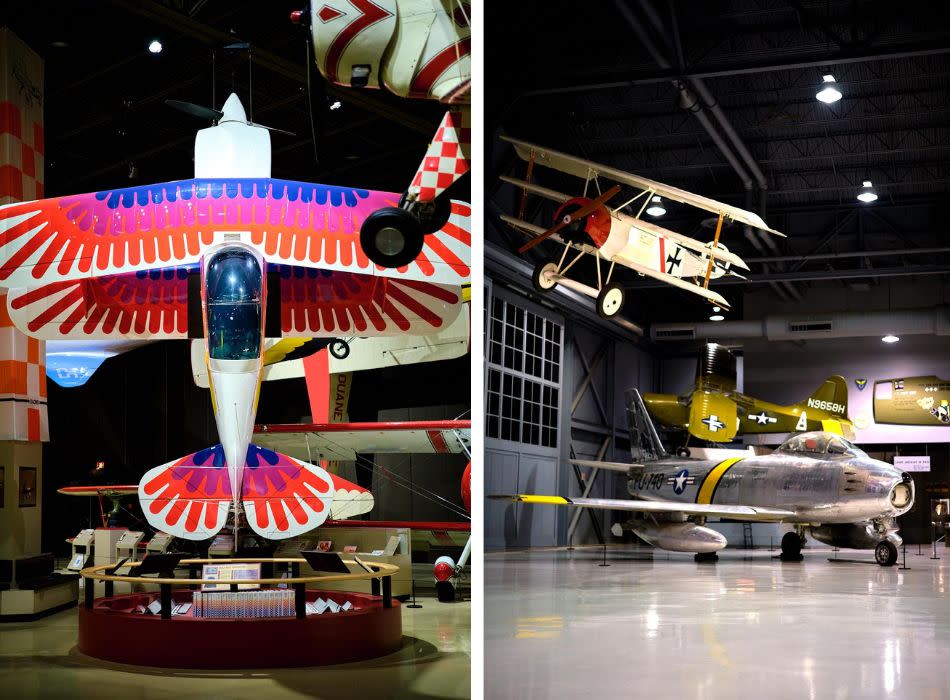 After immersing ourselves in aviation history, let's head to Ruby Owl Tap Room, a cozy and trendy eatery located in downtown Oshkosh. This popular brunch spot offers a delectable menu filled with mouthwatering dishes made from locally sourced ingredients. Whether you crave homemade cheese curds or a delicious Reuben, Ruby Owl Tap Room has something to satisfy every palate. Don't forget to pair your meal with a refreshing mimosa or a specialty coffee concoction.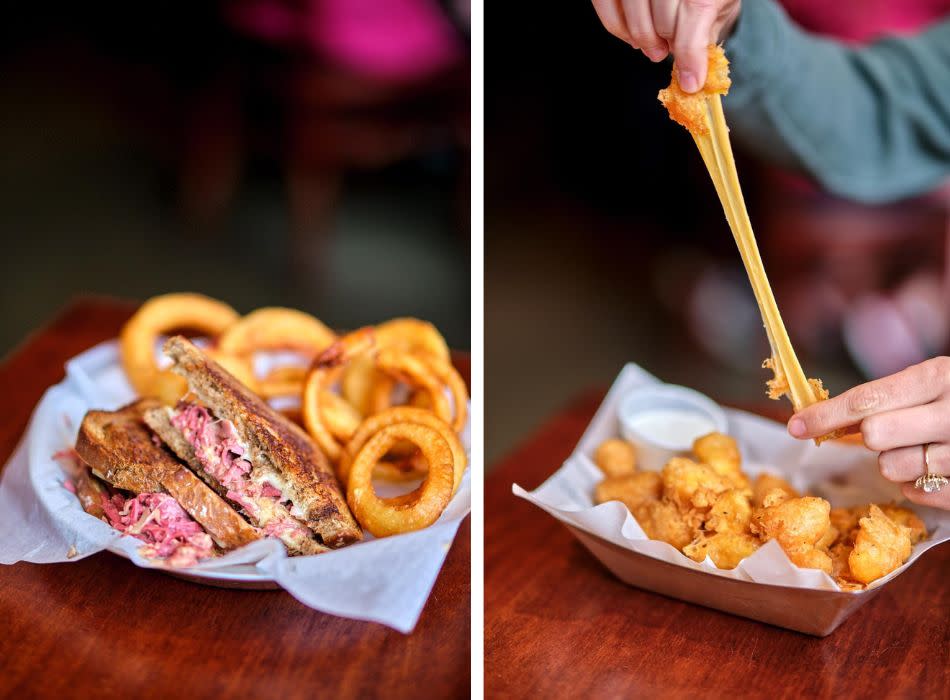 3. Bloody Mary at Parker John's:
To continue our culinary adventure, we must make a stop at Parker John's, a local favorite known for its exceptional Bloody Mary's. This vibrant bar and grill boasts a menu filled with creative and flavorful variations of this classic cocktail. From the traditional to the extraordinary, each Bloody Mary is a work of art, garnished with an array of toppings that will leave you in awe. Indulge in this quintessential Wisconsin experience and savor the perfect blend of spice, tomato juice, and local charm.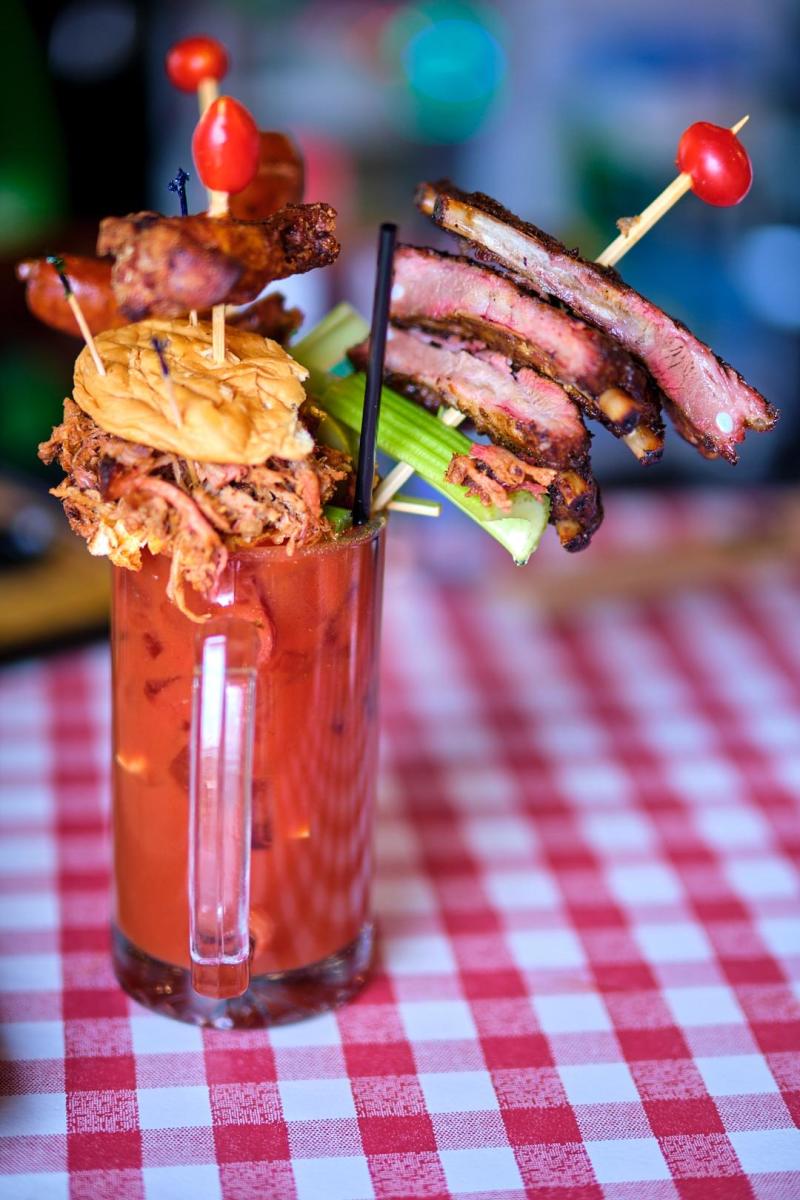 Prepare to have your taste buds tantalized at Hughe's Chocolate Shop. This family-owned establishment located in the basement of their home, has been crafting artisanal chocolates since 1946, and their passion for creating delectable treats is evident in every bite. From hand-dipped truffles to caramel-filled delights, the wide array of chocolates will leave you spoiled for choice. Take some time to explore their charming shop, indulge in some samples, and find the perfect sweet souvenir to bring home.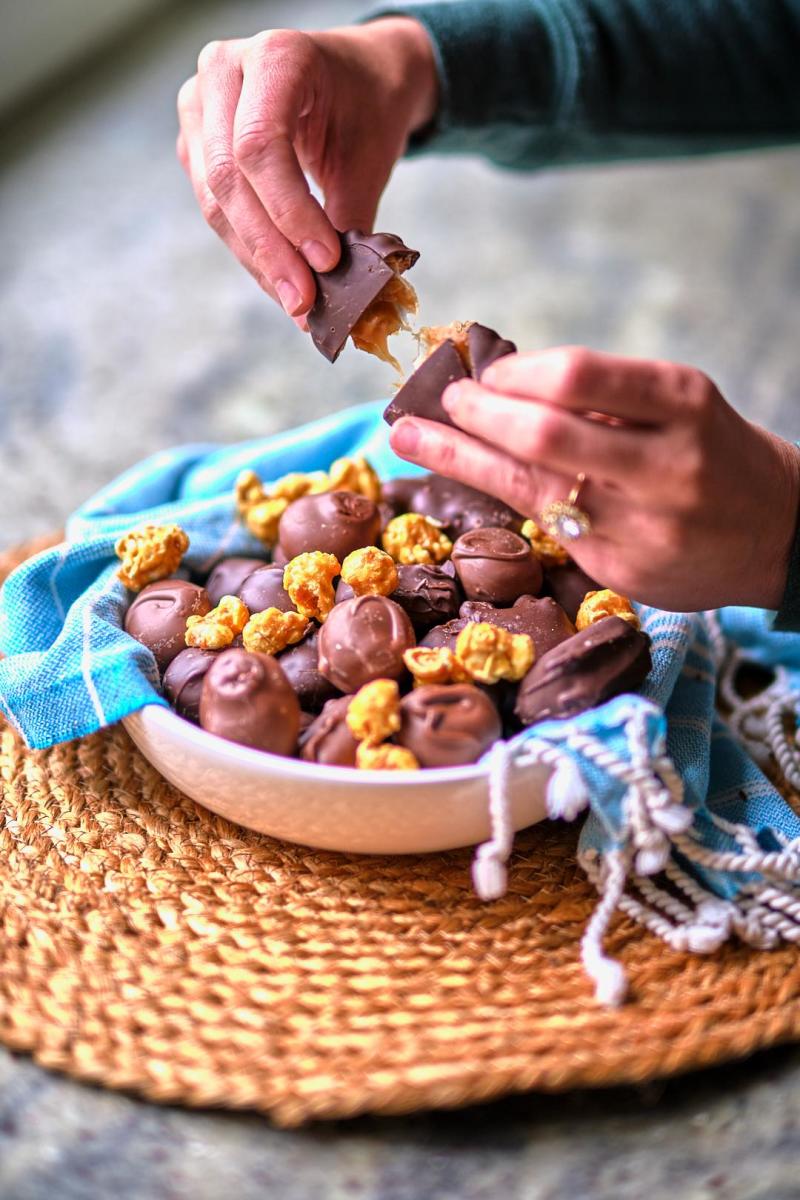 For a nostalgic dining experience, head to The Roxy Supper Club, a timeless establishment that has been serving classic American cuisine since 1945. Step back in time as you enter this charming venue, adorned with vintage decor and cozy booths. Indulge in their mouth watering steaks, seafood specialties, and signature cocktails while soaking in the nostalgic ambiance.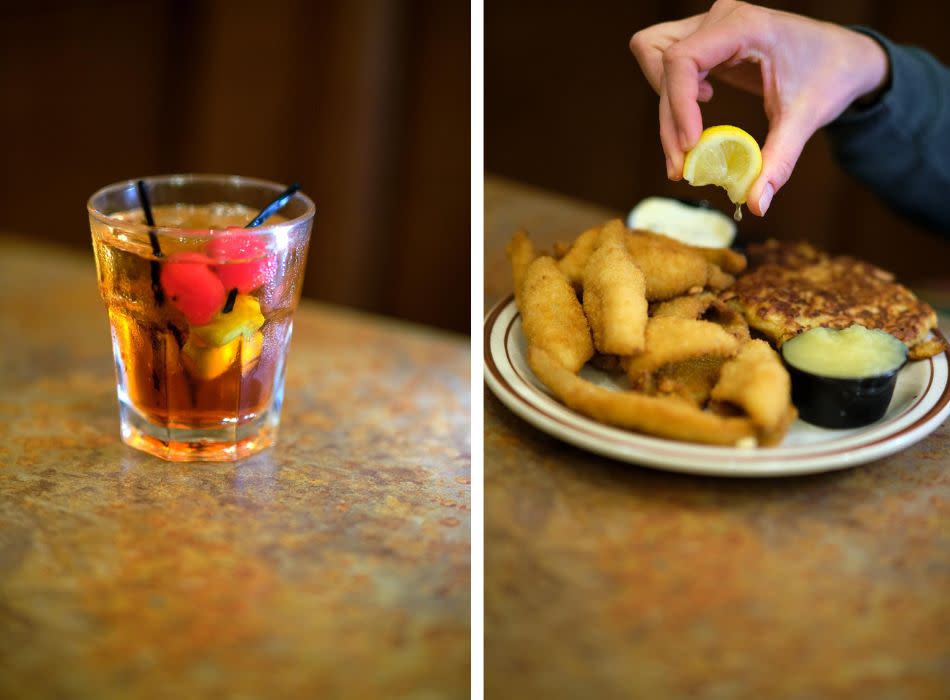 No trip to Oshkosh would be complete without a visit to the iconic Ardy & Ed's Drive-In. This retro-style drive-in restaurant has been delighting locals and visitors since 1948 with its nostalgic charm and classic American fare. Pull up in your car, order from the comfort of your seat, and enjoy a juicy burger and their own homemade Root Beer!
7. Bloody Mary Flight at TJ's Harbor Restaurant:
To add another twist to our culinary adventure, make sure to include TJ's Harbor Restaurant in your itinerary. Situated near the beautiful shores of Lake Winnebago, TJ's Harbor is renowned for its breathtaking views and, most importantly, its delightful Bloody Mary Flight. Buckle up for a tasting experience like no other as you sample a selection of unique and creatively garnished Bloody Marys. Each flight offers a diverse range of flavors and textures that will leave your taste buds in awe. Soak in the serene atmosphere, sip on these eye-catching cocktails, and enjoy the picturesque scenery that TJ's Harbor has to offer.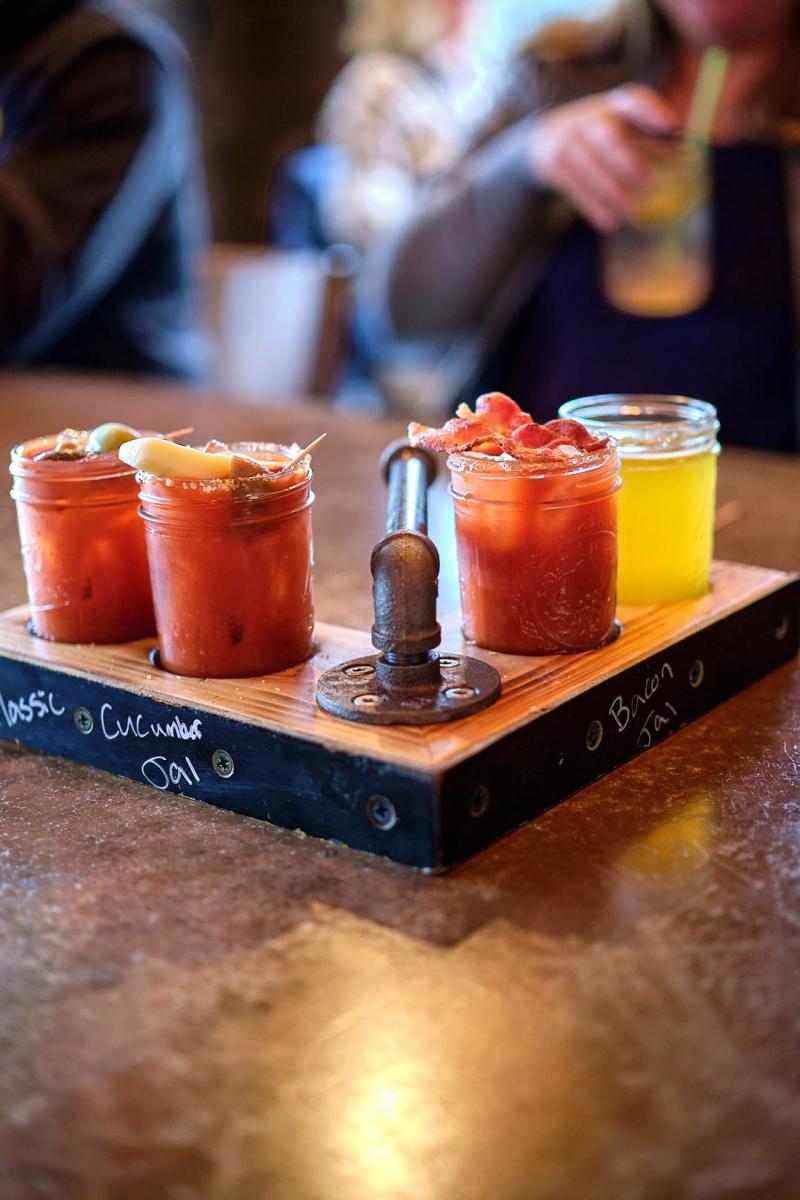 If you're looking for the absolute coziest cottage to stay at, look no further than Hickory Hideaway! This newly renovated 2-bedroom, one bath cottage is located right on the shores of Lake Winnebago. This is a quiet, family-oriented neighborhood and centrally located for you to enjoy all that Oshkosh has to offer!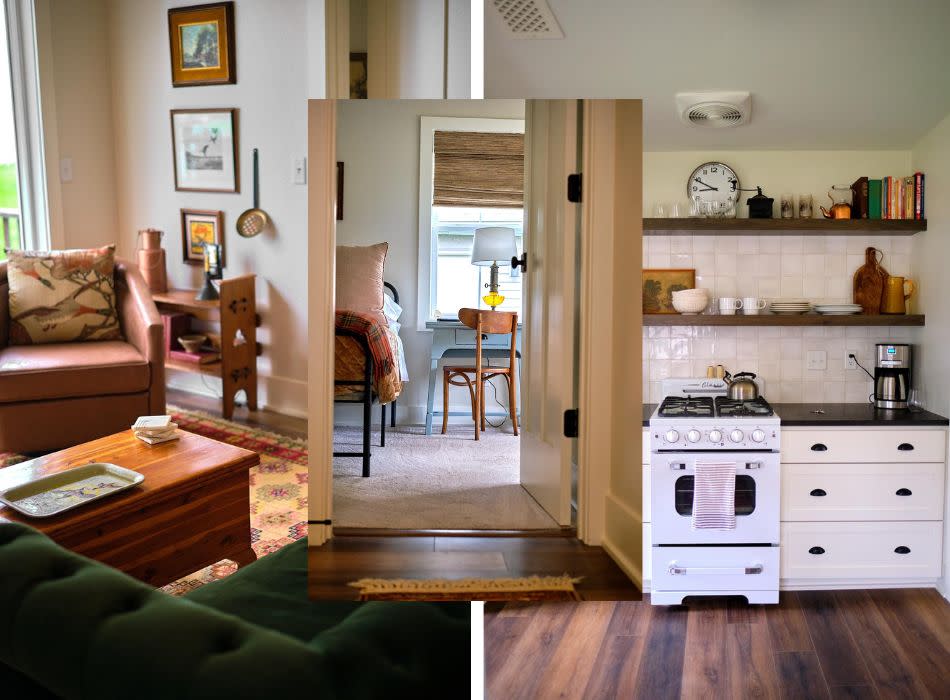 Oshkosh, Wisconsin, is a hidden gem that offers a delightful blend of aviation history, culinary delights, and nostalgic charm. From exploring the captivating exhibits at the Experimental Aircraft Association Museum to indulging in a scrumptious brunch at Ruby Owl Tap Room, sipping on legendary Bloody Mary's at Parker John's, savoring artisanal chocolates at Hughe's Chocolate Shop, relishing a classic supper at The Roxy Supper Club, experiencing a touch of nostalgia at Ardy & Ed's Drive-In, and enjoying a Bloody Mary Flight at TJ's Harbor Restaurant, Oshkosh has something for every traveler. So, pack your bags, embark on this unforgettable journey, and uncover the charms of Oshkosh, Wisconsin, one delightful destination at a time.