Celebrate National Popcorn Day on January 19th with us! We have some great local spots to pick up some yummy popcorn at! From buttery popcorn, to caramel corn, to fun fruity flavors - Caramel Crisp and OshPop have got you covered. Curb your sweet tooth with a chocolate drizzled batch of popcorn, or snack on some salty kettle corn.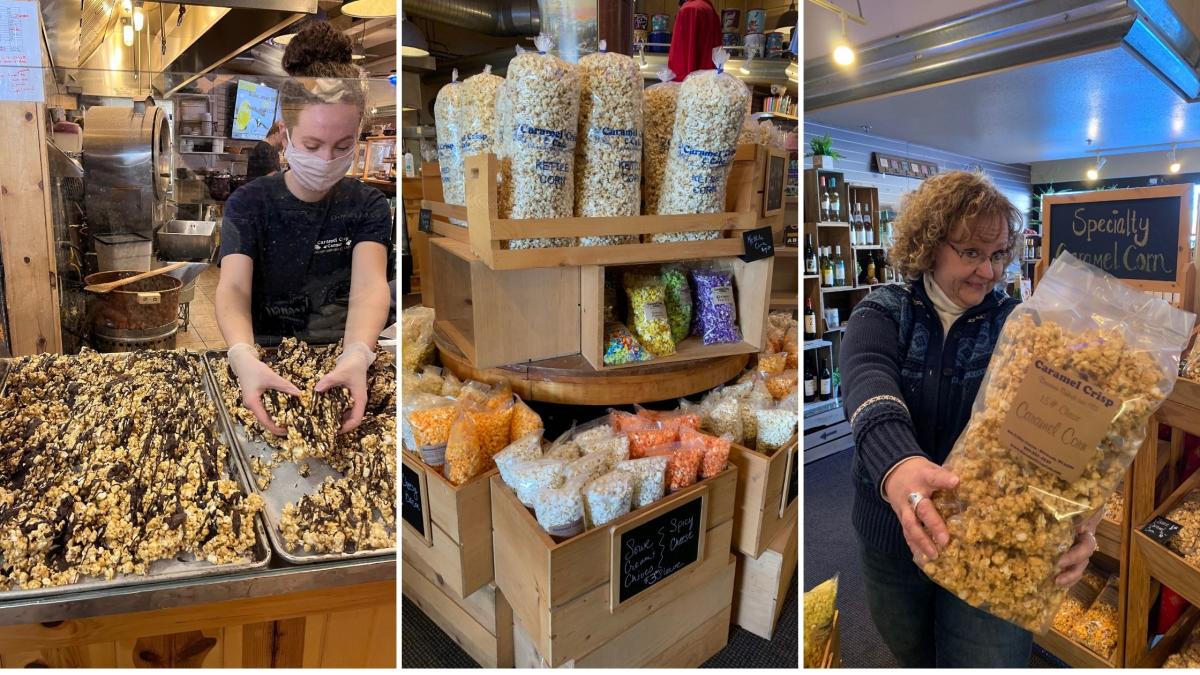 Caramel Crisp in Downtown Oshkosh has been around and serving up some delicious caramel corn since 1933. Although the caramel corn is the most popular flavor of popcorn, Caramel Crisp develops many other flavors from scratch! Check out over 16 flavors of savory popcorns, and 8 different fruity popcorns. Caramel Crisp also offers popcorn in tins - which is a yummy blend of caramel, cheese and buttered popcorn. Perfect for gifting a friend or family member.
Caramel Crisp does a lot more than popcorn too! They have a wide variety of soups, salads, sandwiches, cookies, and other sweet treats to choose from. 
Owner Chanda Anderson says the Peanut Butter Thai popcorn is a must try, which she developed from scratch! The most popular flavors at Caramel Crisp are the caramel corn as well as dill pickle.
Fun Fact: Fresh popcorn is made daily - with a busy day popping over 30 batches. That's about 600 pounds of popcorn a day!
Caramel Crisp open Mon-Fri 7:30am–6:30pm, Sat 8am-4pm and Sun 9am-4pm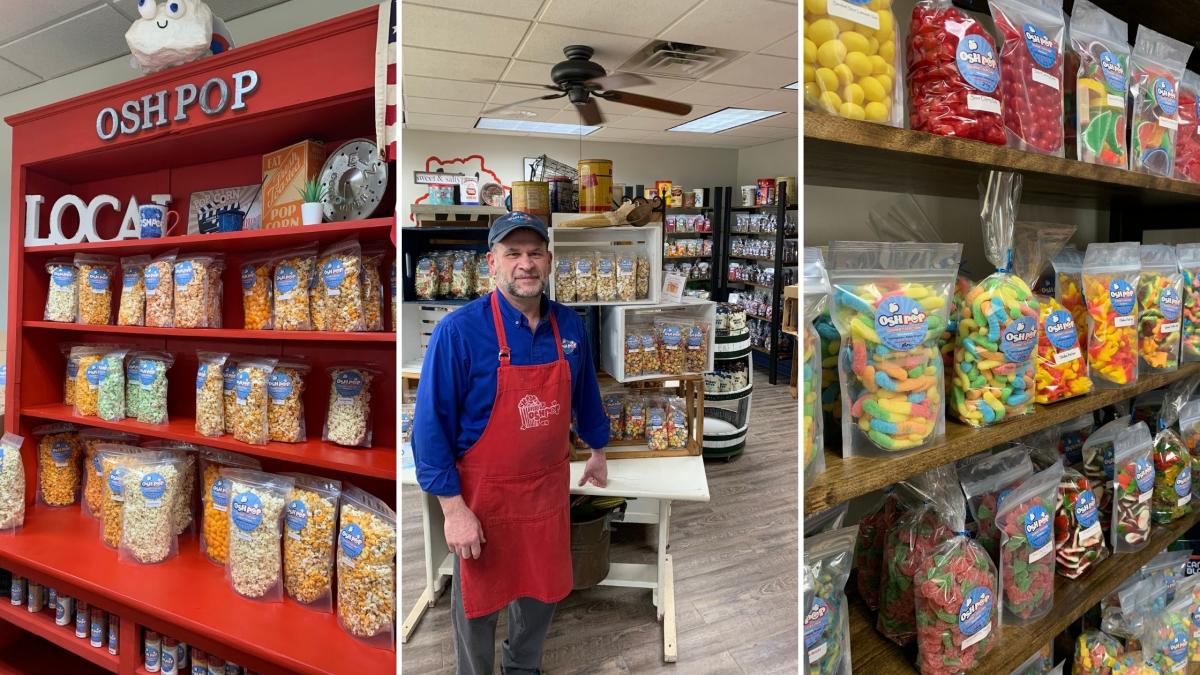 OshPop opened in November of 2018 with a location on Oshkosh Ave and often is featured at the Downtown Oshkosh Farmers Market! Owners Chris and Kim Anderson have built OshPop into a nice small business in town with great customers that have become their family too. With more than 40 popcorn flavors available, their best sellers are without a doubt caramel popcorn and all variations of it including nuts, chocolate, or mixed with their classic cheddar popcorn.
We chatted with Owner Chris Anderson and learned the following about OshPop!
What is the most unique popcorn flavor OshPop creates? 
Chris - "We make a Wisconsin Bloody Mary flavor that we worked for a long time to perfect. It has everything in it that Wisconsinites love about their classic cocktail including the pickle spear."
OshPop Fun Facts 
Chris - "There are so many people that are really passionate about their popcorn. This was kind of a surprise to me. I've learned more from just talking to people about their love of such a simple snack.  Sometimes we can get carried away talking about their popcorn memories, where they used to get it, or exactly how they like it prepared. It truly is a love of life for some people. We enjoy those conversations everyday!"
National Popcorn Day Promotions
Chris - "OshPop will be running promos all week long!"
Our "Pack Attack" which is white cheddar and our classic caramel all dressed in green and gold vanilla popcorn.  Perfect for your playoff parties! 
We will also have our classic caramel puffcorn at a special price all week. 
Both will be $10 for large bags! 
OshPop open Tues-Fri 10am--5pm and Sat 9am–3pm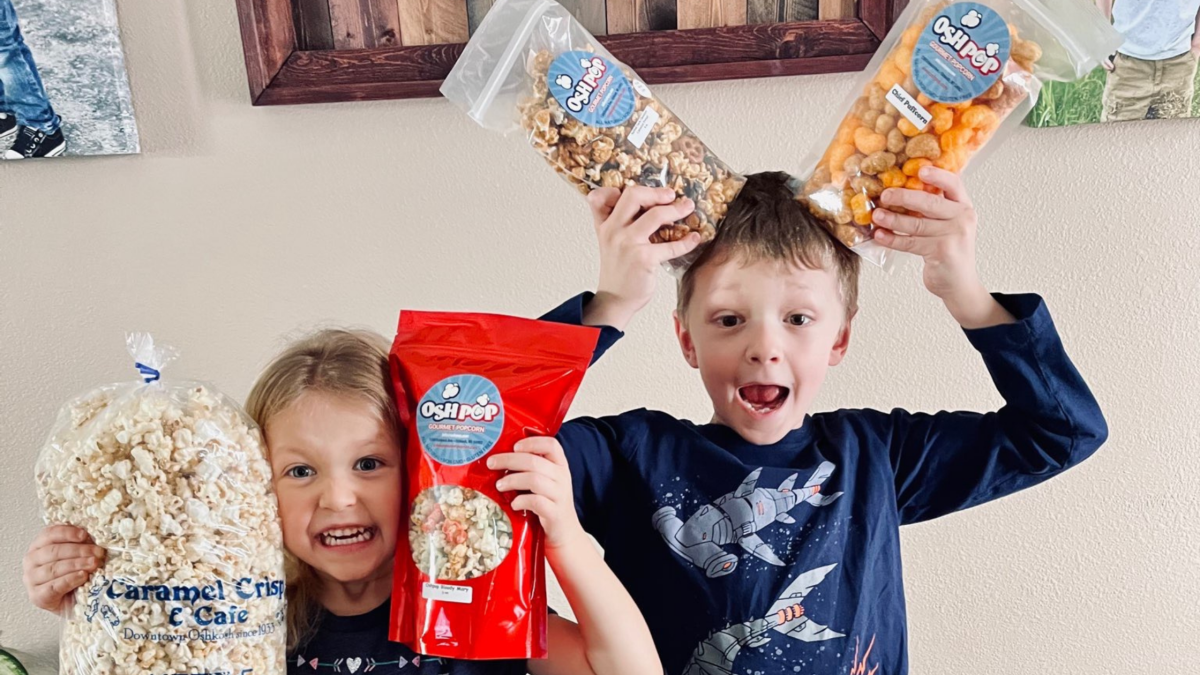 So Happy National Popcorn Day, Oshkosh! Tag Discover Oshkosh on Facebook and Instagram in your treats that you try! We can't wait to hear your favorites!!
Stay the night in Oshkosh—click here for overnight options!