Nestled in the scenic city of Oshkosh, Wisconsin, the Braywood Inn is a hidden gem that combines historic elegance with modern comforts. With its rich history and proximity to notable attractions, this boutique inn offers a truly unique experience for travelers. 
The Braywood Inn was originally constructed in 1867 by the Rich Family. After the Rich Family sold the property, the house had several different owners until finally in 1928 it was sold to Hannah Goodwin. "Belle," as she was called, ran it as a men's boarding house, calling it "Bachelor's Hall."
In October 2004, Scott and Nicole Brayton purchased the home with the intention of making it the premier Oshkosh B&B. In April 2021, the property was purchased by Michelle and Kendal Watwood. Wanting to extend the legacy of the previous owners, the property was renamed the Braywood Inn and has transitioned from a B&B to a "boutique style inn" which includes a continental breakfast and welcome basket in your room.
Situated in a picturesque neighborhood, Braywood Inn benefits from its central location. The inn's proximity to Downtown Oshkosh allows guests to easily explore local attractions, including museums, art galleries, boutiques, and restaurants. The location doesn't get better than this!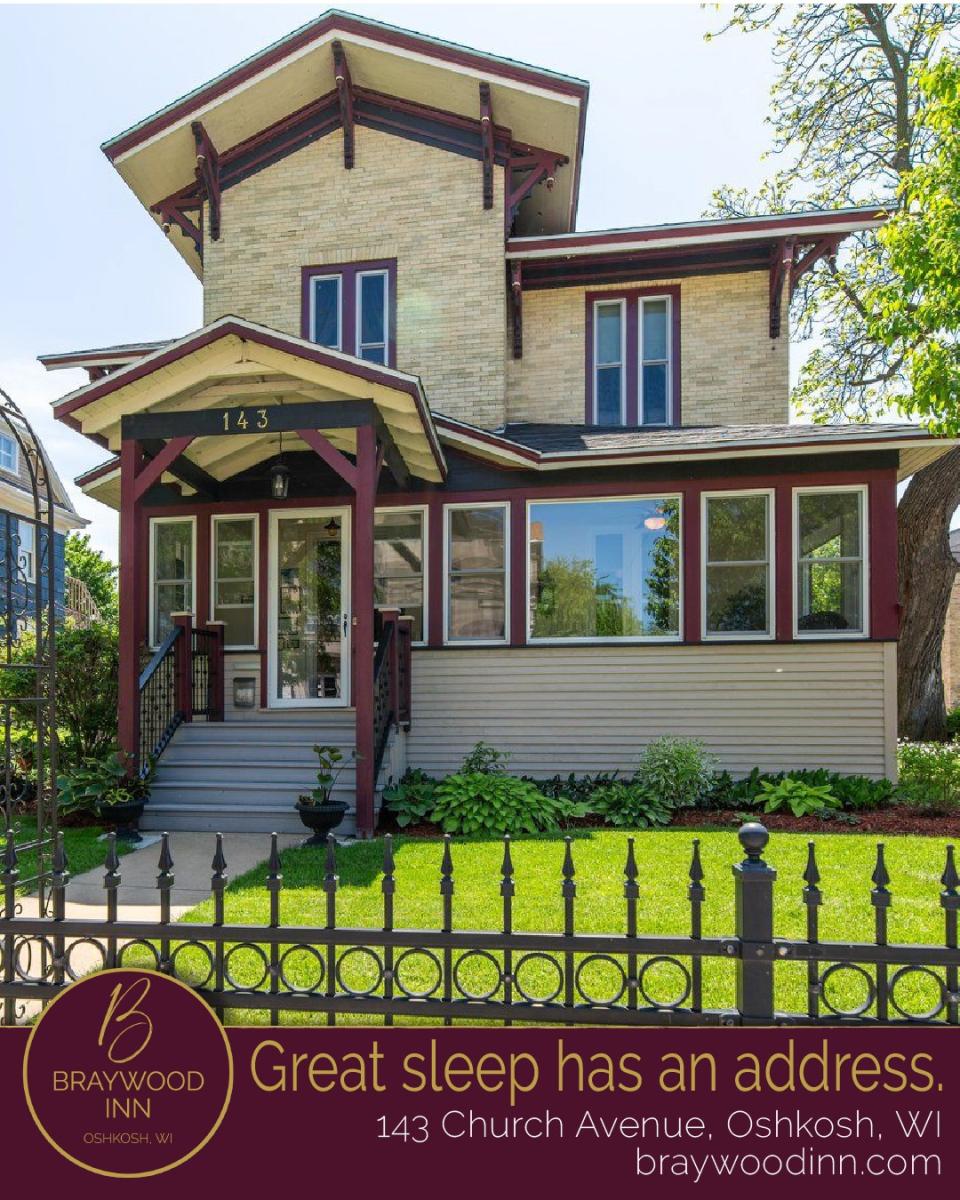 1. Braywood Suite
This very elegant suite has a queen-size wrought iron bed with fluffy pillows, luxurious bedding, and an oversized comforter. Plush bathrobes wrap you in softness as you lounge in this suite, which boasts the largest of all bathrooms at the inn featuring a two-person tub/shower.
2. Belle Suite
The Belle Suite is the perfect romantic getaway. A roomy two-person bathtub beacons you to relax in warm bubbles. The suite also features an adjoining shower and commode area. An oversized marble and mahogany king size bed fills the other half of this plush, opulent room.
3. Blue Room
This beautiful room looks out on the front garden. It has an elegant queen-size, black four-poster bed. In the corner of the room is a tiled shower, sink and commode hidden behind a half wall.
4. John Rich Room
Eight-foot windows peek out to the four seasons porch and a queen-size sleigh bed will make you feel like royalty. This room features a corner shower, sink and commode behind a half wall. 
5. Casa Suite
This is truly a grand two-bedroom suite. The Casa Suite lives up to its name as it is perfect for families, friends traveling together, a bridal party looking for plenty of room, or extended stay guests who need a little extra space to work and relax. The majestic master bedroom feeatures a beautiful king size four poster bed. The living room has a small workstation, black leather sofa with a chaise lounge, and comfy accent chair. The second bedroom, located off the living room, offers two full size, extra-long, tufted beds. 
6. Studio Suite
This newly remodeled Studio Suite is its own private sanctuary. Nestled on the back side of the property overlooking the beautiful pergola and patio area, The Studio Suite has its own private entrance and is set apart from the main house. Relax in this oversized studio with a plush queen-sized bed.
7. Whole House
Nothing is better than having the entire house to yourself. The ability to indulge in all the wonderful different spaces that the Braywood Inn has to offer, both indoor and out, while enjoying time with your friends and family. The whole house rental can accommodate 14 people and includes six en suite bedrooms/suites, the living room, dining room, kitchen, two sun rooms, and a patio and pergola.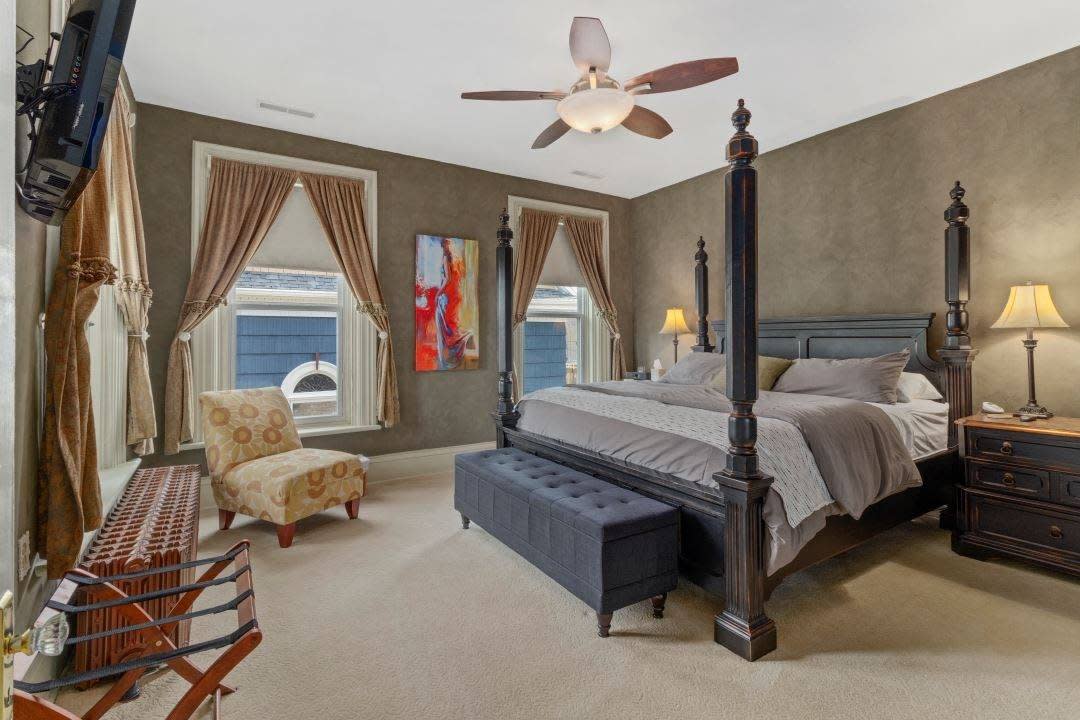 The Braywood Inn is not only a place to stay, but also is a place to host your next event! Celebrate Family Reunions, Wedding Parties, Holiday Gatherings and Other Social Functions at the Braywood Inn! Thinking about having your wedding at the Braywood? They offer officiating services that will handle everything for you, which is a perfect addition to their wedding package.
Braywood Inn is a boutique inn that effortlessly blends history, charm, and modern comforts. From the John Rich Room to the Casa Suite, each room offers a distinct ambiance and ensures a delightful stay for guests. With its rich heritage, proximity to local attractions, and serene surroundings, the Braywood Inn invites you to embark on a memorable journey in Oshkosh. Create cherished memories in this remarkable historic retreat! Book Today!
PRO TIP #1: Discounts are given to whole house rentals for two days or more. 
PRO TIP #2: They still have rooms available for EAA Airventure 2023!
Stay the night in Oshkosh—click here for overnight options!