Oshkosh Restaurant Week
Celebrate Food - January 23 to February 2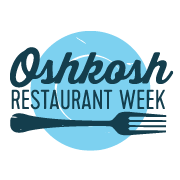 Oshkosh Restaurant Week is a week-long celebration of the culinary excellence in Oshkosh featuring the city's most popular restaurants.
Patrons can visit a participating restaurant and choose from either a breakfast option for $11, a three-course lunch option for $13 or a three-course dinner option for $26. Please, check to see which of the three meal options each restaurant offers.
Many of the Restaurant Week menus will feature multiple options for each of the three courses that are not typically found on the restaurant's everyday menu.
No tickets or pre-registration is required, but reservations are recommended. Just ask for the Restaurant Week menu.
$1 from every meal purchased off a Restaurant Week menu will go toward supporting community art projects.
Participating restaurants include:
Bar 430
Becket's
Benvenuto's
Caramel Crisp
Carrot & Kale
Chester V's
Dockside Tavern
Dublin's Irish Pub
Fox River Brewing Co.
Gabe's
Gardina's
Ground Round
Jansen's
Lunch Box
Mahoney's
Manila
Maple Pub
Primo
Ruby Owl
The Hangar
The Howard
The Roxy
TJ's Harbor
West End Pizza
ZaRonis
Tell us about your Oshkosh Restaurant Week dining experience and enter for a chance to win $250 worth of gift cards from participating restaurants by taking this quick survey!
Follow Oshkosh Restaurant Week on Facebook and Instagram. Use the hashtag #OshkoshEatWeek