As we all contemplate our New Year's resolution of getting to the gym, going for that walk, eating better, drinking less coffee or maybe, like me, your resolution is to catch more perch. 
Now, some would say that a resolution to fish more isn't really a resolution, but rather just an excuse to fish.  Well, I guess you will have to be the judge of that.   In the last few years, it seems that the perch population on the Winnebago system is on an uptick and I want in on the fun!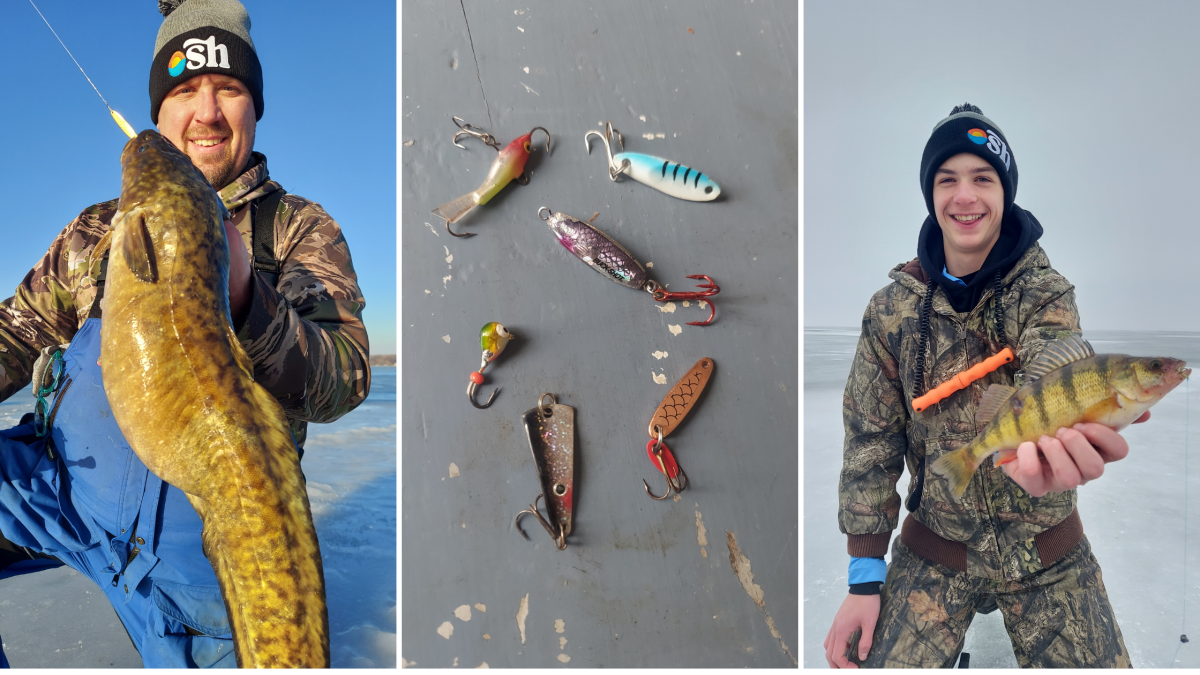 Time for a quick background on the most recognizable fish in the Midwest, the Yellow Perch (Perca flavescens). To most of us perch are just those yummy fillets that share our Friday Night Fish Fry plates alongside the coleslaw, marble rye bread and a side of chips or fries. The yellow reach maturity at 1-3 years at an average length of 6" and can reach the ripe old age of 10-13. Perch are primarily active during daylight hours, feeding on larval, invertebrates and juvenile fish, meaning they spend a lot of their time close to the bottom (hint hint). 
So…what does all this mean for fisherman? There are going to want to use smaller jigs, spoons and tip-ups, all tipped with small minnows and/or spikes to target those 9"-11" fish that make great table fare. Lake Winnebago is home to the Wisconsin state record Yellow Perch.  A 3lbs 4oz behemoth caught back in 1954 by Mike Lamont.  Therefore, Lake Winnebago is the place to be.
As always, we started with a quick stop at Fox River Bait and Tackle for some fatheads and spikes and we were ready to hit the ice. For this adventure we decided to head to the north side of Oshkosh, to North Asylum Bay. I'd been looking forward to getting out and do some exploring and targeting those deeper 9'-13' rocks.  Ice conditions were good on this first weekend of the New Year, ranging between 7" and 10", enough for us and the wheeler.  First things first, we were off to find some fish.  If you have ever spent any time on this body of water, finding the fish is more than half the battle. 
We started our day as we always do. Cutting holes, fishing for 15 minutes and repeating this until finally we started to mark fish just off a reef on a small rock sand transition in 13' of water.  Perch can tend to be finicky, so we deployed some tip-ups tipped with fathead minnows and started to work our way through the tackle box looking for the right bait and color.  Success on this day was live bait on the tip-ups. We were able to get a few bites and even catch a few fish jigging. Small buckshot lures tipped with red and white spikes had the most success on the jig pole.
One of the best things about the Winnebago system is that it's always a mixed bag and this day was no different.  I was thinking that we would stumble on a bonus walleye or two since this area is one of my favorite summer spots to catch some supper.  However, this day's bonus catch was royalty itself, a fish known by so many names: poor man's lobster, burbot, or eelpout.  Some of the best table fare you can find and the only cod that resides in freshwater.
What did we take away from our first fishing adventure of the new year?  Perch do seem to be on the uptick in size and numbers.  However, they still are finicky and if you want to be successful with your New Year's resolution, pick something fishing related!
Have an idea for a topic? Know an angler or fishing tactic you'd like to see showcased? Email me at: isitwalleyetimeyet@gmail.com 
Catch all of my Bago adventures on Instagram @snellmatt or fishing content on TikTok @smile_and_fish