Welcome to Oshkosh, new Titan! You chose the best college town (at least we think so!) filled with so many things just for you! Coming to a new city can be tough for many; But we are here to help guide you around town so you can confidently explore off campus! UWO is more than just a University, it is surrounded by a fun-filled welcoming community and we're sure you'll find a place that feels like home!
1. Get a Coffee Flight & Study with a Buddy at Planet Perk
Planet Perk recently released their Drink Flights! Flight options include a Nitro Brew Flight, Iced Latte Flight, Refresher Flight, Iced Chai Latte Flight, Iced Matcha Latte Flight, and many more! We tried the Iced Latte Flight and now we're hooked! This mellow atmosphere is perfect for grabbing a drink and powering through your studying. Pick a table inside or enjoy the Wisconsin weather on their outdoor patio!
Are drink and food flights your kind of vibe? Check out all of Oshkosh's flights here!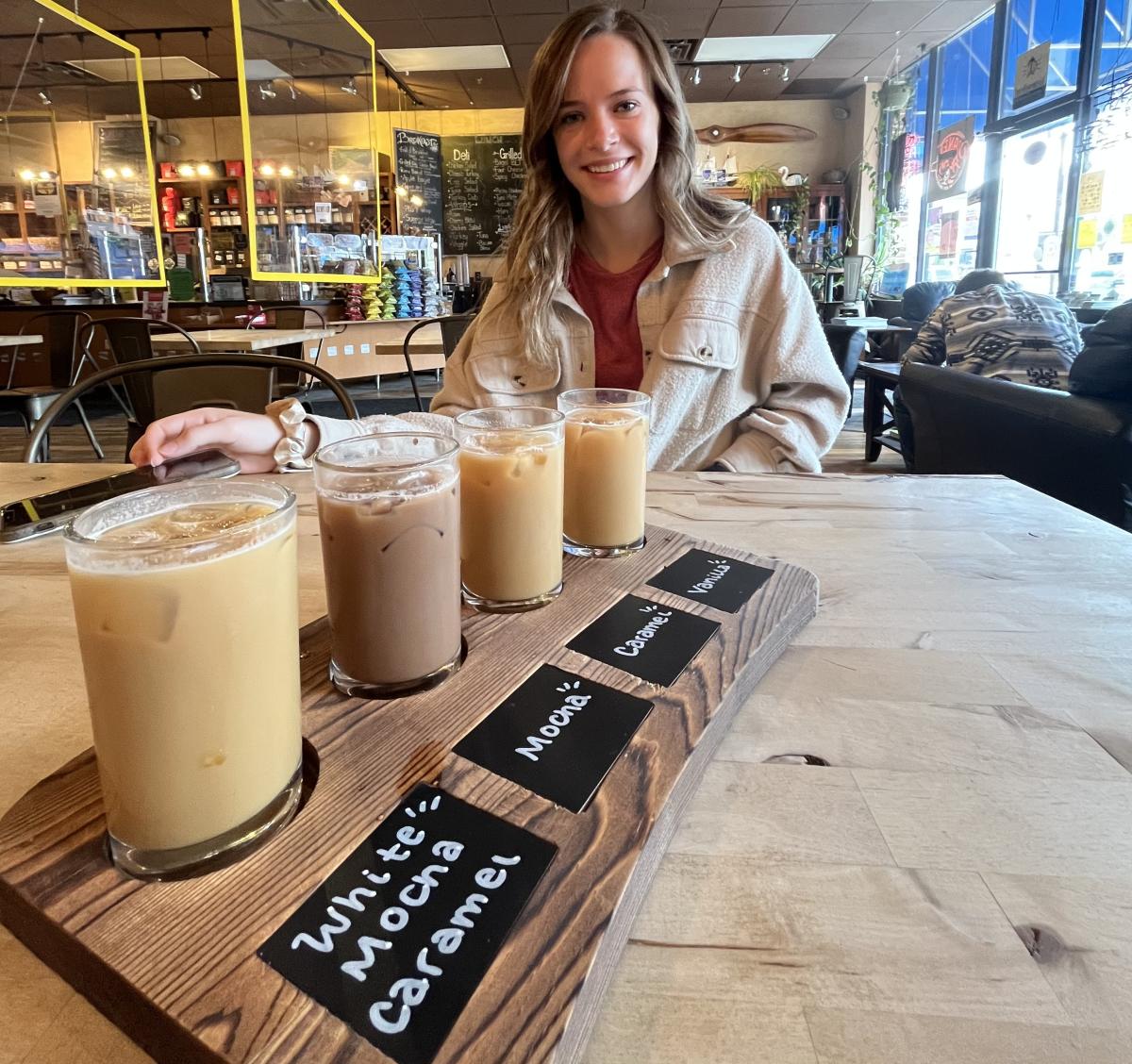 2. Explore & Float Down the Fox River
Our beautiful campus sits right on the Fox River, so why not float down it and enjoy the rest of Oshkosh on the banks of the river! Take a trip under the many bridges and see the artwork on the sides and posts as you glide underneath. You can rent single Kayaks, double kayaks and stand up paddle board right from the Outdoor Adventure Center located towards the back of the Student Rec and Wellness center. There is NO rental fee for UW Oshkosh students! Looking to launch somewhere off campus or pick up down stream? SRWC even rents out kayak car top carriers and kayak trailers so you can travel with your rented kayaks! 
New to Oshkosh is the Self-Serve Kayak Rental Kiosk located at Miller's Bay in Menominee Park! Download an app and get on the water in minutes! Another place to get your float on is from Midwest Rental Company. Located and launching from the Fox Harbor Marina, you can also rent a single or double kayak, as well as a stand up paddle board here too! More information is found on their online booking site. Midwest Rental Company is located just north of campus, allowing you do site see the edge of campus on your way down the Fox River.
3. Hammock with a View
Sometime we all need down time—what better way than to rock in the wind while overlooking Oshkosh's beautiful waterways. Grab a free rentable hammock with your Titan ID from the Student Rec and Wellness Center! Hook up your hammock right on campus along the riverfront trail located near the SRWC. There are many trees to stack up hammocks with your new friends on!
Swing off campus and hook up along Lake Winnebago. Menominee Park is perfect for hammocking both in the shade and along the lake. Scout out the park for a pair of trees and get swinging! We highly suggest packing for a picnic and taking advantage of everything Menominee Park has to offer! Did you know there is a Free Zoo there?!
Every Saturday you can find local vendors and live music in Downtown Oshkosh from 9am - 12:30pm, June through October! Grab some fresh produce to make meals that taste like home! You can even liven-up your dorm room with fresh flowers! They are beautiful! Walk the streets of Downtown Oshkosh and see all the locals come together! When the weather gets colder check out the Winter Farmers Market on select Saturdays starting in November. Find all of the Farmers Market information you need to know here!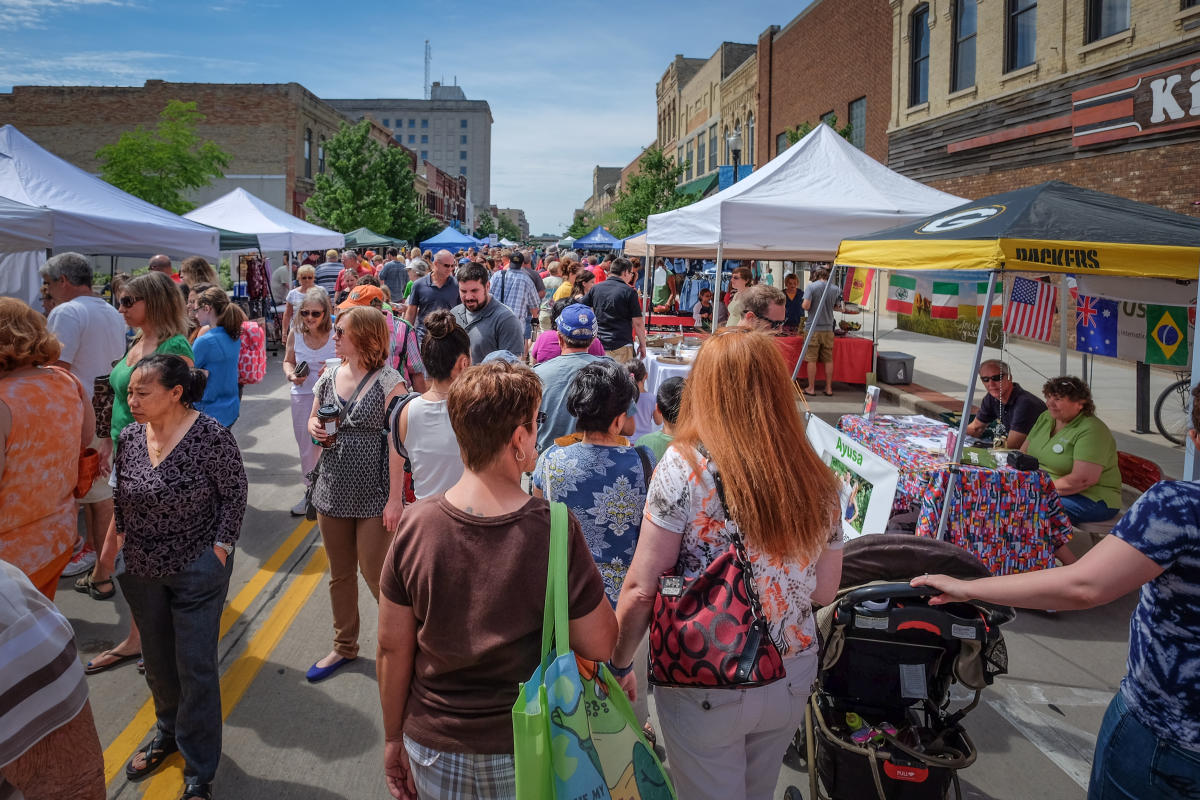 Leon's Frozen Custard has preserved the 1950's atmosphere with their drive-up service! Leon's works super hard to keep all of their prices super reasonable. This fun atmosphere allows you to order from a drive hop that comes right to your window! As a UWO student, getting Leon's frozen custard is a MUST DO on your college bucket list.
This continuously growing zoo located on the shores of Lake Winnebago has Free Admission! Visit with unique wildlife and learn more interesting information about the way they live! With a couple quaters you can even feed some of the farm animals! We visited the zoo around the otters lunch time at 1pm and got to see them dive for pool toys through the underwater viewing glass!
7. Up your Instagram Game at the Downtown Murals
Downtown Oshkosh is colored with large insta-worthy backgrounds! There's so many murals we think you should check out in Oshkosh, find every-single mural listed HERE! The newest addition to the mural family is the Greetings Tour mural—make that a must-visit mural on your list!
Downtown Oshkosh is also home to the Mini Mural Project where 20 local artists feature their work on the exterior walls throughout downtown. This is Oshkosh's first outdoor gallery and would definitely up your insta game.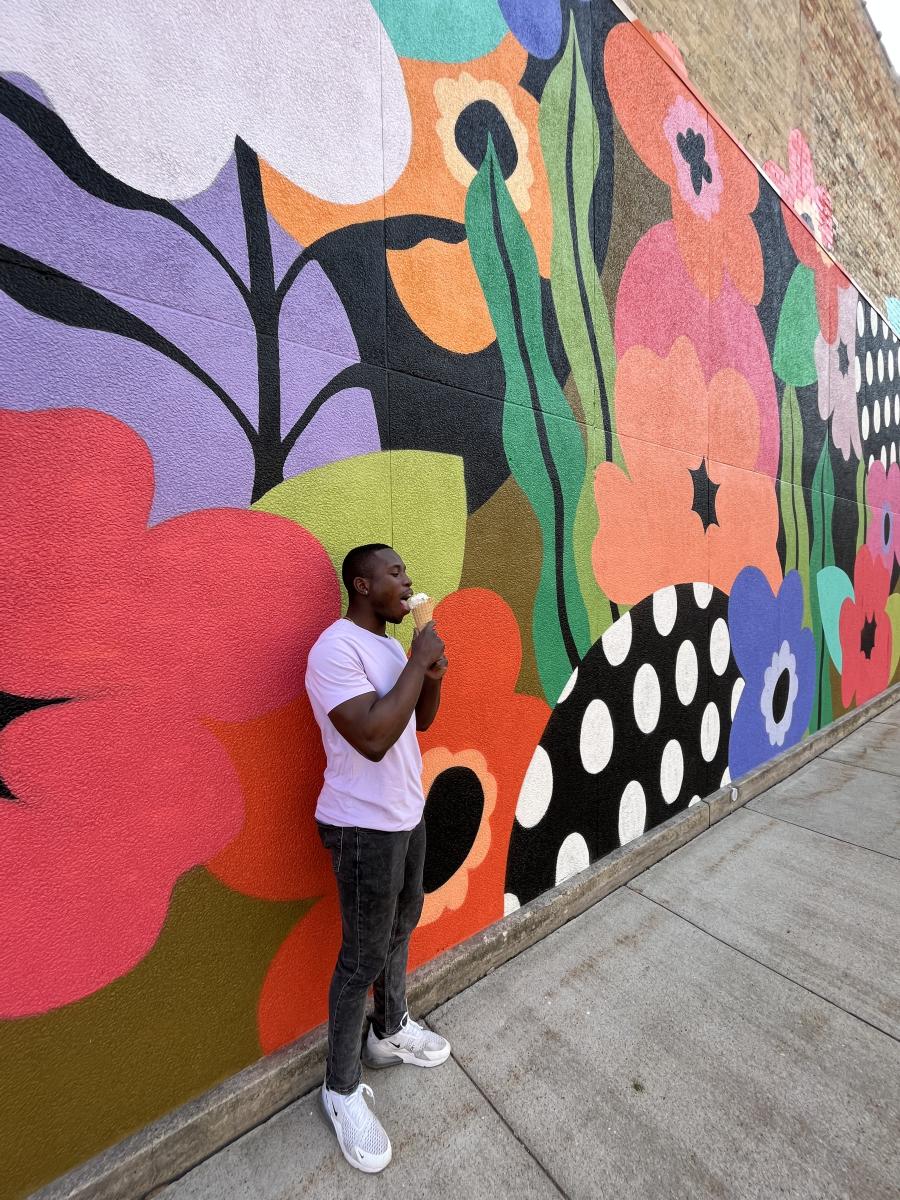 Arrive on your time and create something unique—no reservations required! Fire Escape offers Paint Your Own Pottery, Board Art signs, and Canvas Painting! Need some creative guidance? Fire Escape offers workshops for Wheel Throwing, Fluid Art, Mandala, and much more! There will be a time when your homework puts you in a brain block, put those creative juices will be flowing again after getting an art fix!
9. Expand your taste buds with a unique flavored Wagner Market brat
As a student at UWO, you must check out Wagner Market! Wagner Market is a special grocer with 30+ unique brat flavors that change daily! On my last trip I picked up 6 flavors including Chicken Cordon Bleu, Bloody Mary, Guacamole, Pineapple Teriyaki, Peanut Butter & Jelly, and the June flavor of the month—Whiskey Old Fashioned. A family favorite was the Pineapple Teriyaki, but it was so hard to choose the best! Make dorm room dinners different with a fun-flavored brat!
10. Houdini your way out at Escape Oshkosh!
Escape Oshkosh has 4 different themed rooms with all different levels of difficulty. The rooms are filled with clues, hints, and distractions. Do you and a group of friends have what it takes to escape the room in 60 minutes? You can reserve your thrilling race against the clock online and just show up at your time!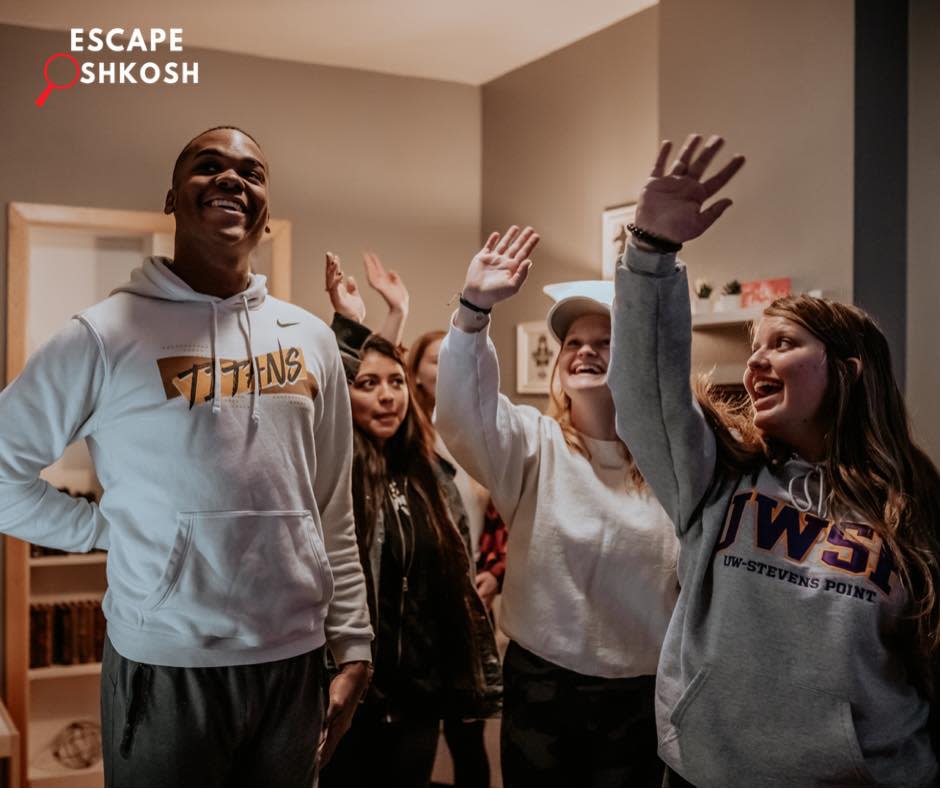 Who doesn't love a LARGE soft pretzel with endless dipping sauces! This appetizer (or we won't judge if you make it a meal) is a great item to test out around Oshkosh. We decided to stop at multiple places around Oshkosh to try their giant soft pretzel and created a pretzel trail! Check out our Giant Pretzel Trail Blog and let us know which one was your favorite along the path!
Elsewhere is definitely a VSCO worthy hot spot. This new downtown coffee shop and market is a perfect place to find some quiet study time. They recently released their new food menu that pairs perfectly with their espresso and drink menu. Take a study break and walk around the market filled with local creations and items. Be sure to tag us in aesthetic pics taken here!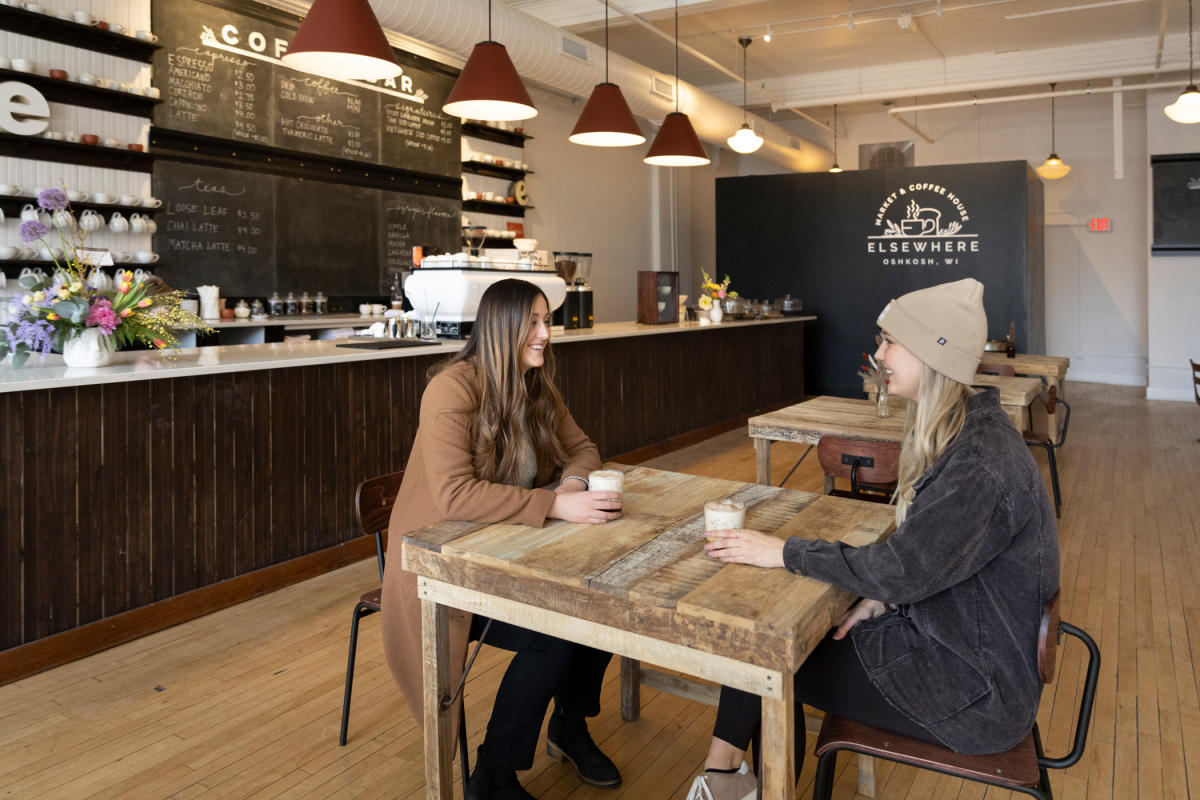 What better way to experience Oshkosh than eating the food of local growers?! Shop at the Oshkosh Food Co-Op and you can find endless amount of locally sourced food and drinks. The shelves are also stocked with organic produce and many more organic items. Their mission of sustainability and community is a great one to support as you stock up on groceries for the school year.
We're so glad to have you here in Oshkosh and we can't wait to see everything you experience! Share your adventures with us on Facebook or Instagram!
Stay the night in Oshkosh—click here for overnight options!